Daily Dose of George Clooney!

O 11 News Pt. 5


Rat Pack is back Screen Heroes In Heist Remake
Europe Intelligence Wire
The Mirror
Paul Martin
12/07/01
The legendary Rat Pack are back, with an all-star cast bringing the magic of Ocean's 11 to a new generation. George Clooney, Brad Pitt and Julia Roberts are among the host of stars appearing in the remake of the 1960 classic. The Hollywood hot shots are following in the footsteps of Frank Sinatra, Dean Martin, Sammy davis Jnr and Peter Lawford in the famous tale of a big-time casino robbery in Las Vegas.There are dramatic differences in the new version - while the old crew were WWII veterans, these robbers seem only to share shady backgrounds.
The original film takes place on New Year's Eve, while the new version is based on a Lennox Lewis v. Vladimir Klitschko boxing match.
But Roberts insisted the old magic formula is still the same, saying: "It's a glamorous tale of the underworld that will capture the imagination of a whole new audience. "We went to Vegas and watched the old movie and got the flavour of what it's all about."So although our characters are only loosely based on the original ones we have still retained the favour of the Ocean's 11 classic."Directed by Steven Soderberg, the film tells the story of 11 criminal associates led by Clooney who plot to rob a string of casinos in Las Vegas."
Clooney said: "It's an old formula that Hollywood needs right now.
"We are getting side-tracked too often by space adventures and things like that these days, so maybe making a new version of this will bring Hollywood back to basics.
"Playing a role that Frank Sinatra made famous is probably the most intimidating thing I have done.
"I knew the critics would be drawing comparisons between us from day one and I accept that.
"But he was the greatest. We really felt like we were re-living a moment of movie history which we all grew up on."
In the film Clooney, who plays Danny Ocean, pulls off the most elaborate casino heist in history.
Less than 24 hours into his parole from a New Jersey jail, the charismatic thief is already plotting his next plan.
Following three rules - don't hurt anybody, don't steal from anyone who doesn't deserve it, and play the game like you've got nothing to lose - Danny masterminds a plan to make each of his team multi-millionaires.
To pull off the robbery he picks a team of 11 criminal specialists including a card ace played by Brad Pitt, a master pickpocket played by Matt Damon and a demolition genius, played by Don Cheadle.With the team in place they set out to steal more than $150million from three Vegas casinos in just one night. Clooney said: "It is the ultimate gangster film which takes you to the darkest criminal underworld with a very simple script.
"There are kids who have never watched the original and this is going to be their first taste of Ocean's 11."So there is a lot of responsibility. We have to make it as good for them the first time as it was for us watching the original."
The film, to be release in Ireland on January 18, is already being tipped as one of the box office smashes of 2002.
Pitt said: "There are high expectations from everyone involved.
"We all went out to Vegas for three months - it was like a dream come true.
"The atmosphere on the set was unbelievable, I have never seen such an all-star cast.
"We were all having an amazing time. We worked hard during the day and hit the casinos at night. "I have no idea how much money we all lost - but George was the worst."
Roberts said: "We had some wild nights but there was a determined attitude to make the film perfect.
"We would go over a scene 50 times if we weren't happy with the way it had turned out.
"It is probably the biggest line-up of stars ever assembled for a movie. At the end of the film we had a huge night out at the casinos and really let our hair down."
GEORGE CLOONEY as FRANK SINATRA
WHEN Frank Sinatra starred as Danny Ocean in the original Ocean's 11 he spent just nine days filming scenes in Las Vegas. All of them had to be shot during the day so Sinatra could perform concerts in the evening. In contrast, Clooney spent three months on the set of the re-make and admitted it had been daunting to follow in Ol' Blue Eyes' footsteps. He said: "I knew from day one that people would compare me to Sinatra but I'll say now that he will never be topped. "I studied the old movies and tried to learn from him and introduce something new to what we are doing."
BRAD PITT as DEAN MARTIN
BRAD Pitt stars in the new film as ace card shark Dusty Ryan who was played by Dean Martin in the original.
Pitt said following in Deano's footsteps is the high point of his career - but admitted he was terrified of getting it wrong. The 37-year-old star said: "When you try to do justice to a legend like that it is absolutely terrifying. I was scared of failing. "I watched the original movie as a kid and thought it was amazing. "Playing Dusty Ryan is undoubtedly the most fun I've had on the set of a movie - we were all living a dream. Everyone knew they were recreating a little bit of history."
JULIA ROBERTS as ANGIE DICKINSON
JULIA Roberts stars as the wife of Rat Pack leader Danny Ocean and was paid pounds 20million. Angie Dickinson played her character in the original film. Roberts, 34, said: "She was superb and I studied her performance at least seven times. "It's from a different era but she would still hold her own in the new version. "I was walking into a male dominated film so in many ways it's my most important role ever. "I had to bring some feminine power on to the set and I thought Angie was really the big star of the 1960 film. "I wanted so much to live up to what she had done."
MATT DAMON as PETER LAWFORD
MATT Damon takes Peter Lawford's role as a master pickpocket in Danny Ocean's team. Damon said: "I wanted to bring the character on 30 years and make it more contemporary. "We have all these fantastic gadgets and James Bond-type devices which really brings the movie into a new era. "But I watched the original film and used that as my starting point to learn. Peter Lawford is an amazing actor, I was always a fan before I even got this part. "I also had to learn the art of pickpocketing from some guys who were experts in real life. It was a real eye opener but I loved the buzz of it all."
DON CHEADLE as SAMMY DAVIS JNR
DON Cheadle steps into the dancing shoes of stage and screen legend Sammy Davis Jnr as a demolition genius.
The 37-year-old, who recently appeared in the smash hit Traffic, said: "It's definitely the best role in the movie. I get to play with all the fun toys. "In the original film Sammy Davis Jnr was an absolute star - he was the perfect man for the role. "It was hard to learn anything from his performance, though, because my character was only very loosely based on his. "He took the character to its limit back then and hopefully I've done the same this time."

Ocean's': Bet on full houses
By Roger Cels
12/07/01
Los Angeles (The Hollywood Reporter) --- The general economy may be mired in a never-ending funk, but the theatrical marketplace will not wallow long in its downturn. Last weekend's post-Thanksgiving breather -- which saw revenue slip below the $100 million mark for the first time in more than a month -- will be considered an end-of-year bottom once receipts for the remainder of 2001 are counted.
"Ocean's Eleven," which opens everywhere today, will be the catalyst for the move toward higher ground. The all-star remake has ignited a fire in the marketplace that even the distractions of the Christmas season are powerless to put out. That the first few weeks of December are not prime playtime is a time-tested truism. But here's another one: Compelling cinema draws moviegoers like a moth to the flame.
Sony's "Vertical Limit" ($18.7 million) was the top performer during the same weekend last year, a period that generated just $87.6 million in North American sales. That was then, and this is different.
Fear of labor unrest accelerated the pace of production this year, filling studio cupboards to overflowing with A-list product. These attractive titles must be released before the cost of carrying them on the books exceeds their bloated budgets -- and while exposure to holiday playoff can maximize potential profits.
The result will be an awesome finale to 2001. "Ocean's" is merely the first in what looks like a line--up of top-performing product stretching to the first of the year and beyond.


By George He's Got It..''Ocean's Eleven'''s Clooney leads a new rat pack. And proves he's head of the Hollywood class in the process
Clarissa Cruz
EW
12/06/01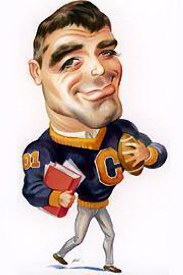 After a particularly difficult shooting day last spring on the upcoming comedy ''Welcome to Collinwood,'' producer George Clooney was encouraging his employees -- including stars Sam Rockwell and Isaiah Washington -- to get sufficiently sloshed. ''We were out drinking till late, late, late and he was running around the bar, making sure everybody was having a good time,'' recalls Washington. ''We were all hurting the next morning...[but Clooney] had a two-minute monologue to film and he nailed it, didn't flub one word. There's no one that could say anything bad about my man George.''
With the exception of Fox News' Bill O'Reilly, the rest of Hollywood seems to be joining in the toast: Clooney, 40, has emerged as Tinseltown's BMOC, a guy who uses his growing clout to support projects and causes he believes in. Just this year, the star cajoled the megawatt cast of ''Ocean's Eleven'' (including Julia Roberts, Brad Pitt, and Matt Damon) to sign on for less than their usual lofty fees; gathered the likes of Jack Nicholson and Goldie Hawn to fill the celebrity phone bank during the Sept. 21 telethon ''America: A Tribute to Heroes''; and lined up A-listers Roberts, Drew Barrymore, and ''Being John Malkovich'' scribe Charlie Kaufman for his directorial debut, ''Confessions of a Dangerous Mind.'' All while managing to maintain a rep as sparkling as Danny Ocean's wedding ring.
Like his latest cinematic alter ego, Clooney seems to be playing a role in Hollywood that hasn't been filled since the Rat Pack days: that of an old-fashioned power player who cuts through industry red tape and gets things done, all with a wink and a smile. ''More people should follow in his suit... instead of [playing] the political games that are so unnecessary,'' says Mimi Leder, who directed him on ''ER'' and in ''The Peacemaker.'' (Clooney declined to comment for this story.) ''He doesn't seem to be in charge, but gets in charge [by] functioning as a member of the group,'' adds ''Ocean'''s costar Carl Reiner. Of course, Clooney -- who dropped his $12 million asking price and convinced other actors to follow -- also produced ''Ocean's Eleven'' with cowriter-director Steven Soderbergh under the pair's Section Eight shingle. (He later gave the cast personalized mountain bikes in gratitude.) ''You always feel that you're doing it for the group,'' Reiner says. ''He's a benign despot.''
Some might disagree with the word benign. Clooney -- son of veteran Cincinnati newsman Nick Clooney and nephew of singer Rosemary Clooney -- has been known to tick people off. Angered by the distribution of the September 11th Fund money, O'Reilly has accused him and other celebrity ''weasels'' of misleading donors and then failing to police the charity, a claim that Clooney has denied. Clooney's strongly worded letter in October to the Screen Actors Guild, chastising the union for expelling three members who had crossed the picket lines during last year's six-month strike against commercial producers, also drew ire. According to a SAG spokeswoman, Clooney can't possibly have all the facts of the case, since disciplinary proceedings are confidential.
The actor's willingness to take a stand is nothing new. More than a decade ago, Clooney clashed with veteran producer Ed. Weinberger while working on the short-lived ABC series ''Baby Talk.'' (Clooney eventually quit after five episodes.) ''He absolutely was not going to stand by while people were treated badly,'' says former costar Julia Duffy, describing the on-set atmosphere as ''very dysfunctional.'' ''He certainly wasn't in any position of power at the time... but he didn't care. He would stand up against the big guys.''
Including, at one point, the tabloid media industry. In 1996, Clooney began a public boycott of syndicated news show ''Hard Copy'' and its sister program ''Entertainment Tonight'' (both produced by Paramount Television) after ''Hard Copy'' aired footage of him and then-girlfriend Céline Balitran. (Clooney and his ex-wife, actress Talia Balsam, divorced in 1992; he has remained single ever since.) After he was joined by a bevy of stars, including Madonna, Steven Spielberg, and Whoopi Goldberg, both shows changed their news-gathering policies and promised to no longer ''solicit, purchase, or air celebrity footage'' obtained by camera operators who harassed their subjects.
''George's stance influenced an awful lot of people,'' says CBS president-CEO Les Moonves, who first put the star under contract when he was head of Warner Bros. Television in 1991. ''[The shows] got away with a lot of stuff over a long period of time.'' ''Hard Copy'' went off the air in 1999; Clooney quietly lifted his ''ET'' boycott in early 2000. (Says ''ET'': ''We're huge fans of Clooney's and love having him on the show.'')
And then there was the infamous 1998 throat-grabbing scuffle with director David O. Russell on the Arizona desert set of ''Three Kings.'' Clooney said he stepped in when Russell ''went nuts'' on an extra. ''I went over and I put my arm around him and I pulled him aside,'' Clooney told EW in 1999. ''I said, 'You can't do that.'''
But Nick Clooney says his son -- who was born in Lexington, Ky., grew up outside Cincy, and didn't make the trek to L.A. until he was 21 -- has always had a keen sense of fairness. He recalls one incident when 18-month-old George was playing with a brood of puppies at his grandmother's farm and one unexpectedly bit the future Dr. Doug Ross. ''So he picked up the puppy by the tail and head and bit it back,'' says the elder Clooney. ''There's a certain justice there, so I couldn't get mad at him. 'You bite me, I'll bite you.' And he still does that, too.''

'Ocean's Eleven' Has Got the Goods
AP
12/05/01
Forget every other heist movie that came out this year -- and there was a vault full of them. ``Ocean's Eleven'' is the one with the goods.
With a cast of astonishingly talented actors under the astonishingly talented Steven Soderbergh's direction, the movie is everything you'd hope it would be: fun and fast-paced, slick and spontaneous, light and full of laughs.
George Clooney, Brad Pitt, Matt Damon and Julia Roberts are clearly having a ball bouncing off each other, never taking themselves too seriously despite their Hollywood heavyweight status.
That was also true of the original ``Ocean's Eleven'' from 1960, which was better known for the allure of its boozy Rat Pack cast -- Frank Sinatra, Dean Martin, Sammy Davis Jr., Joey Bishop and Peter Lawford -- than for anything resembling quality filmmaking.
This time, Clooney stars in the Sinatra role as Danny Ocean, fresh out of prison after doing four years for theft and already planning his next big job.
Danny wants to rob the vault that holds the money for three of Las Vegas' biggest casinos -- the Bellagio, the MGM Grand and the Mirage. And he wants to do it on the night of a heavyweight championship fight, when he knows the high rollers will be in town and the vault will hold about $150 million.
He figures it'll take 11 guys, each with unique talents, to pull it off. Besides himself, there's Rusty Ryan (Pitt), a card shark and his right-hand man; Linus Caldwell (Damon), the pickpocket son of a famous con artist; Basher Tarr (Don Cheadle), a Cockney explosives expert; and Livingston Dell (Eddie Jemison), a high-strung surveillance specialist.
He also needs help from his old friend Frank Catton (Bernie Mac), a blackjack dealer; Reuben Tishkoff (Elliott Gould), a gaudy former casino owner with a score to settle; Saul Bloom (Carl Reiner), an old-school gambler; brothers Turk and Virgil Malloy (Scott Caan and Casey Affleck), the getaway drivers who quickly change clothes to play several roles; and Yen (Shaobo Qin), a Chinese acrobat whose flexibility is crucial to entering the vault.
And the casinos Danny's targeting just happen to be the ones owned by Terry Benedict (Andy Garcia), who happens to be dating his ex-wife, Tess (Roberts), the Bellagio museum's curator.
Because the movie is based in reality -- set in actual casinos, featuring a fight between heavyweight boxers Lennox Lewis and Wladimir Klitschko, with celebrities making ringside cameos -- it highlights how ridiculously impossible Danny's plan is. Rusty informs him they're trying to break into ``the least accessible vault ever imagined.''
But that's why it's so funny. When they need a bomb to wipe out all the electricity on the Las Vegas strip temporarily, they just go out and get one. Gadgets and vehicles and disguises appear out of nowhere. If the slightest detail goes awry, these guys simply talk their way out of trouble.
And as their leader, Clooney is so cool and charming, and he sells the plan so believably, he makes it all sound easy. Who wouldn't follow him into the vault?
Soderbergh, who's also the movie's cinematographer, bathes Vegas in bleached out, shimmering tones -- similar to the gritty look of ``Traffic'' -- rather than bright, splashy colors.
And a great soundtrack gives the movie a swaggering retro feel, punctuated by David Holmes' jazzy score, alongside Elvis Presley's ``A Little Less Conversation'' and the Philadelphia Orchestra performing ``Clair de Lune,'' which plays as the guys admire the Bellagio's spectacular water show.
The only weakness is in its character development. Garcia's casino owner is powerful and sleazy but not a terribly formidable villain. And Roberts doesn't have much to do besides show up and look good in gorgeous clothes and jewels -- though screenwriter Ted Griffin does give her some snappy banter with Clooney in a couple of scenes.
But who cares? Soderbergh and the ensemble cast get so much right, it should be a crime.
``Ocean's Eleven,'' a Warner Bros. release, is rated PG-13 for some language and sexual content. Running time: 114 minutes.

Clooney: Franks for calling me
Europe Intelligence Wire
12/04/01
GEORGE Clooney has told of his one 10-second run-in with Frank Sinatra. Clooney, 40, who takes Sinatra's part in the remake of the classic Ocean's Eleven, initially thought it was a prank. The ER star, who was leading a boycott at the time against Paramount in an attempt to keep paparazzi from stalking celebrities, said: "I pick up the phone, and he goes, 'George?' "I go, 'Yeah'. He says, 'It's Francis'. I thought it was a joke. He says, 'It's not working'. "I go, 'What?' and he said, 'What you're doing with this boycott. It's not working. They are still outside my house, and there's a helicopter over my house'." Sinatra then hung up before Clooney could answer him.

In or Out? Question for Clooney in ``Ocean's Eleven''
Bob Tourtellotte
12/04/01
Los Angeles, (Reuters) - ``Are you in or out?''
That's the ad slogan for the new ``Ocean's Eleven'' movie debuting around the country Friday, and if any Hollywood star ought to be ``in,'' it's ``Ocean's'' star George Clooney.
Only right now, Clooney's not so sure. ``I'm certainly in a great place, career-wise. I don't think I've ever been in a better place,'' Clooney told Reuters in a recent interview.
Fine, but ``are you in or out?''
``Ocean's Eleven'' is expected to be a major holiday hit with a story about a group of con artists and safecrackers looking to rob three Las Vegas casinos of $160 million in one night.
Clooney plays gang leader Danny Ocean, amid a cast that includes Julia Roberts, Brad Pitt, Matt Damon, Andy Garcia and Don Cheadle. The film was directed Steven Soderbergh, who won a best director Oscar last year for his drug war drama, ''Traffic''. The production company Clooney owns with Soderbergh made the movie, meaning that he's not just another pretty face in Hollywood. He's got a brain for business, too. By making ``Ocean's Eleven'', Clooney has followed the path of Frank Sinatra, Dean Martin and Sammy Davis, Jr. -- members of the ``Rat Pack'' -- who made 1960's ``Ocean's 11''. Add it all up; it spells c-o-o-l. And cool is always ``in.''
But Clooney is now 40 years old, and has some gray in his hair. That could mean a big ``out'' for youthful moviegoers. And recently, Pierce Brosnan became People magazine's 2001 ``Sexiest Man Alive'' over former winners like Clooney.
``In or out?'' Often, it's not if you win, but how you play. ``The fun part about being where I am right now is that I'm in a position where I can get good scripts ... and get good movies made,'' he said. ``You don't get that position for a very long time ... they'll take it away from you, you know.''
NOT YOUR PARENTS' ``OCEAN'S 11''
Hollywood fame can be fleeting, and the nephew of singer Rosemary Clooney who found fame on TV's ``ER'' but whose film career has seen ups and downs, knows it. It's just that right now, he doesn't seem to care because he's having too much fun.
The new ``Ocean's Eleven'' is all about fun -- albeit the glamorous and good-looking movie star kind few people get to have. In that way, the new ``Ocean's'' measures up to the old.
In 1960, Frank, Dean, Sammy, Joey Bishop, Peter Lawford and Angie Dickinson were having a heck of a good time in Vegas, laying in steam rooms by day, playing the showrooms at night and, in between, making movies.
But that's about where the similarities end. ``We loved the title,'' Soderbergh said at a news conference when asked to distinguish between old and new.
And what would the old pack think about that? ``They would have said, 'You got to write something in for us,''' said Jerry Weintraub, a Hollywood veteran, friend of Frank, Dean and Sammy, and producer on ``Ocean's Eleven.''
Danny Ocean is just out of prison on parole and wearing the same crisp tuxedo he wore when nailed because, of course, prisons iron the tuxedos of convicts. But that's okay; it looks great.
Ocean has committed a crime about which audiences are never really told. What they learn, however, is that the charismatic con man only steals insured items and still loves his ex-wife, Tess (Julia Roberts), who is now in the arms of mobbed-up businessman Terry Benedict (Andy Garcia) who owns three chic casinos in Vegas.
Ocean wants Tess back, but he also needs money. The only way to get both -- and it has to be in a way that is so cool that not even the coolest scam artist would dare attempt it -- is to rob a vault that holds the cash of all three casinos. So, Ocean assembles a team of card sharks, scam artists, computer hackers, explosive specialists and get-away drivers led by him and his best buddy, Rusty Ryan (Brad Pitt).
``In or out?'' The stars were all super-in.
TAKING CARE OF IT
But the key to being cool in ``Ocean's,'' is not necessarily being ``in'' because it seems the guys are always on the outs.
``The minute you try to make it cool, you are dead,'' said Clooney. ``All we thought was, we are going to have these guys not panic because they are the best ... Bad things happen, and they just go, 'we'll take care of it.' That, to me, is cool.''
``Ocean's'' is clever enough that audiences never really know exactly what went wrong, or what was really part of the con.
The film is no Oscar-winning drama from Oscar-winning director Soderbergh, starring Oscar winner Roberts.
``Part of the appeal of making the movie was that it was 180 degrees from a film like 'Traffic,''' said Roberts.
``We had nightly prayer meetings,'' Pitt said about shooting in Las Vegas.
``The odds of it were amazing,'' said Damon about Clooney's losing 25 hands of blackjack in a row.
``Gray is good,'' said Clooney, smoothing the salt-and-pepper hair covering his temples.
``In or out,'' George?
``I'm having fun, but I don't know. In? You go in and out,'' he said. ``It depends on whom you talk to.''
Ah yes, a polite answer from the self-described ``southern gentleman'' who hails from Kentucky.
``It's a con,'' said Clooney about his noteworthy southern charm. But he's laughing, too, just like his favorite rat packer Dean might have laughed with Frank, Sammy and the gang. Clooney? He's in, man. He's in.

Nothing Personal!
Amy Reiter
12/04/01
Now that his buddy Ben Affleck is all cleaned up and presentable, it looks like Matt Damon has found a new high-stakes partner to hit the tables with: George Clooney. And the ex-"ER" star is apparently a much bigger loser than you might expect. "George ... lost all his money and all of Matt Damon's money," Julia Roberts tells the Toronto Sun of her "Ocean's Eleven" costars' misadventures at the Vegas blackjack tables. "I ran out of my line of credit and I just walked in and lost everything in seconds," Clooney admits. "And Matt says, 'This is ridiculous,' and starts putting money down." "Twenty-five hands in a row," Damon marvels. "The odds were mind-boggling." In fact, Clooney confesses, his bad-luck jag "brought the level of the table down." Says Damon, "There were professional gamblers in the place who were pulling back their chips until Clooney left."
None of them, I imagine, were women.

Brad & George Talk Tabloid!
ET
12/03/01
Pretty boys GEORGE CLOONEY and BRAD PITT clown around with ET's JANN CARL! Find out about their newest flick, 'Ocean's 11,' the prayer group co-star JULIA ROBERTS always missed, dealing with life in the tabloids and Brad Pitt's penchant for ... the polka?
JANN: How did you get to read the script?
BRAD: They said it was a STEVEN SPIELBERG movie. I said, "I'm in, I'm in." I got there, and there was some guy with glasses and George was there... But I'm a man of my word.
GEORGE: You committed, and once you committed, you stuck to it! Boy, we're glad of that.
JANN: The two of you together were fun. Was George the ringleader on all fronts?
BRAD: All fronts
GEORGE: No, that's not true. I wasn't the ringleader.
JANN: You can't deny your reputation.
GEORGE: It's just not true. Brad was the ringleader on most of the fronts.
BRAD: What front would that be, George?
GEORGE: Well, there was the polka dance ringleader thing...
BRAD: I do rip quite a crazy in the polka, yes.
JANN: JULIA (ROBERTS) talked about a prayer group.
GEORGE: Oh, did she talk about that?
JANN: With some of the gambling and fun that everyone else is having...
GEORGE: Well, mostly I was in my room reading while everyone else was down cavorting and gambling. And then the prayer group.
BRAD: Then he would come down and...
JANN: Try to convert everybody?
BRAD: Well, I think he would just try to balance out our behavior with a little moment to think of why we're here.
GEORGE: I'm glad Julia brought that up because she never really showed up to prayer group, did she? No, the phrase "table dance Roberts" we called her, I believe!
JANN: I heard that Brad was being the dutiful newlywed on the phone with the wife every night
GEORGE: That's true.
BRAD: What can I tell ya, I love my wife! Listen, it's not that complicated, really. On the phone with my wife, or hanging out with this guy!
GEORGE: Yeah, JENNIFER ANISTON or me! Former sexiest man alive, by the way!
BRAD: Yeah, Clooney
JANN: What do you think when you sit here and listen to Brad say, "I love my wife, I love my wife."
GEORGE: I love his wife, too!
JANN: That could be a problem.
BRAD: I share! She's a fine woman. I can't hog her all. It's not right!
GEORGE: It's not right -- the whole world loves her!
JANN: Do you ever try to influence this guy who says he's, like, the most confirmed bachelor ever?
GEORGE: Yeah, he would sit me down a lot and say, "You know, George..."
BRAD: Let's pray.
GEORGE: Let's pray. You know what you're doing here, pal.
JANN: Did you ever pull a prank on Brad?
GEORGE: The act of not pulling the prank...
BRAD: That was the problem. It's the fact that he did not pull the prank! He's notorious for pranks! I made the mistake of lending out my room key. Then it hit me. "Whoa, whoa, what did I do, what did I do?" For the next two months, I would come home and spend 45 minutes searching my room.
JANN: And you never found anything?
BRAD: No. It was brutal. I just stayed home and did a lot of reading. (holding up the National Enquirer with a picture of George on the cover)
GEORGE: (laughing) I bet we can find a picture of you in there, too!
BRAD: (still reading) Look, apparently I had a breakdown!
GEORGE: Oh, you did? OK, good.
BRAD: Yeah, I'm represented!
JANN: Sorry to hear about that, by the way. I can tell you're doing better now!
GEORGE: He is. He's better now.
BRAD: I am! I've recovered. A full recovery; the future's looking bright! It was tough going for a while there.
JANN: You gave them that, right?
BRAD: Yeah, I gave the National Enquirer the exclusive!
JANN: Had you not seen that one yet?
GEORGE: No, I haven't seen that one yet.
BRAD: That one is particularly good.
GEORGE: No, I like it!
JANN: When you go to the store, you can't help but see them. You have to check them out. Do you try not to look? What do you do?
BRAD: What do you do, George?
GEORGE: That's why you have assistants go to the store for you.
BRAD: I wasn't gonna say it. I didn't want to say it.
GEORGE: I didn't want to come out and say it.
BRAD: Um, we pay people to go to the store.
GEORGE: We pay people to cut our pictures out and then put the magazines back on the shelf -- I'm joking!
BRAD: No, I get a laugh out of them, actually.
JANN: Was there a time when you couldn't laugh, though?
BRAD: There was a time. It was around the time of the breakdown. Which I don't want to talk about. (laughing)
JANN: The whole idea of doing this movie from day one, minute one?
GEORGE: Bad idea.
BRAD: Bad, bad idea.
GEORGE: I'd like to apologize now for it. But we've changed the title.
BRAD: Is that right?
GEORGE: Yeah, it's 'Harry Potter Two.
BRAD: Good, good thinking!
JANN: Good plan!
GEORGE: Always using the noodle right here.
JANN: How would you say you have personally changed since September 11th?
BRAD: Well, I think we're still in that process. I wouldn't be able to label it just yet. I think we'll be in it for a while.
GEORGE: You spend most of your time trying to understand how anyone can do this. How anyone in the name of somebody's God... Mostly you just can't believe that this kind of tragedy happens. The next thing we decide is when do we pick up, and how do we pick up?
BRAD: And insure that this doesn't happen again.
GEORGE: Of course you look at it now and say, "I don't know what the light at the end of the tunnel is for this one, because it doesn't look easy."

Clooney, Damon, Garcia and producer banter about 'Ocean's Eleven,' but not in depth
Rebecca Redshaw
12/02/01
Los Aangeles -- "Ocean's Eleven" -- 11 interviews? No, thankfully. The folks at Warner Bros., whose star-strewn new picture opens nationwide on Friday, avoided total chaos by choosing to trot out just four of the principals at any one time in a series of news conferences late last month.
The media blitz, which included producer Jerry Weintraub and director Steven Soderbergh, was tackled not with one-on-one interviews for the press and media but in a hotel suite on the 19th floor of the Century Plaza Hotel. About 50 reporters placed hand-held tape recorders on the coffee table in front of four upholstered chairs and waited for the stars to appear.
As these things go, delays are inevitable. But just 30 minutes after the official start time, George Clooney, Andy Garcia, Matt Damon and Weintraub took their places in the chairs on a slightly elevated platform.
Across the hall, Julia Roberts entered an identical room where a second contingent of reporters was ready for on-camera interviews. Joining Roberts were Brad Pitt, Don Cheadle and Soderbergh.
So, which room are you in? Prepare yourself for the good-natured banter of Clooney and Co., who over the long promotional weekend deftly fielded wide-ranging questions from interviewers the likes of Barbara Walters on up to your friendly Post-Gazette representative. Yes, up.
Sometimes, the stars talked about the movie, a remake of the splashy 1960 Rat Pack ego trip, also titled "Ocean's Eleven." Sometimes they talked about everything but the movie.
No matter. They never failed to entertain, as you're about to find out:
Clooney [addressing reporters]: Please be sensitive with Brad Pitt. He's a bit touchy about losing [People Magazine's] Sexiest Man Alive title. His crown was taken away from him, and he had to give up his sash and tiara. I didn't want to say this in front of him [looking at Matt Damon], but Matt really wanted it. Next year we're going to have a write-in ballot.
Damon: George does these practical jokes, and they're really extravagant, but one he tried and wasn't allowed to do.
Clooney: We were foiled.
Damon: He was foiled. He was going to take an ad out in Variety.
Clooney: Steven Soderbergh and I went to take an ad out ...
Damon: ... like they do for the Oscars -- "For your consideration." Only they wanted to say, "Matt Damon -- for your consideration for Sexiest Man Alive." They wanted to make it look like I paid for it! But Variety said, "No."
Clooney: I told them, "It's funny. It'll kill him."
"Oceans Eleven" is the first completed project involving Section Eight, the Clooney/Soderbergh production company. The film, however, was spearheaded by longtime producer and entertainment mogul Weintraub. When a reporter from Canada asked Clooney if he thought this movie was "risky" as a first project, Weintraub couldn't contain himself.
Clooney: This is risky? The biggest stars in the world are in this movie. It's not risky.
Weintraub: You're outta your mind because it's over. [Meaning: It's a sure hit.]
Clooney: Any film is risky, but we read a great script and got the best director in town. There's no risk involved. The minute everyone heard Steven was involved, everyone said, "I'm in."
Garcia: Let's be practical. We get the opportunity to work in a film that's financed by Warner Bros., starring George, Brad, Julia, Matt, Carl Reiner and others, and it's produced by Jerry Weintraub. Or, we can go do a movie that's shot independently, with no distribution anywhere in the world. They get some guardian angel with money ...
Clooney: ... sucker ...
Garcia: ... to finance the movie. You make the movie for the love of the movie. Hopefully, people will react to it and buy it to distribute it. Now, that's risky. To think this movie is risky is ludicrous.
Weintraub [to reporter]: You're outta your [expletive] mind. [Laughter.] Sit in the back of the room and leave us alone. Next question.
Garcia [to Weintraub]: You've just guaranteed the worst review in Canada.
Weintraub: I don't give a [expletive]. You wanna talk risky? I got some movies for ya. You know what a home run is? This is a home run.
How did "Ocean's Eleven" get made?
Clooney: It was pretty easy. Jerry sent the script to Steven and me on Friday night, and we read it over the weekend. Steven's a film snob. He doesn't like very many things, so when he called and said, "I love it and I know how to do it," well, that was a really good thing. We sent over the script to Julia [Roberts] with a 20-dollar bill attached and said, "We hear you get $20 a picture." Within the first week we had Julia, Brad [Pitt] and Steven attached. It came down to everyone wanting to work with Steven.
Weintraub: I was being facetious before. There is a risk in every film. This is a crazy business. It's not really a business. We all take a blank canvas and start painting on it, and we hope by the end of the day it will be hanging on the wall and people will wanna look at it. But when you go in with this kind of cast, great actors that all wanted to work together, you get the feeling immediately that something special will happen.
Garcia: Jerry was able to solidify the crew at the Bellagio [in Las Vegas]. It's the most important casino in the world, and we got free access for the shoot. That was an extraordinary feat of producing.
Damon: Brad Pitt named Jerry the "Pope of Las Vegas."
Clooney: That's just 'cause he wears that hat.
The original "Ocean's Eleven" starred Frank Sinatra, Dean Martin and Sammy Davis Jr., all friends of Weintraub. Before he could respond to the question about what the original group would think of this production, Clooney jumped in.
Clooney [imitating Weintraub]: Ah Jesus, Frank would love it. He would love this film.
Weintraub: There it is.
Clooney: Actually, I want to hear this answer, and Jerry would know.
Weintraub: If Frank and Dean and Sammy were alive today, and I wish they were 'cause I miss them all, if they were alive ... they would have said to me, "You guys, you gotta write something in for us, 'cause these guys are great."
What are your thoughts on the original "Ocean's Eleven" movie?
Clooney: I've seen the movie a lot, and I'm a huge fan of the Rat Pack. I idolized them when I was younger so I'd watch the film no matter what.
Garcia: But they deserved a better film.
Clooney: They did. "Robin and the Seven Hoods" is a fantastic film, but I never thought of ["Ocean's Eleven"] as a classic. We're never gonna be as cool as those guys, but we have a better film. We've got a better script and a better director.
What's security like in the casino?
Garcia: It's enhanced for our movie. I haven't seen the actual casino system.
Weintraub: Ours is more high-tech and elaborate. They have a small area. We made our set more beautiful with a lot more movie magic. But they have the same "eyes in the sky" cameras and tunnels. They know everything that is going on at every minute, at every table.
Clooney: And in Jerry's bedroom.
Weintraub: Seriously, they have a count on every dealer and how much money is on every table, every five minutes. If anybody sees this movie and thinks they're going to Vegas and rob them, they're nuts. You're better off at Fort Knox.
Garcia: [The movie's] a great calling card for Las Vegas.
Clooney: We were going to entertain the press there but, you know, Sept. 11 changed a lot of that. There's a fine line -- we're going to sell a film that is going to do the right thing entertaining people. Accidentally, it's a good film to come out at this period in time. And we're going to do our jobs. The truth is that you have to be careful being too celebratory. It doesn't seem proper to do big things in Las Vegas right now. We're still going to do a premiere, but everything is toned down considerably. We're going to Turkey to do the international premiere.
Weintraub: Which is top secret.
Clooney: Oh yeah, for the soldiers. Don't tell anybody.

Clooney Taking New Roles In Film
Ron Dicker
Special to The Courant
12/02/01
Los Angeles -- George Clooney sighed and sat back with his boots up on the table near the end of a long day of interviews. "Clark Gable wasn't doing 150 media outlets," he said.
Clooney wasn't complaining. He was merely illuminating the off-screen demands on the modern leading man. The Friday opening of "Ocean's 11," the A-listed remake of the 1960 Rat Pack caper movie, will put his on-screen magnetism to the test after a relatively private year. According to his "Ocean's 11" co-stars, he is up to the task.
"George is this great, wonderful kind of goof of a guy," Julia Roberts said. "And the fact that he can make it go away when the camera's rolling is a pretty funny trick that he does. He becomes very charming and suave, when that's just not the way he is at all."
"He has a fantastic wit," added another "Ocean's" player, Brad Pitt, one of the few who could challenge Clooney as Hollywood's juiciest slab of beefcake.
Clooney's powers apparently worked on those stars' wallets. In his first effort as a producer with director Steven Soderbergh, he persuaded Roberts, the $20 million woman just days removed from her Oscar victory in "Erin Brockovich," to take a huge slash in salary, along with Pitt, Matt Damon, Don Cheadle and Andy Garcia. The sum of all payouts reportedly totaled $30 million, a relative bargain. All agreed to take the same percentage cut and share the profits, Clooney said.
That's pretty much the arrangement that Clooney's Danny Ocean strikes with his criminal recruits in "Ocean's 11." Ocean hatches a plan to steal $150 million from three Las Vegas casinos owned by a modern-day Bugsy (Garcia) who's dating Ocean's ex-wife (Roberts).
The egos and Q-ratings of the actors involved in the movie would be enough to fill the casino vaults by themselves. But everyone apparently heeded the request of the Oscar-winning Soderbergh ("Traffic") that they not bring entourages. "It was the weirdest shoot you've ever seen," Clooney said. "No one was ever in their trailer."
Two summers ago, audiences paid almost $183 million to watch Clooney crushed by a huge ocean wave in "The Perfect Storm." Later he took a Gable-esque turn in the chain-gang odyssey "O Brother, Where Art Thou?"
Time away from the media has let rumors fly. He said he was not romantically involved with "Bridget Jones' Diary" actress Renée Zellweger. "She's my friend," he said. "She was going to be in a film of mine, and she is my neighbor. Remember, now, I've gone out with Nicole Kidman, Julia Roberts and Renée Zellweger. It's starting to get fun now. I'm kind of waiting for who's next."
An item saying Clooney's 150-pound pig Max broke up a relationship with model Lisa Snowden was also hogwash. "She loved Max," he said. "She used to go out and feed him. Max is not a problem. He doesn't smell. It's the bulldogs that are a pain in the ass, but they're funny. They fart a lot."
There is a serious side to Clooney. He said he tends to get in trouble when he speaks out on matters. He recently protested the Screen Actors Guild's decision to oust three members who worked during the commercial strike, saying this was a time of forgiveness. And he exchanged snipes with Fox News' Bill O'Reilly over charity payouts after the Sept. 11 attacks.
O'Reilly broadcast a story that Clooney would not appear on "The O'Reilly Factor" to account for the millions of dollars the actor had raised for the families of the victims through a celebrity telethon. Clooney responded through other outlets that the money was going to the right people and that O'Reilly used the accusations to boost his viewership. A decreasing death toll demanded patience in distributing the fund, Clooney said, because the organization would have written 1,300 checks to supposedly deserving recipients who didn't exist.
O'Reilly "is the only person I know who has profited from the Sept. 11 tragedy," Clooney said, adding that O'Reilly's story was "criminally irresponsible" and has prompted some donors to void their checks.
It took some levity to snap the actor out of his diatribe. Informed that his pal from "The Perfect Storm" and 1999's "Three Kings," Mark Wahlberg, was about to buy a house, he joked that he would purchase a penis prosthetic as a housewarming gift for the "Boogie Nights" star, who flashed false privates in the porn epic.
Clooney begins directing his first feature, "Confessions of a Dangerous Mind," on Dec. 17.
In "Ocean's 11," he and Soderbergh picked a possibly foolproof combination of popular actors and slick escapism. But in "Dangerous Mind," Clooney is taking on a head-scratching premise: Former "Gong Show" host Chuck Barris claims - as he did in his cult memoir, on which the film is based - that he was spying for the CIA.
Clooney will have a small role as the man who recruited the wacky Barris. "It's the best script I've seen in years," said Clooney, who has another idea to expand his reach in Hollywood: "Dance. I'm trying to bring back the lambada." Now in his fifth decade, he said he isn't changing his bachelor lifestyle. Nicole Kidman paid up on her $10,000 bet that he would be married with a child by his 40th birthday, but Clooney returned the check. He suggested they go double or nothing for his 50th. "I haven't made changes," said Clooney, whose marriage to actress Talia Balsam ended in divorce in 1992. "I'm just going about my life." He still has his coterie of eight actor pals who stuck with the Augusta, Ky., native through more than a dozen failed sitcoms and side gigs in successful sitcoms such as "The Facts of Life" and "Roseanne." That was all before he hit it big as the pulse-raising Dr. Doug Ross on "E.R," which he left in 1999. One of Clooney's charms is an unapologetic love of a good time and his willingness to talk about it. If a hangover is involved, so be it. He said other actors might take his cue and loosen up. "It's not the action that causes a controversy," he said, "it's the hiding of the action. Sometimes stars get in a position where they try to protect things."

Leader of the pack...'Ocean's' all-star cast features Clooney in old Sinatra role
Ruthe Stein
Chronicle Movie Editor
San Francisco Chronicle
12/02/01
Beverly Hills -- As a kid growing up in rural Kentucky, George Clooney would hear stories about the Rat Pack from his Aunt Rosemary. A hugely popular singer in the '50s,Rosemary Clooney had her own TV show, and Frank Sinatra, Dean Martin and Sammy Davis Jr. all appeared on it to sing and schmooze.
"They were just flat-out cool, and my aunt adored them," Clooney recalls. "She used to say that when they walked into a room, you were glad they were there."
The same could be said about the cast Clooney and director Steven Soderbergh assembled to reprise the roles played by the Rat Pack in the 1960 caper flick "Ocean's 11." The remake, which opens Friday, stars Brad Pitt, Matt Damon, Andy Garcia, Don Cheadle, Carl Reiner and Clooney in the Sinatra role of Danny Ocean, a con man who enlists 10 buddies to help knock off three Las Vegas casinos simultaneously. Julia Roberts is the token woman; Rat Pack movies traditionally had one of those. Certainly it's a pleasure to be in a room with Clooney, even a generic hotel room. He's not one of those movie stars who seem somehow annoyed about being famous, as if it is a major inconvenience. Maybe because it took Clooney longer to make it on the big screen, he appreciates it more. His first runaway hit, "The Perfect Storm," didn't come until last year, after a string of box-office disappointments like "One Fine Day" and "Batman & Robin," in which he played the masked crusader. Clooney, who maintains a sense of humor about his career, jokes that he single-handedly shut down the "Batman" franchise.
Now 40, he keeps getting better looking, the way Cary Grant improved with age. Clooney has on a dark gray sweater that brings out the strands of gray in his hair. On the coffee table is a large pack of sugar-free gum, which he dips into when a piece goes stale in his mouth. Members of the Rat Pack surely would have reached for another cigarette. Smoking was one of the lesser vices attributed to them. Somehow their drinking, womanizing and tearing up the town were considered cool.
"The reason it was cool was because you weren't getting all the information that you would get now because of all the media outlets," says Clooney, who seems to have made a study of the old versus new Hollywood. "It was the same reason why John F. Kennedy was so cool: because they weren't saying he was sleeping with everyone. Stars back then were able to protect their image. But that life doesn't exist anymore, with everything about them being readily available. It takes away the mystery, and when the mystery is gone, you sort of have to behave differently."
Clooney doesn't think stars necessarily have to be good role models. "I will say, 'Yeah, I got drunk.' But what you have to do is not be a hypocritical role model. You can't come out and say, 'Don't drink and don't sleep around' and then get caught drunk with a hooker. And you will get caught. If you think you won't get caught, then you are not living in the same century that we are."
Clooney's only encounter with Sinatra grew from the 1996 boycott Clooney led against Paramount in an attempt to keep paparazzi from stalking celebrities and selling the footage to the Paramount show "Hard Copy." "It was right when everybody thought Frank was dying, but a couple of years before he actually died. I got a call on the set of 'ER.' I pick up the phone, and he goes, 'George?' I go, 'Yeah.' He says, 'It's Francis.' I thought it was a joke. He says, 'It's not working.' I go, 'What?' 'What you're doing with this boycott. It's not working. They are still outside my house, and there's a helicopter over my house.' I go, 'Well, I don't know that it was meant to . . . ' Before I can finish the sentence, he hangs up on me. It was really funny." His assumption of Sinatra's "Ocean's 11" role notwithstanding, Clooney is really the anti-Sinatra. For one thing, he's nice to everyone. The Chairman of the Board was notoriously bored with acting. He would stagger on to the "Ocean's 11" set in the morning after a night of carousing, do one take and leave. He once told director Lewis Milestone that if he wanted another take, he should print it twice. Some days, Sinatra wouldn't show up for work at all, and co-star Henry Silva would have to do the scene for him. (In a nod to the original, both Silva and Angie Dickinson, who played Sinatra's girl, have cameos in the new "Ocean's Eleven," which, just to confuse things, spells out the number in the title.)
Improving His Skills
Clooney, on the other hand, has worked hard on improving his acting skills. He's kicked his bad habit of looking down at the ground, which caused many a cameraman to have to keep lowering the lens. Roberts, who has several romantic scenes with Clooney, says she's impressed with his chameleonlike talent. "The fact is George is kind of a goof of a guy," she says. "It's great he can change when the camera rolls and become very charming and suave."
Unlike Sinatra, who stopped being ambitious after he had made it, Clooney is, if anything, more ambitious now. He has taken on the mantle of producer on "Ocean's Eleven" as well as several other film projects in which he will not star. He also just started to direct his first feature, "Confessions of a Dangerous Mind," from a script by Charlie Kaufman, who wrote "Being John Malkovich." Clooney is partner with Soderbergh, the Oscar-winning director of "Traffic, " in a production company they call Section Eight, after the military clause that allows discharge for reasons of insanity. "I cooked up the idea because I had such fun working with Steven on 'Out of Sight.' This was before I had the year I had last year and before Steven had his phenomenal year being nominated for both 'Traffic' and 'Erin Brockovich.' I said to him, 'Look, I have a little bit of clout, and you have a little bit of clout. Let's put it together and maybe we can get things done.' Then we had our amazing years and ours became one of the very few companies that gets the very best projects sent to it. People want to get involved with us because it's fun," says Clooney, who uses the word "fun" often and appears to put a premium on having it. He personally persuaded the heaviest names in the "Ocean's Eleven" cast to take a one-third pay cut so the movie could be made for a mere $80 million. "All these people have enough money already, and the truth is they want to do good movies and work with good people," Clooney says. In his own case, "Batman & Robin," as dreadful as it was, set him up financially for the rest of his life. He paid off his house and, after years of living like a college student, decorated it in the manner of a movie star. "When you get to the position where you can take chances and instead you just sit back and go, 'OK. I'm just going to do big action films,' then you are really dumb because you don't need the money."
Just as he didn't mind auditioning for his first big movie roles, even though "ER" already had made him a star, Clooney had no problem auditioning to direct "Confessions of a Dangerous Mind." He sat down with Soderbergh and Miramax head Harvey Weinstein and showed them exactly how he would shoot every scene. "I might be lousy at directing, but I want to push myself and try stuff. Why else are we here if we're not going to swing out?" His derring-do does not extend to marriage. Clooney has been married only once, to actress Talia Balsam. Their 1992 divorce wound up costing him $80,000 in lawyers' fees and a lot of aggravation. He got a bleeding ulcer in the middle of it. After that, Clooney proclaimed he intended to never marry again. "I don't want to go in and screw everything up again," he said five years ago.
A New Attitude
But his attitude about marriage has softened, possibly because of meeting Renee Zellweger, although Clooney is careful not to say whether they are romantically involved. "I made that statement about not marrying again a long time ago, and I felt strongly about it then. I'm still not looking to get married, and I don't have any thought of it. But I'm learning as I've gotten older that definitive statements are kind of dumb because they will always come back to haunt you. "Nicole Kidman bet me 10,000 bucks that I would be married and have kids before I was 40. She sent me a check on my 40th birthday. I sent it back to her and said, 'Double or nothing when I'm 50.' " The sound of his laughter fills the room. No need to ask if George Clooney is having fun.

Steven Soderbergh
Movieline
Dec/Jan Issue
Outtakes from the interview, "Steven Soderbergh is so Money," by Stephen Rebello in the December/January 2002 issue of Movieline, on newsstands now.
On the Ocean's 11 cast:
There's a lot of expectation here, and Ted Griffin wrote a great script that's genuinely witty without being glib. There's a real knack to performing with apparent ease, but they all seemed to understand that they needed to bring their A-game. I said, "If you don't, you're going to get shown-up either by someone around you or the audience."... Going in, there was a lot of like, 'OK, who's going to be the asshole?' Didn't happen. There wasn't a buzz-kill in the bunch. They were all having such a great time on it... Matt [Damon] said, "It's so much fun to be part of a flying wedge but not feel I'm at the front of it." Coming off three movies in which he'd played the lead and had to work every day, he loved being part of the team as opposed to having to shoulder the whole movie. George and Brad have slightly larger roles but they very much felt it was a team effort... The cast was very self-sufficient. They all knew what they're doing. I think they were sympathetic to my day-to-day struggles and were very, very low maintenance. They recognized that it was not as fun an experience for me as it was for them. It was just impossible for me to be as loose as I might be normally. I was trying to wrap my head around how to physically put this movie together.
On George Clooney:
He's a better actor than he thinks he is. He's now starting to build a body of films that indicate that he has very good taste. He's really funny in a seven-minute performance in Welcome to Collinwood, this movie he and I have produced for our company Section 8. It's a glimpse of something he doesn't normally do or is asked to do. And when the time comes, he's going to pull one out that's really going to surprise people.You can red more of the article if you click
here
.

Studio limiting media coverage of 'Ocean's 11' stars' visit to Incirlik
Terry Boyd
Turkey Bureau
European Edition
12/01/01
Izmir, Turkey — Some of the biggest names in Hollywood are coming to Incirlik Air Base next Friday, but the planned international spotlight on the U.S. military has been dimmed. Julia Roberts, Brad Pitt, George Clooney, Matt Damon and Andy Garcia will spend the day at the base as part of the premiere of the Steven Soderbergh movie "Ocean's Eleven."
But what started out as a spontaneous thank-you to U.S. troops from Hollywood film producer Jerry Weintraub has turned into something of a logistical nightmare. Now, the studio is downplaying what was anticipated to be a huge publicity generator for the movie and severely restricting coverage.
Weintraub had announced Nov. 19 that he would take the film's stars to Incirlik right after the "Ocean's Eleven" Dec. 5 Hollywood premiere, and just before premieres in Paris and Rome. "Ocean's Eleven" is a remake of a 1965 classic starring Frank Sinatra as Danny Ocean, a suave thief who recruits 11 top crooks — played by Sinatra's Rat Pack pals including Dean Martin and Sammy Davis Jr. — in a quest to burgle a Vegas casino.
Weintraub has said he hit on the idea of visiting U.S. troops while he was talking to some of the stars about plans for the European premieres; the stars agreed. Weintraub reportedly called former President Bush, who then contacted Pentagon officials.
But once word got out that Hollywood hard-hitters were to visit Incirlik, reporters and film crews overwhelmed Warner Bros. with requests to cover the event, said Mic Kramer, a Warner Bros. vice president of international publicity in Hollywood.
"How do you really pick who comes and who doesn't?" Kramer said. "Do you let ABC come, but not NBC? After a while, it became too much to handle. And on a certain level, getting press and publicity was not the purpose."
The resulting "Ocean's Eleven" deal appears to be that Americans at Incirlik will get a planeload of Hollywood's biggest names for free in return for Warner Bros. controlling media access to the event.
A small media crew will be the only nonmilitary people covering the event, said officials at the New York City-based AOL Time-Warner media giant — the parent company of Warner Bros. movie studios, Cable News Network and Time magazine.
"As we understand it, Warner Bros. has contracted with a crew from London, a cameraman, sound person and a still photographer," said Staff Sgt. Tammy Brubaker, 39th Wing spokeswoman at Incirlik.
The crew will transmit footage and stills to the wider media. Otherwise, only internal military media will be allowed to capture the stars mingling with troops from the Air Force's 39th Wing, and British and American crews who fly Operation Northern Watch missions over northern Iraq. Even American Forces Network is restricted to showing footage only to soldiers on base.
Originally, Air Force public affairs officers at Incirlik had planned to invite media to cover the visit and asked Warner Bros. executives about sending out invitations, Brubaker said. But Warner Bros. nixed the idea, saying that the purpose of the visit was a low-key "thank you to the troops for a job well-done," she said.
Warner Bros. is pretty much free to make the rules because they're paying the bills, said U.S. military officials.
The United Services Organization, a nongovernmental charity, and its military liaison, the Armed Forces Entertainment Office in Washington, D.C., oversees celebrity visits to troops, and the Defense Department often pays travel costs and even per diems, said Phil Strub, DOD's special assistant for entertainment media. In this case, Warner Bros. is paying all expenses for the "Ocean's Eleven" event, Strub said.
Weintraub told DOD officials "very specifically that he doesn't want this to be a big deal. No [distinguished visitor] treatment. No general officers and admirals hanging around," Strub said.
"[The celebrities] want to sleep where the troops sleep, eat where the troops eat," he said. "He said he told his crews, 'They're going to earn their pay on this trip.'"
Just how stars and military folks will mingle is still not totally settled, Brubaker said. Initial plans call for nine total "Ocean's Eleven" base showings, with three next Saturday when the stars are there. Incirlik officials will distribute tickets to different flights — logistics, maintenance, etc. — which will in turn distribute tickets at the squadron levels. "We're still trying to work out where, hoping that some stars will make comments just before the showings," Brubaker said. There still is not a clear schedule of events, said Warner Bros. officials in Hollywood. "Is this our finest hour of planning? No," said one source, who asked not to be identified. "But that's what happens when people get spontaneous. And this truly was a spontaneous gesture by Jerry and the stars to thank the troops."

Ocean's Eleven....A Review
Todd McCarthy
Variety
12/1/01
An all-star remake of the all-star original, "Ocean's Eleven" is a lark for everybody concerned, including the audience. Breezy, nonchalant and without a thing on its mind except having a little fun, this lightweight caper doesn't take itself seriously and hardly expects the viewer to do so either, which itself sets it apart from any other mainstream film Steven Soderbergh has ever made. Watching George Clooney compete with Andy Garcia for Julia Roberts while plotting with Brad Pitt, Matt Damon and some other good-looking guys to knock over a Las Vegas casino vault will sound like a pretty good deal to most of the moviegoing public, meaning that Warner Bros. will be making some happy trips of its own to a vault, wads of cash in hand.
Legendary, after a fashion, as the film that put the Rat Pack together on the bigscreen for the first time, and in a Vegas setting no less, the 1960 production is remarkable for nothing other than its cast. It is, in fact, an amazingly lazy and lax piece of work, one in which you often feel that it was all director Lewis Milestone could do to get the guys in front of the camera at the same time to say their lines. Watchable up to a point for the ethos it evokes and historical moment it represents, lethargic pic has no intrinsic credibility or suspense.
Although they can't begin to be compared iconographically to Frank, Dean, Sammy and the rest, the stars are the main event here as well. In this day of $20 million players, it's rare to see an Irwin Allen-sized lineup of several bona fide movie stars in the same picture, but Clooney and Soderbergh made it happen and it's a mild treat to watch the thesps good-naturedly bouncing off one another, no matter how inconsequential the material.
Even more amusing is observing two seasoned old pros, Carl Reiner and Elliott Gould, devilishly stealing every scene they're in from their more glamorous cohorts.
A good part of the fun in this kind of picture derives from the mastermind's rounding up his crew, each one a specialist in a certain area that will prove critical to the success of the job. Such is the case here, as the debonair Danny Ocean (Clooney) is no sooner released from a four-year stretch in the pen than he begins approaching his key personnel.
In Atlantic City he recruits casino dealer and fellow ex-con Frank Catton (the instantly winning Bernie Mac); in Hollywood he recruits card sharp Rusty Ryan (Pitt in Steve McQueen mode), who needs a challenge; in Chicago he finds Linus Caldwell (Damon), son of a legendary con man; in Florida he locates elderly down-on-his-luck hustler Saul Bloom (Reiner), and in Vegas he successfully pitches his plan to bejeweled moneybags Reuben Tishkoff (Gould), a former hotel and casino tycoon who has been deposed by the new king of Vegas, Terry Benedict (Garcia).
The plot is outlandish, seemingly impossible: To rob the vault, located 200 feet underground, that holds the cash that covers all the chips in play at the three hotel casinos -- the Bellagio, the Mirage and the MGM Grand -- owned by Benedict. On the night in question, when a heavyweight championship fight will bring plenty of high rollers into town, the holdings are expected to amount to $150 million.
How the heist will be pulled off is another question, one the silky-smooth Danny makes sound complicated but feasible. To manage it, he calls in the remainder of his team: A Cockney demolition wizard (Don Cheadle, curiously unbilled onscreen but included in the press notes), whose task it will be to shut down electrical power in Vegas at a precise time; a sweaty surveillance man (Eddie Jemison); disguise-happy drivers and delivery twins (Casey Affleck, Scott Caan) and "grease man" Yen (Shaobo Qin), a Chinese acrobat whose unusual ability to fold himself in half at the waist and fit into tiny containers qualifies him as an important cog in the wheel.
Then there's the part Danny doesn't bother to mention: Terry Benedict's personal art curator and girlfriend Tess (Roberts) happens to be Danny's ex-wife, and he wants her back. When Tess makes her first entrance, 45 minutes into the action, it's clear that the feeling isn't mutual. And when Rusty learns that the motivation for the job is personal, not purely professional, he's briefly so upset that he wants Danny out of the picture as well. But Danny perseveres, knowing that his only chance with Tess lies in his getting the better of the seemingly invincible Benedict.
Since virtually the entire narrative in Ted Griffin's script is procedural, in that every scene is in some way related to the eventual execution of the robbery, it's somewhat surprising that Soderbergh puts so little effort into building up excitement in the heist itself.
But then again, from "Rififi" on, this has been done a hundred times, so the director perhaps rightly decided not to try to inflate with bogus suspense a sequence that, if presented with alleged realism, might have been exposed as more preposterously far-fetched than it already seems. Suffice it to say that this film does not present criminals with any ideas they could easily put into practice.
No, the film is all about surfaces and behavior and grace notes. Working as his own cinematographer under the nom de camera of Peter Andrews, as he did on "Traffic," Soderbergh bathes his actors and settings in a flattering warm glow but retains a measure of the rough-and-ready visual style he developed on his last picture. Steering clear of traditional Hollywood glamour photography despite the obvious temptations, helmer attractively frames the beautiful faces and luxurious surroundings (the production had virtually free rein at the Bellagio for weeks) in images of moderate textural grain, giving the film a grittier look than usual for this sort of extravaganza.
Much of the film is about pretending and about getting away with something. This applies to dapper Danny, of course, and Clooney has no problem making him the cool and commanding figure the others are willing to follow into what looks like a foolhardy adventure.
But the greatest "actor" here is Bloom, who literally has to shed his old-Jewish-two-bit-dog-track-habitue skin to become a gravely fastidious billionaire of indeterminate origin in order to worm his way into Benedict's exclusive circle. Fretting inside and battling poor health, Bloom is made into a choice creation by Reiner, making one wish the character could have been given even more screen time. Same can be said of Tishkoff, with Gould's wonderful and surprising delineation of a flamboyant but non-caricatured old school queen prompting speculation that the vet thesp's range has been decidedly untested.
Entire cast seems spontaneous and relaxed. She has more to do than Angie Dickinson did in the original, but Roberts is still basically The Girl here, albeit one very much worth fighting over and bedecked with fabulous clothes and jewels. Pic could have used a more formidable adversary than Garcia's Benedict, who is very much the slick entrepreneurial parvenu; with someone like Robert De Niro in the role, the entire enterprise would have taken on some welcome weight without at all throwing off the fun dynamic.
David Holmes' score is characterized by a frisky jazzy feel that is at times abetted by other musical moods, notably that of Debussy's "Clair de lune." Original pic is repped by Dickinson and Henry Silva, who fleetingly appear in the crowd for the Lennox Lewis-Wladimir Klitschko prizefight that occurs the night of the robbery. Film's coyest touch comes in the end credits, which list all the male players and then conclude with "...and introducing Julia Roberts as Tess."
Thanks to Katie for this story

Clooney Lays His Cards on the Table About Ocean's Eleven, Fame and Marriage
E!
11/30/01
George Clooney is a man's man. Even when he's a ladies' man.
With a history of beautiful companions, a successful TV series and a string of acclaimed films, it's no wonder Clooney felt comfy stepping into the shoes of the ultimate man's man, Frank Sinatra. And Sinatra would probably also appreciate Clooney's desire to do it his way: Next up, he goes behind the camera to direct Confessions of a Dangerous Mind, based on the comic autobiography of Gong Show host Chuck Barris; the film's set to star Drew Barrymore and Ocean's Eleven chum Julia Roberts.
To kick off E!'s new series Revealed, Clooney sat down with host Jules Asner to talk about Julia, practical jokes and his own pack of pals. You'll get the full details on the December 5 premiere, but here's a sampling of what he Revealed:
On turning 40: I was fine with it. I think mostly because everyone thought I was already that old, I didn't mind. It's certainly easier being a guy--being an actor in this business and being 40--because there are a lot of roles for you at that age. So, the only thing I don't like is that things hurt on me now. [Laughs.] My knees hurt, my back hurts. But your head still thinks you're 23...
On his friends: There's eight of us, same seven guys for 20 years, and we travel together. Every year we take a bus cross-country, or this year we went to Italy and rode motorcycles through the Italian Alps for a month. It was amazing, really one of the great vacations of our lives, and probably something we won't ever get to do again. You know, these guys are all successful in their own right. Some are real-estate guys. Some are insurance guys. Some of 'em are actors. But they are all successful...When you're famous, everyone tells you how great you are--not everyone, but a lot of people will say that, they'll just say yes, pretty much to anything you do or say. And it's great to have these same seven guys going [sarcastically], 'Oh, yeah. Oh, yeah. You're great!' And y'know, you get to do it back to them. So, it's a great leveler
On being famous: It's funny...The things you thought you'd like when you were young--like attention--you really don't want. And it's not whining or being a pain about it, because it's part of your job. But that attention can dwarf you. You sort of lose your identity. That can be strange and not nearly as fun as one would think. It would be fun to do once, but it's also fun to go back and be able to go to a movie. No complaints, that's just the way it is. [But] it's nice to be able to get movies made--that's the greatest thing in the world. The surprise, I think, was how I thought that once you got to a certain point in your film career, everything would be the greatest scripts in the world and the greatest projects, and it's pretty amazing how bad the stuff is that you get. So, that was a huge surprise for me.
On his first acting gig: My cousin Miguel Ferrer [Robocop], who is a wonderful actor, came to Kentucky to do a movie with his father, Jose Ferrer [Cyrano de Bergerac], a wonderful actor as well. And they got me a couple of lines on this film called And They're Off. It's a horse race movie--we called it The Story of a Gelding. It never came out. In fact, everything I did for a while [didn't come out]. I did a film with Charlie Sheen and Laura Dern, Grizzly II. Not only did it not come out, it was never completed, and the guy who financed it went to jail for financing it.
On a role he wanted and didn't get: Well, there was one, and it's funny...Brad [Pitt] and I tested for Thelma and Louise. And I really knew it was a star-making part, even then. Didn't know the film was gonna be as successful as it was, but it was just a great part. And I was so mad when I didn't get it, because I really thought I sort of had that one. And so I didn't watch the movie, [said], 'I'm never gonna see that damn thing.' I didn't see it for about a year. And then I saw it--I got it on tape, and I watched it, and it's a terrific film, and Brad was so good in it that I actually felt fine, because I was like, Well, I couldn't have done that. And I certainly couldn't...
On marriage: Well, you know, I don't know. I really don't know. I've always said probably not again, because I sort of feel that way. But I always think answering that question [that way] paints you into corners...I don't know what the scenario would be right now that I would do it. I don't see it. I've got a great pig.

Ocean's Eleven" World Premiere...Source: Warner Bros. Pictures
11/28/01
Celebrity Guests to Join Stars and Filmmakers for the World Premiere of "Ocean's Eleven" From Warner Bros. Pictures and Village Roadshow Pictures Wednesday, December 5
Who:From the Film: George Clooney, Matt Damon, Andy Garcia, Brad Pitt, Julia Roberts, Casey Affleck, Scott Caan, Don Cheadle, Elliot Gould, Bernie Mac, Carl Reiner, director Steven Soderbergh, producer Jerry Weintraub, executive producers John Hardy, Susan Ekins and Bruce Berman will be joined by Andre Agassi, Erika Christensen, Hlly Combs, Joshua Jackson, Jon Bon Jovi, Danny DeVito,Topher Grace, David Holmes, Lennox Lewis, Lucy Liu, The Rock, Fred Savage, Noah Wyle.
What:The World Premiere of "Ocean's Eleven," co-sponsored by SONY Playstation 2 & Coors Brewing Company. Warner Bros. Pictures presents, in association with Village Roadshow Pictures and NPV Entertainment, a Jerry Weintraub/Section Eight production.
Danny Ocean is a man of action. Less than 24 hours into his parole from a New Jersey penitentiary, the wry, charismatic thief is already rolling out his next plan. Following three rules -- don't hurt anybody, don't steal from anyone who doesn't deserve it, and play the game like you've got nothing to lose -- Danny orchestrates the most sophisticated, elaborate casino heist in history.
When:Wednesday, December 5
Arrivals - 6:00 p.m.
Screening - 7:00 p.m.
Where:Mann's Village Theater
961 Broxton Avenue
Los Angeles
OPENS IN THEATERS DECEMBER 7.
"Ocean's Eleven" is rated "PG-13" by the Motion Picture Association of America for "some language and sexual content."

A TIDAL WAVE OF TALENT
Ocean's 11 Interviews by Paul Fischer in Los Angeles
What do you get when you mix A-listers George Clooney, Matt Damon, Andy Garca, Brad Pitt, Julia Roberts and Don Cheadle, plus veteran producer Jerry Weintraub and Oscar-winning director Steven Soderbergh? Enough heat to melt by. So when one is confronted by this much talent in one hotel room, it's fun to feel the sparks fly. Paul Fischer was privy to such a meeting of A-list celebrity.
The room in the Beverly Wilshire Hotel is, not unexpectedly, simply buzzing. A group of eager journalists have gathered on a Saturday night to discuss one of the year's would-be blockbusters: Steven Soderbergh's smooth and ultra cool reworking of the 60s Rat Pack caper flick, Ocean's 11. Several comfortable armchairs are positioned on the dais, as we await the arrival of our stars. Not any stars, but stars that together, electrify and fascinate the waiting media throng. The wait is over half an hour later, but then one knows that much like their film, we're in for a good time. The best way to explain it is to show the sometimes witty exchange between stars and filmmakers, and media, gathered to celebrate the arrival of Ocean's 11, the Vegas-set caper movie revolving around Clooney:'s Danny Ocean and his seemingly impossible plan to rob Bellagio Casino from under the cool eyes of owner Harry Benedict (a wonderful Andy Garcia), who happens to be dating Ocean's ex-wife Tess (Julia Roberts). He has to enlist the best crew imaginable, headed by long time friend Dusty Ryan (Brad Pitt).
Helping to discuss their work in the movie is a group of charming superstars and filmmakers, all who have their unique say, sometimes serious, other times not quite.
Jerry Weintraub, producer
He's been in the biz for over forty years. Among his diverse credits are Nashville, Oh God, all Karate Kid movies and All Night Long.
Steven Soderbergh, director
Steven who? Just kidding. One of the most prolific and gifted filmmakers of his generation, Oscar winner for Traffic, whose Erin Brockovich showed us a new side to one Julia Roberts. Plus the stars: George Clooney, Brad Pitt, Julia Roberts, Matt Damon, Andy Garcia and the perennial scene stealer [both on and off camera] Don Cheadle. What follows is a lengthy conversation between us and them, and we took it all in stride.
Question: Did all you guys stay at the Bellagio while you were there, or how long were you in town for, and what did you do when you were in your down time? How did you take advantage of being in the city?
Roberts: We did stay at the Bellagio, yes.
Cheadle: I stayed in my car.
Pitt: You need a new agent
Garcia: I personally never did any gambling while I was there, I mean I like to play black jack here and there but it was odd when I left I never sat down at a table. I guess I was delusional enough to know that it was MY casino.
Clooney: Well, I mean you guys know me well enough now to know that I'm a method actor, so I spent years training for the drinking and carousing that I had to do in this film and I was perfectly prepared for it, I gotta tell ya.
Damon: George told me 6 months before the movie that we really got to start on our research, so we went to Vegas.
Question: What is the downside or pros and cons, of working in Vegas? What are the ups and downs?
Damon: Um, well, I can't see a downside to it. [laughter all around]. For me, it's really more about for me about the group of people that you're with in determining how much fun, how much value you figure you're going to have in your life. You get a good group of people like this, Steven has his own crew that he works all the time, and those guys are amazing. Julia said that the best time she ever had on a movie was on Erin Brokovich, and she would make the comment she was shooting in Bakersfield, out in the desert in Bakersfield, and has never had more fun on a movie. I think that kind of speaks to the atmosphere that you create.
Weintraub: Vegas was very helpful to us there at the hotels and it is a 100 billion dollar set that you couldn't recreate in Hollywood, because you have all of these magnificent hotels and you have the whole strip and you have everything that we wanted, you know, to have, right there and its all practical and it also gave the actors a feeling of really robbing these casinos, which they really did and nobody knows exactly how much money George and Matt won but very few.
Question: How much did they lose?
Clooney: Oh, I lost. But not too bad. I'm not a big gambler.
Question: George, what is it about Soderbergh, since this is your second time with him, that makes him such an appealing director to work with?
Clooney: Well mostly you feel sorry for the guy because he can't get work; he's on his last leg financially. I don't know, look, you just want to work with the best directors you can, PERIOD.
Question: Julia, you once said you'd anything to work with Soderbergh. What is it about him that makes him so exceptional for YOU?
Roberts: I just really like Steven and I think that he has a very deep respect and appreciation for movies and a great story told well, and that in conjunction with his own intelligence. Also he had contractually hired the handicapped, when it comes to acting, um, you know, it's a good combination. I have a kind of reckless abandon when it comes to my job, and he has precision, and I think those two together work most of the time. I think they do.
Question: Steven, when you do a remake or an adaptation, how do you make it uniquely yours?
Soderbergh: I put my name on it so I make it mine. I think the key is trying to, I mean, I've done two remakes. One, I think one turned out not well and one that I think did and&
Pitt: Which one didn't?
Soderbergh: The Underneath. I don't know, the best analogy I think is best when you come up with a take on material that from top to bottom revises and re-imagines everything about the movie. It's sort of the equivalent of when, like Joe Cocker's version of With A Little Help From My Friends,great original song, you think a Beatles song, you don't wanna touch that. His version of it is amazing and completely different than the original song, and I think that's the way you have to think, just sort of start from the ground up and just rebuild it, and that's, you know, that's what Ted did in the script, and I sort of followed that.
Question: Matt, when you play the lead role in so many films, how do you make the transition to playing the lead to one of a dozen.
Damon: It's not really a transition, you know. Here's the thing, at the end of the day I want to look at movies that I did when I'm older and look back on the whole titles on a sheet of paper and be proud of them, and this is one of those movies where the script is really tight and structured really well, really well written by Ted Griffin, a guy who I knew before that, who I'd met and hung out with a little bit plus Steven Soderbergh as director, so it really wasn't rocket science, you know, to say I don't think for any of us, let's be a part of an ensemble; it's going to a good movie, it's going to be fun and entertaining and it's going to be special and we'll be proud of it when we're done.
Garcia: We just wanted to work with Jerry Weintraub
Clooney: Before he died.
Question: Julia, with all the testosterone on this set, I was wondering, what was it like to be the only girl?
Roberts: It was nice to be the only girl. I thought it would be a more kind of queenly experience. It's something that never happened to me in high school, but it wasn't really that. No, it was really, fun. I just knew that come what may, THAT would be my distinction. I would forever be the girl', and nobody could change that, so George tried.
Question: Don, do you have any plans to do a lead role?
Cheadle: No. Never wanna do one.[LAUGHING]
Question: You're known to be a scene-stealer in movies. So, assuming you would like to have a leading role, describe the ideal part for you, what would be the ideal project or the ideal part?
Cheadle: Well, I'd gotta be naked, I really do. Um, no I don't know. There are many, many stories out there. I'd love to do something around, you know, the jazz, around that cool jazz era. There's just tons of stories as long as they're well written and well conceived. There's just not a lot of them out there.
Question: How do you guys look at the rat pack and the way THEY were together, did it influence your work?
Clooney: The movie is such a re-imagining of it, is that what it has in common with the old one, is that it's called Ocean's 11 and that Danny Ocean gets 11 people together to knock over more than 1 casino, but that's about it. I think we were all leery in looking at it closely.THAT movie had so much of THEIR charm; if you enjoy that movie it was because it was fun to watch and being them, and knowing they had a fun time making it, but we made it more than that going into this one. Like, the story is from that, I mean sometimes someone didn't show up and you know, Henry Silva got their lines, you know?
Question: Can you guys look at their patterns and interact with their dialog?
Clooney: No, I mean the thing is, I mean at least for me I LOVE those guys, these are heroes of mine, certainly had all of theirs, listening to the tapes of them when they were in Chicago and you know, during the benefit in Vegas, just the funniest guys in the world and they were hysterically funny together, but I'd watch them drink a beer, I mean they are just the coolest guys ever. But we weren't trying to do that, I mean, you know, when they first started talking about doing Ocean's 11, I don't know, I didn't want to get sort of caught up in THAT, you know, but then once you start the movie and it's such a great script, we never looked back at that, we never once said, Oh this is sort of like Frank and Sammy and Dean; that never really existed. This is a whole movie unto itself. Now, as we start to SELL the movie, of course, I have to, you know, we will all have to talk about it and you know, that's fine. It's part of it. But, you know, those guys, we're never going to be as cool as those guys, that's their thing, you know, that's why that movie was successful was because of that, because the movie kinda works, and you know, kinda doesn't. We just went in and just had a blast.
Question: George, I've read Confessions of a Dangerous Mind and it's a really complex, dark and dry piece. It doesn't seem like, doesn't seem like a comedy.
Clooney: It doesn't seem like a comedy? I told everybody it was a comedy. Don't tell Julia that, or I'm in deep sh*t.
Question: Anyway, it's such an ambitious piece, what are you doing to prepare everybody and prepare for the film?
Clooney: Nothing, I just show up and they just do it and I just go home. I've been working on this for almost a year now, you know, and I did a lot of my own storyboards and you know, I worked with Joel and Ethan and they, you know, they storyboarded out every single shot the entire film and so I did that, you know, working every single day, I flew in last night from Montreal, go back, The thing is this, if you're going to do it, I didn't do this because I said I wanted to direct, I did this because the film kept falling apart and I wanted to get this movie made because it's really one of the best scripts in town and has been. And I figure if I screw up at least I'm working on the best script in town and at the very least I'm going to be protected by a good script.
Question: Brad, just a two-parter about your Friends episode, I was wondering what took you so long to do the show and secondly, &
Roberts: Just be glad he DID it, don't say what took you so long.
Question: And secondly, how was your doing the whole fat suit story line?
Pitt: Well, I don't do a fat suit thing that's just history on the character. Yeah, there's none of that.
Question: What led you to do the show?
Pitt: Self-promotion for Spy Game. [CHUCKLING] No, let me clear this up because I dearly love this show very much, long before I met my wife even. It makes me happy this show, so I had a great time doing it with these guys, and, um, in these times, entertainment is, I believe, is very important so we just wanted to get out and do something.
Question: Brad, it seems that you're one of those specific stars, who is still surprising people, like you do a Roman Statute, they go, oh, my gosh, you know, Brad did this great, where did that come from?
Roberts: I want that on a t-shirt.
Question: Is it hard not to kind of play the Brad persona and like, you know, get those kind of roles? I mean is that a problem in Hollywood?
Pitt: No, not& well, listen, there's a handful of us that could what I'm saying is the leading man's been done, and been done really well, a million times by some very great actors, and I guess it's just, it's just sometimes more fun to go the other way. The great thing about my baggage, as limiting as it may seem, it also sets me up for that kind of surprise and then people go& that was great, where did that come from?
Question: You guys are known as some of the nicest guys in show business. Has it become harder to be nice the more successful you get or is it easier?
Clooney: Hey F**K YOU man. [Laughter all round]
Garcia: I don't know, if that has to effect anything, the fact that we happen to do something that is in the limelight and blessed with to have the opportunity to do what we do, and the fact that that brings a certain amount of celebrity because you are in films, does not give you the permission to be an a**hole. You know, the most important thing in life is how you conduct yourself and that's the legacy you leave behind for your children and hopefully for your friends that outlive you to think about you, that's what it's all about, your work is secondary. So those who think they have the ability to, or the privilege, I'm on this pedestal and therefore I can be a certain way, then f**k em.