Daily Dose of George Clooney!

O 11 News Pt. 6



Soderbergh, Clooney up for 'Ocean'...March (2004) shooting date for all-star ensemble's sequel
Michael Fleming
Variety
1/13/02
Warner Bros. and Village Roadshow Pictures are eyeing a March 2004 start date for "Ocean's Twelve," with director Steven Soderbergh and star George Clooney are ready for encores.
Jerry Weintraub is back as producer, and the studio is looking to lock down Brad Pitt, while other regulars may return along with new additions. A holiday 2004 release date is being eyed.
The catalyst for its move toward the starting gate came when WB asked "Timeline" screenwriter George Nolfi to rewrite his script "Honor Among Thieves" screenplay with an "Ocean's Eleven" bent.
Warner originally bought "Honor Among Thieves" two years ago as a potential directing vehicle for John Woo, but the project stalled.
Tapping a pre-existing script for a sequel is not unprecedented. It happened on "Die Hard With a Vengeance," a film that was stuck until Fox tapped a script it owned called "Simon Says."
"Ocean's Twelve" could be the next jobs for both Soderbergh and Clooney. The Section Eight partners both vowed to take time off after doing several movies back to back, including Clooney's directing debut, "Confessions of a Dangerous Mind" for Miramax.

Ocean's Twelve: Entertainment Weekly confirmed with Jerry Weintraub that the sequel script should be ready by late next year with the whole cast due back


George Clooney on Ocean's Eleven Sequel
1/7/03
Scooper 'Glenn Lovel' writes in with the latest news about the Ocean's Eleven sequel... On the Red Carpet, for George Clooney's directorial debut "Confessions Of A Dangerous Mind", Access Hollywood asked George about the status of the Ocean's 11 Sequel.
George replied by saying that the script is in the works and the filming should start sometime next year.
Access Hollywood also asked about the much rumored sequel title, Ocean's 12. Clooney replied saying that currently they haven't committed to a title for the sequel


November 12, 2002...
In this week's latest issue of Entertainment Weekly, Steven Soderbergh and George Clooney told the magazine that, from all of their upcoming films in development at their production company Section Eight, Ocean's Twelve is the most likely to be put on the fast track. [Scoop sent in by 'Internet 24-7'; originally appeared in Entertainment Weekly.]


"Are you in or are you out?"
10/10/02
Celebrating the hottest DVD and VHS release of 2002, Oceans Eleven, Warner Home Video announce the ultimate on-line competition. "Win a trip of a lifetime to Las Vegas for you and 10 friends" goes live at http://www.oceanseleven.co.uk/ on Friday 11th October through to Friday 1st November.
In this truly unique, on-line competition, entrants log on at http://www.oceanseleven.co.uk/ to nominate ten friends who are each allocated a role in this first of its kind web-based heist! Once the team members have been nominated (The Eye in the Sky, The Getaway, The Bomber, The Bankroll, The Inside Man, The HighRoller, The Grease Man, The Idea Man, The Rookie, The Pro, The Target, The Wild Card) the competition becomes a collaborative effort and all are invited to answer a question specific to their role to help land the big prize. The team that answers all 11 questions correctly wins!
The winners will steal four nights at The Mirage Hotel, one of the opulent heist hot spots from the film. Spending their days and nights amongst the neon lit sites of glamorous Las Vegas, the winning team will turn cards at the tables of the most exciting casinos in the world where the jet-set glitterati come out to play. Days will be spent shopping at the Belz, lounging around the hotel pools, taking coffee at 'Dive' the submarine coffee joint and screaming on the 'High Roller' the world's highest roller coaster...living the Las Vegas lifestyle!
Ocean's Eleven is a non-stop, action packed, super-slick heist movie. The setting is Vegas and the cast reads like a who's who of Hollywood's elite. Combining the talents of George Clooney (The Perfect Storm, Three Kings, O'Brother Where Art Thou?), Brad Pitt (Spy Game, Snatch, Fight Club), Julia Roberts (Notting Hill, Erin Brockovich), Matt Damon (Good Will Hunting, The Talent Mr Ripley) and Andy Garcia (Godfather 3, Desperate Measures).


'Ocean's Eleven' will ride the wave of popularity with a sequel!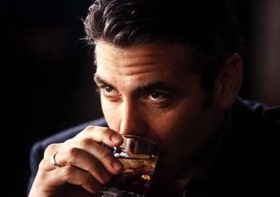 Norm!
LVRJ
9/13/02
After hauling in a whopping worldwide take of $446 million, "Ocean's Eleven" is moving closer to a sequel.
The question this time around is how much of a role will Las Vegas play? Director Steven Soderbergh didn't leave much doubt that the sequel is going to happen.
He recently told a Norwegian newspaper: "I know we can make a better film than `Ocean's Eleven.' I've been playing with ideas in my head, but nothing is materialized. I know we'll shoot in Europe and that all actors are in on it."
He indicated shooting is loosely scheduled for 2004.
A spy with close ties to the writing team tells me shooting could start as early as next fall.
A second source reached in Hollywood on Thursday would only say the next edition of the heist film "is still in discussion."
Co-producer George Clooney, as capermeister Danny Ocean, co-starred with Julia Roberts, Brad Pitt, Matt Damon, Andy Garcia, Don Cheadle, Elliott Gould, Carl Reiner and Bernie Mac.
Ocean and his associates rob $150 million from three major Las Vegas casinos -- the Bellagio, MGM Grand and the Mirage -- during a major boxing event on New Year's Eve. It was a remake of the 1960 original starring Frank Sinatra, Dean Martin, Sammy Davis Jr. and Joey Bishop.


ORIGINAL MOTION PICTURE SOUNDTRACK...Ocean's Eleven
4/26/02
PopMatters Music Critic
Andy Hermann
Okay, here's a musical brain teaser: what do Claude Debussy, Elvis Presley, Quincy Jones, Percy Faith, and the Handsome Boy Modeling School have in common? Absolutely nothing, unless you happen to be Irish producer/composer and inveterate musical hipster David Holmes. Then, you'll somehow manage to stitch together all these disparate musical stylists with your own ultracool compositions, and produce the year's hippest soundtrack: Ocean's Eleven.
As cool as Steven Soderbergh's heist caper was on the big screen, Holmes' soundtrack may actually be cooler. Where Ocean's Eleven was souffle-light, the soundtrack has the gritty depth common to all of Holmes' best work, fusing jazz, funk, soul, and hip-hop elements into a sleek vibe that makes you feel richer, tougher, and better-looking just listening to it. Think Medeski, Martin & Wood at their sinewy grooviest and you have an idea of the sort of territory Holmes is mining. And the way it complements the film's dialogue, which is excerpted heavily on disc, makes you realize just how much the music helped propel along George and Brad's often paper-thin antics.
Just consider a track like "The Plans", which slinks along under the scene in which Clooney first tells Pitt about his plan to rob the vault at the Bellagio. The dialogue, as snappy as it is, could easily be utter nonsense -- "Off the top of my head, I'd say you're looking at a Boeskey, a Jim Brown, a Miss Daisy, two Jethros and a Leon Spinks." But Clooney and Pitt's cocksure delivery pulls it off, with a big boost from the moody, atmospheric cocktail jazz laid down by Holmes' outstanding core group of musicians: drummer Zach Danziger, guitarist Chris Dawkins, keyboardists Jim Watson, Scott Kinsey, and Stephen Hilton, and especially Bob Hurst, who sinks his teeth into Holmes' meaty basslines with exactly the right tone of swaggering grace. As an album, Ocean's Eleven belongs almost as much to Hurst as it does to Holmes -- check out his amazing work on cuts like "Lyman Zerga" and "Pickpockets" to see what I mean.
As good as Holmes' original material is, however, what's most impressive about the Ocean's Eleven soundtrack is the way in which Holmes uses it to weave together the hodge-podge of cool sounds he's culled from other artists. Leading listeners from the proto-Muzak of Percy Faith's "Theme for Young Lovers" to the funk-laden hip-hop of Handsome Boy Model School's "The Projects (P Jays)" to Perry Como's over-the-top "Papa Loves Mambo" as seemlessly as Holmes does is a testament both to the strength of the his own tracks, which serves as transitions, and to his skills as a DJ, choosing tunes that you wouldn't ever think go together until Holmes exposes their similarities.
And just what are those similarities, exactly? If I knew for sure, I could quit my day job and start making soundtracks, too -- but I think the common thread in all of Holmes' material, original and borrowed, is a dual sense of funky groove and cocktail-lounge cool. It's a potent combination, perhaps best displayed in an overlooked Elvis Presley track called "A Little Less Conversation", which Holmes has said served as the inspiration for the rest of the soundtrack (and indeed, Holmes' own "$160 Million Chinese Man" lifts its groove straight from the Elvis original). This amazing tune packs more soul, rock, and hip-shaking swagger into a mere one minute and forty seconds than some rockers have mustered in their entire careers. It could have been recorded yesterday. And since Holmes "rediscovered" it for Ocean's Eleven, it's getting more exposure than some songs that were -- it's even turned up on a Nike commercial. Thank yuh, Mr. Holmes -- thank yuh vurry much.
Other highlights in Holmes' stylish stew include Quincy Jones' deliciously vampy take on the big band classic "Blues in the Night", Arthur Lyman's swinging bachelor-pad version of Duke Ellington's "Caravan", and two old David Holmes originals that sound right at home in this groove-laden company -- "Gritty Shaker", a zippy breakbeat joint from his 1997 disc Let's Get Killed, and the triumphantly bouncy "69 Police", one of the best cuts off Holmes' most recent full-length album, 2000's stunning Bow Down to the Exit Sign. If the album has a weak spot, it's the same as the film's -- the tacked-on denouement of Debussy's "Clair de Lune", a beautiful piece of music that just doesn't quite fit with the rest (though Holmes cleverly samples it elsewhere to create a gorgeous theme song for Julia Roberts' character, "Tess").
Be warned: much of the Ocean's Eleven soundtrack, especially the tracks Holmes composed for the film, is overlaid with dialogue from the movie, a device that can be cute but distracting. At first, to be honest, it bugged the shit out of me, but after a few listens, Ted Griffin's clever dialogue began to blend into Holmes' music until the two sounded right at home together -- especially when Griffin's dialogue is delivered by Clooney, who may have the most seductive male voice in show biz. When the combination really works, as it does on the slow-burn track "The Plan", the effect is not unlike hearing good beat poetry spoken atop a smoking jazz combo. Still, it would be nice to hear Holmes do an entire album of his own in the super-groovy style he's perfected on Ocean's Eleven. Then the rest of us could practice delivering our own suave, witty banter on top of it, and pretend that we were at least half as cool as George and Brad.


Bumper month at UK cinemas
BBC Online
4/17/02
George Clooney and some animated monsters helped the UK box office to a bumper March at the cinemas.
There were more than 14 million admissions to cinemas last month, that is a 43% increase on the same time period last year, according to the Daily Variety newspaper. Last month the George Clooney crime comedy Ocean's 11 took £10.2m, Oscar-nominated Monsters, Inc. brought home £6.9m, while UK comedy Ali G: In Da House grabbed £6.5m.
In the first quarter of the year, total UK cinema admissions were more than 48 million. That is an increase of 37% on the same time last year, reports Screen Daily. The figures were boosted by the continued success of two films released in late 2001, Lord of the Rings and Harry Potter. Rings took £36.6m over the first quarter of 2002, reaching a total UK gross of £61.5m, while Potter notched up a further £6.3m to reach a total of £64m.
The Cinema Advertising Association are predicting that ticket sales will reach 164 million in 2002 - a 5% increase on last year's total of 156 million.


Ocean's Eleven DVD - 9.1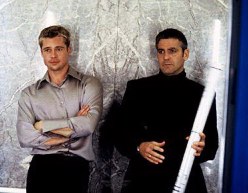 Are you sure we don't look like hookers?

4-6-02
Nick Nunziata
Contributing sources:
Studio: Warner Brothers
MSRP:$19.99 RATED: R
Special Features:
• Commentary by director Steven Soderbergh and writer Ted Griffin
• Commentary by stars Brad Pitt, Matt Damon and Andy Garcia
• HBO First Look: Behind-the-Scenes documentary
• "The Look of the Con," a behind-the-scenes documentary
• Original teaser trailer and three theatrical trailers
• DVD-ROM: features "In or Out" challenge game
Out of all the people I know who saw Ocean's Eleven I can think of only one who was not thrilled with it. One out of say... a hundred.
It's one of those films that's really hard not to like. There is no director in Hollywood who has made less bad decisions in the past five years that Steven Soderbergh. I'm not talking about business decisions or movies choices but DECISIONS PERIOD. Not a bad shot selection, edit, casting choice, filter, or marketing approach. The guy is as solid, skilled, and fresh as they get and he does it all without being showy or calling attention to himself. His take on the maligned Rat Pack original now arrives on DVD with a few bells and a few whistles.
The Flick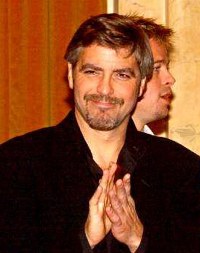 If you're happy and you know it,clap your hands!

How do you plan the perfect crime? Who the Hell cares when you have a group of superstars and great character actors!
Section Eight conspirators George Clooney and Soderbergh have engineered a star studded romp (with considerable help from producer Jerry Weintraub, writer Ted Griffin, and composer David Holmes) that wisely avoids trying to bury the viewer in savvy tech tricks and flashy chase sequences, instead focusing on entertaining at all costs.
Also, by intentionally not playing it for kitsch and aping the hard drinking original players they raise the quality and identity of their own version. Quality and identity are in short supply in a business filled to the rim with remixes, re-imaginings, and rehashes. A breath of fresh air in almost every sense.
The plot is simple, yet tried and true:
A con (in this case Clooney's Danny Ocean) gets out of prison in hopes of turning his life around. Actually, no.
He wants to steal again. No retirement plans with drinks and surf or an attempt to ride the straight and narrow. He wants to get back in the mix and piss some people off.
To do so, he needs a team. That team, that group of eleven characters is what makes Ocean's Eleven a reality but also an absolute blast. Partnered with the likes of Brad Pitt (who steals the show), Matt Damon, Bernie Mac (who does as well), Scott Caan, Casey Affleck, Carl Reiner, and more, it's one of those ensembles that ALWAYS seems to underwhelm in execution despite the potential on paper. Not this time.
For a film that could coast on coolness and marquee names, it really does its bit to entertain in all sorts of ways and it straddles the line between winking coolness and broad entertainment so very well.
From the way each character is introduced to the little details about their plan (the way they get Elliott Gould's character to participate, the way everyone perfectly understands when the Chinese guy talks, the warm rapport they all have), it all just seems RIGHT somehow.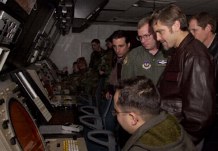 Can you get the "Spice Channel" on this thing?

Also, by having recognizable faces filling nearly every role it becomes one of those snowballing films where each new appearance reminds us of when star studded "event" films were the norm. Except, this one's not some cheesy cross country race.
I think the credit should go mostly to Soderbergh and Clooney, but Brad Pitt absolutely walks away with the movie.
Looking as relaxed and comfortable as I've ever seen him onscreen, he gets to be a little silly at times and at others he gets to be a great foil for Clooney.
There are four scenes that pop to mind when I try to isolate why he rules this flick: The scene where he mentors Matt Damon's character, the scene where he impersonates a cop, the scene where he impersonates a doctor, and the little exchange he and Clooney share at the end.
Funny stuff, but also cool in the fact that it's almost like a group of the cream of the crop riffing and allowing us to hang out and watch. It's by no means an important film in terms of great cinema, it's popcorn fare... but ultimately a film like this is worth 10 summer actioners.
If only there were nine more Soderberghs.
I've often harped on directors about bad handheld camerawork (yeah, Mr. Shyamalan... and that last shot in the Signs trailer shows me your Jedi training is incomplete), but Soderbergh's the exception.
The way the film unfolds, Soderbergh (who's also an accomplished cinematographer, and did the D.P. job here) guides his camera almost like the 12th member of Danny's gang... not being too obvious but capturing all the right things.
As I said before, it's as if the director just doesn't make bad decisions.
There's no real depth to the film, just an all-out effort to entertain and showcase that the big boys and gals (Julia Roberts in a supporting role!?!?!) can play together without ego and grandstanding.
And entertain it does, for 117 minutes nonstop. Add to that a lack of violence and profanity, and you have a PG-13 film that gets better with each viewing and an a template for all of Hollywood to follow. One based on class and remembering what made Hollywood great. 9.0 out of 10
The Look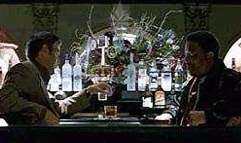 We have to stop meeting like this!

It's a well shot film, but not one too reliant on special effects or stunning panoramic vistas. The focus is the cast, for obvious reasons.
The transfer is nice and clean, but Soderbergh's films tend to feature a variety of looks within themselves.
While this isn't experimental like Traffic, it sometimes has scenes a little grain laden, or ones that could have been sharper or brighter.
However, those have to do with the film and not the transfer.
The DVD looks as good as possible, with the colors maintaining their warmness (a look Soderbergh has nailed, think Out of Sight's love scene) and all the requisite bits of crispness and nice, deep blacks.
Can't compare this one to some really outstanding transfers, but in reality there's not much more they could have done. 8.5 out of 10
The Noise
There's a 5.1 and 2.0 channel available, but for a film so big on paper it really wasn't about bombast and technical wizardry.
As a result, the audio presentation will surprise many in how unspectacular it is. Not bad, just not all that aggressive.
David Holmes' awesome music and the dialogue come across in flying colors, but for those ready to crank up the surround set and astound... wait for another disc. This is good, but nothing all that fancypants. 8.0 out of 10
The Goodies

Going my way?

Let's get the trivial stuff out of the way.
There's a neat little trivia/gambling game available as a DVD-ROM extra. There's a decent little featurette and the making of the film. There's trailers for the films. All well and good, but there are two features that REALLY elevate this disc:
1. Feature length commentary by Steven Soderbergh and Ted Griffin.
Having an audience with a director and writer is ALWAYS good (though Steve Murphy may disagree if it means more Witchouse 3 for him to endure) and having the best director out there right now is infinitely better.
Soderbergh's honest, willing to open his mouth when most wouldn't, and more than happy to find faults in his work.
It's a good, informative track and he and the film's writer make a good pairing, though Griffin tries too hard to be funny at times. Having the writer on set often causes some static, and they mention that... which is fun, because you know at times it had to be rough. It's fun stuff, and will probably help round out your appreciation for the director.
2. Feature length commentary by Matt Damon, Brad Pitt, and Andy Garcia.
Could they find a more unpretentious group of actors?
These guys don't spend their whole track gushing about their director and saying what needs to be said to ensure they get hired again (as if they have to worry). They HAVE FUN, and it's contagious.
Damon (who does some good impressions) and Garcia recorded together and it appears Pitt recorded at a different time because sometimes the info they share overlaps. However, it's almost as if it's edited to make us think it was recorded together. Weird.
Regardless, there's tons of anecdotes and jabs (Pitt on Clooney especially) and it really helps flesh out the offscreen personas of these guys.
I expected Garcia to be a little serious and stiff but he and Damon do well together and it's obvious what a blast these people had on the film.
I defy anyone to not appreciate the film more after hearing these. Also, when you read the back of DVD titles at the store... disregard everything but the commentary tracks.
These are 20 times more important than any other feature available and it makes this disc a MUST OWN.
I've said my peace.9.4 out of 10
The Artwork

Boo!
There were two amazing posters for this film. The stark white one with the big "11" on the ground, and then the equally cool red one with the characters silhouetted. Neither was used, instead the choice was to showcase the actors even though the film grossed almost $200,000,000 stateside with the other posters. Sad, this is humdrum and loses a bit of that coolness.4.0 out of 10
lickThe Flick: 9.0
The Look: 8.5
The Noise: 8.0
The Goodies: 9.4
The Artwork: 4.0
Overall: 9.1
Thanks to Libby


Ocean's Eleven holds No1 spot in UK charts
3/19/02
Cartoon monsters and a house full of ghosts have failed to scare Hollywood's stylish heist movie off the number one spot in the UK box office charts. "Ocean's Eleven," starring Brad Pitt and George Clooney, stayed at the top of the pile for the third week in a row, fighting off competition from "Monsters, Inc." and new entry "13 Ghosts," according to figures released by Screen International on Tuesday.
Despite dropping nearly 30 percent in sales, Pitt and co still managed to rake in more than 1.3 million pounds between Friday and Sunday.
"Monsters, Inc." netted just under one million pounds to stay at number two while "13 Ghosts" flew straight into number three. Directed by Steve Beck, the film is a remake of the 1960 horror film from the king of horror gimmicks, director William Castle. "The Royal Tenenbaums" featuring Gene Hackman, Ben Stiller and Gwyneth Paltrow made an impressive debut entering the charts at number four.
Also starring Bill Murray, the comedy focuses on an dysfunctional family and their relationships. Russell Crowe's Oscar tipped "A Beautiful Mind" fell two places to number five. "Gosford Park" dropped one position to number six while Mel Gibson's action-packed Vietnam War movie "We Were Soldiers" slipped from number four to seven.
"The Lord of the Rings: The Fellowship of the Ring" held onto its number eight spot spending its thirteenth week in the top 10. Richard Gere's "The Mothman Prophecies" fell to number nine while Will Smith and his portrayal of boxing legend Mohammed "Ali" was at number 10.


Ultimate Dream Cast Generates Jackpot of Raves in $185 Million Mega Hit 'Ocean's Eleven'; First Event Title of the Year Arrives May 7 on VHS Direct to Sell-Through & DVD
2/25/02
Warner Home Video:
-- Packed DVD Includes Feature-Length Commentary by Brad Pitt,
Matt Damon and Andy Garcia Plus a Separate Commentary by
Director Steven Soderbergh and Two Behind-The-Scenes
Documentaries
-- "'Ocean's Eleven' is made with so much WIT and BRAINS and
DAZZLE and VIRTUOSITY that the sheer SPEED and CLEVERNESS of
the caper hits you like a SHOT OF PURE OXYGEN." -
Entertainment Weekly
Ex-con Danny Ocean has put together a handpicked eleven-man crew to pull off the most daring heist in Las Vegas history. The result is "Ocean's Eleven," the $185 million box-office sensation from Academy Award(TM) winning director Steven Soderbergh ("Erin Brockovich," "Traffic," "Out of Sight") and 2002's first "must-have" mega-hit video, available May 7 from Warner Home Video (WHV) direct to sell-through, priced at $22.98 SRP for VHS and $26.98 SRP for DVD.
"Ocean's Eleven" boasts an unmatched, all-star cast that has collectively earned more than 4.5 billion dollars at the box-office. Called "the coolest damned thing around" by Rolling Stone Magazine, "Ocean's Eleven" was one of 2001's top grossing films, uniquely appealing to men and women of all ages.
This star-studded ensemble cast that is certain to make "Ocean's Eleven" a "must own" for every video collector includes:
-- GEORGE CLOONEY, Golden Globe(TM) winner ("The Perfect Storm,"
"O Brother, Where Art Thou?")
-- MATT DAMON, Academy Award(TM) and Golden Globe(TM) winner
("The Talented Mr. Ripley," "Good Will Hunting")
-- ANDY GARCIA, Academy Award(TM) nominee ("When a Man Loves a
Woman," "Godfather III")
-- BRAD PITT, Academy Award(TM) nominee and Golden Globe(TM)
winner ("Spy Game," "Fight Club")
-- JULIA ROBERTS, Academy Award(TM) and Golden Globe(TM) winner
("Erin Brockovich," "America's Sweethearts")
Casey Affleck ("Soul Survivors," "American Pie II"), Scott Caan ("Novocaine," "American Outlaws"), Elliott Gould ("Friends," "American History X"), Bernie Mac ("The Bernie Mac Show,") and Carl Reiner ("The Sid Caesar Collection," "The Jerk") also star in this pure fun heist movie that mixes witty dialogue, edge-of-your-seat excitement and even a bit of romance.
"No other title in recent years has this many of the top stars in one film," said Mike Saksa, WHV vice president, U.S. marketing. "We expect this unparalleled star power and popular genre will be a `sure bet' with consumers."
The "Ocean's Eleven" DVD is web-enabled, presented in Dolby Digital 5.1 Audio and Dolby Surround 2.0 and will be available in a 16x9 widescreen version as well as a full-frame version. Both versions of the DVD include several outstanding special features:
-- Commentary by hot stars Brad Pitt, Matt Damon and Andy Garcia
-- Commentary by Academy Award(TM)winning director Steven
Soderbergh and writer Ted Griffin
-- HBO "First Look: Behind-the-Scenes" documentary on the making
of "Ocean's Eleven" where consumers get a sneak-peek at the
fun the cast had making this movie
-- "The Look of the Con," a behind-the-scenes documentary
featuring the cast, director and production team talking about
the stylized fashion and designs of "Ocean's Eleven"
-- Original teaser trailer and three theatrical trailers
-- DVD-ROM features "In or Out" challenge where players become
one of "Ocean's Eleven" crew and must complete several Las
Vegas challenges to pull-off the ultimate heist... plus links
to the original website
-- Languages: English, Spanish and French (dubbed in Quebec)
-- Subtitles: English and French
"The Look of the Con" will also be featured on the VHS.
"Ocean's Eleven" is rated PG-13 (language and sexual content) and has a running time of 116 minutes.


Pretty in pink and Rat Pack chic...Guild hails bold looks
Greg Reifsteck
Variety
2/21/02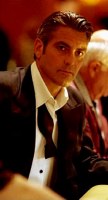 Reese Witherspoon's straight-out-of-Beverly Hills ensembles in "Legally Blonde," and the debonair duds of George Clooney, Brad Pitt and company in the Rat Pack redux "Ocean's Eleven," constitute some of the bolder looks nominated in the Costume Designers Guild's contemporary category.
"Blonde" designer Sophie Carbonell and "Eleven's" Jeffrey Kurland faced the daunting challenge of capturing the separate personalities and individual styles of each character in two very large casts.
Witherspoon's five major looks and nearly 40 outfit changes were determined by her character Elle's transformation from an L.A. fashion plate to a bookish Harvard law student.
"There was a color scheme that followed the arc in the narrative, which went from the lighter pinks to the hotter pinks to the purples, and then at the law school there is very little color. At the law firm it's monochromatic, gray, white and black," says Carbonell.
The Brit designer turned to reference points in classic films she enjoyed to spark viewer's memories of the starlets of old while plotting Elle's rise to independence. "There is also a silhouette arc," she adds.
"I actually referenced different movies and actresses; that was my focal point. The stuff at Harvard when it's in the winter is much more of an Ali MacGraw in 'Love Story' look. And when she's interning at the law school it's more like a Rosalind Russell '50s 'His Girl Friday' type of thing." Getting these looks was easy, since besides many original creations,designers -- Prada, Moskino and Celine to name a few -- lined up to outfit the photogenic Witherspoon.
Carbonell will dress the actress on her next project, the Andy Tennant-helmed "Sweet Home Alabama," in which she plays trailer trash-turned-Gotham fashion designer. Kurland -- who won the category last year for making Julia Roberts shine in Steven Soderbergh's "Erin Brockovich" -- had a more masculine challenge for "Eleven." In his second effort for the helmer, Kurland took a gang of charismatic casino robbers from vintage Rat Pack cool and transformed them toward a modern Las Vegas chic.
"I tried to evoke an imagined elegance as opposed to the reality of Vegas," says Kurlan. "We wanted the glamour and spirit of Vegas without making a '60s period film."
Kurland played off of Clooney, Pitt and Damon's machismo, pouring them into handmade suits that made them equally inconspicuous in seedy backroom card games as in the more ostentatiously moneyed surroundings of the Vegas Strip. But in scenes where Clooney's Danny Ocean tries to win back the affection of his ex-wife, Tess (Roberts), the look had to relay the confidence and security of both character's egos. "Clooney is very much the idea man, so there needed to be strength and straightforwardness," says Kurland.
"Julia plays a woman originally from the East Coast, so she's sophisticated but still very Vegas." Kurland made sure the other half of "Eleven"'s casual cool heist equation, Pitt's Dusty Ryan, had his own jetsetter outfits.
"Brad is more the planner, so he's a little more worldly and upscale in the diversity of his clothing," says Kurland. With Warner Bros. releasing the DVD of the original Rat Pack classic, it was hard to avoid old-schoolers making comparisons to Frank, Dean and Sammy. But as Kurland admits, "We hardly talked about the original truth. As far as the look and quality of the look of the clothing this is a contemporary picture."

'Ocean's Eleven' Scores Decisive Victory at Overseas Box Office
Brandon Gray
Box Office Mojo
2/19/02
Neck-and-neck last weekend, "Ocean's Eleven" aced out "Monsters, Inc." by a wide margin to top the overseas box office stakes for the weekend ending Feb. 17. "Ocean's Eleven" rolled into the United Kingdom with $7.2 million, $474,000 in Turkey, $426,000 in Argentina, $374,000 in Norway and $343,000 in Denmark, strong starts one and all.
Overall, George Clooney and company racked up an estimated $25 million from 4,300 theaters across 38 countries, bumping its kitty to $149.7 million.


Three's company...Absolutely live and kicking!
Exclusive interviews with George Clooney
Khalid Mohamed (Interviews done in Dec. 2001)
The hunkeroos have congregated in London--at the Dorchester hotel where a single night's stay costs the earth. So, why are they there anyway? Answer: the Hollywood prime stars are there to gauge the response to their brand-new flick Ocean's 11. And by a twist of fortune, I actually snag snappy interviews with the Ocean's 3, George Clooney, Matt Damon and Andy Garcia. Notably, they're minus hang-ups and utterly relaxed, more punctual than even a small fry star we normally have to twiddle your thumbs for back home at the Mehboobish studios. Here, then are the tangy threesome: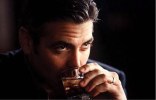 GEORGE CLOONEY
Style: Grey suit, greyer shirt, indigo silk tie, black Gucci shoes, a manicured French beard, a blindingly white smile and hey-buddy-how're-you-doin'? manners.
Career high points: Out of Sight, Batman & Robin, Dusk Till Dawn, One Fine Day, The Perfect Storm, Three Kings and O Brother, Where Art Thou?
You're famous... or infamous... for pulling pranks on your co-actors during shoots. Right?
GC: Ahh well, I always try to make every shoot a fun thing. If you don't enjoy what you're doing, you might as well stay home with a book. During the Ocean's 11 shoot, I hid Brad Pitt's hotel room key, the press got wind of this and it became international news. Did you read about this in India or what?
GC:I did. Oh no, no. Please correct the notion that I'm a menace to society. It was fun seeing Brad perplexed... he could have got another key from the hotel desk, of course... but he was worried sick that anyone could barge in at any hour of the day and night, and catch him in bed... alone. His wife Jennifer (Aniston) wasn't with him, so he was more worried... you know he has so many besotted fans who'd love to get between the sheets with him. Ha!
Tell me, do think Hollywood cinema will change drastically after the September 11 attack?
GC:Sure, it has to. None of our lives will ever be the same again and cinema will have to reflect that unless it wants to exist in some kind of la-la-land vacuum. We cannot be complacent and indifferent to the WTC attack. Still, I'm certain that Hollywood won't take off on a propaganda spree. Whenever it has, the films have been boring and unsuccessful. That's why the post-World War II propaganda films are barely remembered today. What are remembered are the films critical of the system and those which contain an anti-war statement, like the movies which have touched upon the trauma left behind by the Vietnam war.
What do you know about Indian cinema?
GC:I've never been to your country but I do keep hearing the word "Bollywood" being bandied about. My friends keep talking about your splashy song-and-dance movies. So what I know are bits and pieces told to me by my friends. And I saw a film featuring an actress who, I believe, is now an activist in politics. Can't remember her name, it's something starting with `S.'
Shabana Azmi?
GC:Yeah, that sounds like the one.
I believe you're now turning to direction with a project titled Confessions Of A Dangerous Mind?
GC:I'm afraid so. I didn't want to become a director. Confessions... is a script that I desperately wanted someone to make. It's a high-concept psycho-thriller which didn't find willing studio backers. So, I got up one fine morning, and told myself, "Hey what're you afraid of? Go for it." That's the way I select my acting jobs too... on gut-instinct.
For instance, now I'm acting in a remake of the Russian sci-fi movie Solaris which excites me tremendously. I only act in films I want to... films of my taste... so, at least if it doesn't work for whatever reason, I can say, "I blew it" instead of blaming others.
Can the remake better Andrei Tarkovsky's Solaris which is an unquestionable masterpiece?
GC:(After a pause) We can't ever be as good as Tarkovsky but like a child follows in its father's footsteps, we have to give it our best try.
What else motivates you to act in a film?
GC: If it promises to be party-time on the sets, I go right away for it. The money, the bucks don't matter honestly. Like I did Ocean's 11 because I wanted to hang out with the guys and work with (director) Steven Soderbergh. The fee I got was slashed but that was fine by me. I read the script and knew I had to be in this remake of the Frank Sinatra-Peter Lawford-Sammy Davis Jr. movie of the 1960s. It was cool and easygoing. Usually, a shoot is very physically demanding like The Perfect Storm in which we had to hang out on sea and in mammoth tanks of water for nine months without a break. Three Kings was tough too because it meant living for months in a desert at a temperature which scalds the skin.
Are there any films or performances that you've liked recently?
GC: I loved the Mexican film Amores Perres and I loved Ben Kingsley's performance in Sexy Beast.
Are there any directors you would like to work with?
GC: Oh, loads, especially Robert Altman. And of course, two of the greatest who're no longer there... Frank Capra and Alfred Hitchcock. I would have given my right arm to have been murdered in a shower.
ANDY GARCIA

Style: Dark purple suit, fainter shirt, white printed tie, black Gucci shoes, a Havana cigar puffed occasionally and a drowsy demeanour brought on by a sprained neck. Career high points: The Godfather III, The Untouchables, Internal Affairs, Desperate Measures, Black Rain, Things To Do In Denver When You're Dead, When A Man Loves A Woman, The Mean Season.
You now play an arch-villain in Ocean's 11. Did you think twice before making this crossover from a good guy to a baddy?
No, no, not at all. Ouch! My neck's in a state. Yeah, so as I was saying, I didn't think once or twice before playing a slimeball. To me, acting doesn't mean winning a popularity contest. I do the movies and parts I feel compelled to, and it doesn't matter whether the film is big and small. Cinema shouldn't be about financial budgets, they should be about telling stories.
How do you look upon your part in The Godfather III?
It was a tremendous honour to be part of the epochal series. The Godfather I exercised a lasting influence over my generation which came of age in the 1970s. To participate in Francis Ford Coppola's trilogy was a dream come true for an aspiring actor like me.
Do you see films reflecting the conditions in the world at large today?
Not as much as I would like them to. But it's apparent that there will have to be greater sensitivity to issues and themes being tackled after the September 11 attack. There will have to be a more balanced and coherent treatment of the outbreak of violence around us. Films won't change drastically for me though because I've always had this frame of mind that doesn't approve of the display of unchecked bloodshed in the movies. On the whole, I would say that things should change... there should be more moderation and sense in the action movies of Hollywood.
What are the kind of films that you wouldn't accept?
I don't have a check-list of the things I don't want to do. But yes, in the past, I've turned down quite a few films because they were far too excessively violent.
Could you name some of the films you've turned down?
(Laughs) They're all forgettable, I've chosen to forget their names. A case of a self-willed memory lapse.
What's your take on India?
I've many Indian friends in Los Angeles. I practise yoga myself and need to do that rightaway for this troublesome neck. I don't speak any language of India... maybe that's why I haven't gravitated towards Indian cinema... though I did watch one fleetingly on video.
Any dream directors?
Billy Wilder, of course. And there are some who're no more, like Preston Sturges, Jean Renoir and Jacques Tati.
MATT DAMON

Style: Black cotton shirt over white vest, white jeans, Nike keds, long drags of Camel cigarettes and chattier than a long-lost buddy. Career high points: Won Oscar for Best Screenplay for Good Will Hunting along with Ben Affleck. Gathered hosannas for acting in Mystic Pizza, Good Will Hunting, The Talented Mr Ripley, Saving Private Ryan, Courage Under Fire and The Rainmaker.
How come you haven't authored another screenplay after winning an Oscar for Good Will Hunting?
(Smiles) That's a sore topic with me. Wish I could put pen down to paper soon. The thing is that Ben (Affleck) and I were struggling actors when we wrote Good Will Hunting. We thought the screenplay would lead to acting offers... and they did. Now since that has happened, Ben and I've been caught up in front of the camera instead of behind it. Logistically, it's impossible for us to get together, we're almost always in different parts of the world. Like I'm in London today and he's in Tokyo. Still, recently we were chatting on the phone, promising to each other that we should sit down and give a bash to another script.
How did you two collaborate in the writing?
Ben and I've known each other as kids, we grew up together. Our visual sense and our sense of humour are pretty much the same. We work out of the same reservoir of ideas. We tend to think the same way and (laughs) more often than not, we end up falling in love with the same kind of girl. Just kidding really.
What kind of a theme would inspire you today?
I wonder. Because America is so different after Septemeber 11. Since the movies must reflect the state of the country, the themes will have to be updated. I was in New York when the WTC devastation happened. It was very eye-opening for Americans to feel vulnerable. That's not something that they're very culturally used to. We tend to be ethno-centric geographically, we tend to be self-absorbed. Perhaps now there will be a greater realisation, a greater global understanding. Must tell you that I've been wanting to go to India since the last five years, I've been working on my trip consistently. Would love to get there... and see some Indian cinema... obviously since you guys make the largest number of movies in the world. I've just seen Salaam Bombay on DVD and would love to catch up on Satyajit Ray's work.
Finally, any directors you regret not having worked with?
Two of the great masters particularly--Orson Welles and Alfred Hitchcock.
Thanks to Kiran For this article


Vegas Boys
Capital Film
2/18/02

George Clooney, Brad Pitt, Matt Damon and Andy Garcia, all at once? It must be a dream! No ladies, this is 'Ocean's Eleven', the fantastic new movie from Steven Soderbergh and Jerry Weintraub…
The Plot...
Fresh out of prison, Danny Ocean (George Clooney) is already rolling out his next plan. Following three rules - don't hurt anybody, don't steal from anyone who doesn't deserve it, and play the game like you've got nothing to lose - Danny orchestrates the most sophisticated, elaborate casino heist in history.
His object?
The vaults of the three biggest Las Vegas casinos. Plus the chance to win back his ex-wife Tess (Julia Roberts), who just happens to be dating the vaults' owner, Terry Benedict (Andy Garcia).
In one night, Danny's handpicked 11-man crew of specialists - including an ace card sharp (Brad Pitt), master pickpocket (Matt Damon) and a demolition genius (Don Cheadle) - will attempt to steal over $150 million from three casinos. To score the cash, he'll have to risk his life and his chance of reconciling with Tess.
It sounds like a dream, making a film in Las Vegas, was it?
GC: Well yes and no. There's danger of losing your entire salary before you've actually made it, but for the most part it was a dream...
So out of six weeks, how many wild night were there?
GC: There were quite a few because we were shooting nights, so we would finish at three in the morning, and in Vegas, that's teatime! We go out and have a couple of drinks, and go back to work at seven in the evening. It was a lot of fun!
Did you work out which drink to drink without getting a hangover?
GC: We had our own theory which was to just drink vodka with soda. You have no sugar, and you think you won't be hung over. Matt and I thought it would work really well so we went out drinking - we had a late call time meaning we didn't have to go to work until 7pm at night. We got back in at about 6.30am and they'd changed my call time to 8.30am! So I lay back down, went to sleep and got up and thought "Oh my god, I feel perfect, no hangover, this theory it works!" And then I walked to look at myself in the mirror and I was still drunk! It was a rough day of shooting that day!
When you look at the film on the big screen are you happy with it?
GC: Oh, sure. I've been on a lucky run lately, I've worked on films that I like. It's easier when you pick scripts you like. Also I've been working with good directors.
When you look at Steven and the films he's done, and you guys, it couldn't really go wrong could it?
GC: In every direction it could go wrong. The trick was never to get too caught up being too cute. The trick was to play it straight, and if we did that we'd win.
Tell us about the practical jokes which every one tells us you play?
GC: Oh, I play millions of them, but I didn't do too many on this one because I didn't need to. Once your reputation proceeds you then all you have to do is sit back and watch people panic. Every time they do any mistake at all, you just leave a hint like, "Hey listen, I've got your room key if you want it back" and then there's just this silence, and then they would spend the next few days going through their room trying to see what I'd done to it. And I didn't have to do anything!
Thanks to
Libby
for this story


Ocean's Eleven hits the screens in the UK!
2/16/02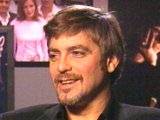 George Clooney's new film, Ocean's Eleven, has hit the cinema screens in time for Valentine's weekend. The crime caper stars Clooney as a con-artist, just 24 hours out of jail and already planning his next heist. With Brad Pitt, Matt Damon and Andy Garcia also starring, the film offers plenty of male eye candy - and Julia Roberts playing the girl. But it is Pitt's on-screen chemistry with Clooney that has got critics talking. "He's just easy to take shots at, and I guess I am as well," said Brad Pitt. "We had a really good time." The movie is a remake of a 1960s classic, featuring Frank Sinatra and his rat pack.
"Frank's the coolest. Nobody wants to compete with Frank, I certainly don't," said George Clooney. With so many A-list stars, director Stephen Soderberg had to persuade the cast to work on the cheap. He won them round by sending each actor a $20-dollar bill with a note that read: "I hear that's what you work for these days."
Ocean's Eleven is likely to appeal equally to the boys and the girls, guaranteeing a roaring trade during Valentine's weekend


Film 2002

In the 60's Frank Sinatra led his Rat Pack through the Vegas heist comedy Ocean's Eleven. You might think matching the charisma of Dean, Sammy and co is a tall order but that hasn't deterred Oscar winning director Steven Soderbergh from attempting a new version. And it's fair to say that he's assembled a cast and a half, his members including Julia Roberts, Matt Damon, Brad Pitt and George Clooney as the smooth criminal Danny Ocean who assembles an impressive gang of specialists to steal several hundred million dollars from hard nosed casino boss Andy Garcia, the same hard nosed casino boss whose now stepping out with Danny Ocean's ex-wife, played by Julia Roberts.
JR: Jonathan Ross (Host)
GC: George Clooney
BP: Brad Pitt
MD: Matt Damon
I caught up with Clooney, Pitt and the gang to get the full S.P.
JR: Now George, can I call you gorgeous George or do you prefer just George?
GC: I really like gorgeous George.
JR: Here we have a movie where you get to look great, you get to hang out, you get to look loose and cool, you're hanging out with Brad Pitt and at the end of the movie you get to boff Julia Roberts.
GC: Yeah.
JR: You're making life for us seem quite dull and uninteresting out here
GC: Well, it is, let's face it
JR: Ah.
GC: No, this is a good fun one here, I get to work with a bunch of great guys and at the end of the day I get to walk away with Julia Roberts. That's not a bad.. and they pay you.
JR: I haven't met Brad yet, I'm going in to do Brad next. I've been told that physically he's quite unattractive.
GC: It's pretty amazing what they can do with hair and make-up. Well, you haven't seen him yet, it's shocking.
JR: And he's a tiny little fella, is it true that he had several large boxes to stand on in any scene with you?
GC: They just taped Tom Cruise and Mel Gibson to the bottom of his feet..
JR: That would give him a slightly lop-sided..
GC: No, no he just kinda walks like this
JR: That's a good thing, it's a hell of a John Merrick thing. Is it true when working with George Clooney he insists that you call him gorgeous George all the time?
BP: That is true, he has an incredibly huge ego, very envious man, tough to be around, tough to deal with.
JR: Temperamental?
BP: Very difficult, Oh yeah, safe to say.
JR: Which is understandable though really.. Because physically quite hard to look at, up close.
BP: Yeah he is. And uh..
JR: I think I might have seen the original of this film but it's...
BP: Yeah, you think but you don't really know
JR: And it's not what you call a classic, is it really, the original..
BP: Not really, that's the idea, you don't want to remake a classic, you wanna remake a film that didn't work so well.
GC: I grew up watching those guys and I love them, so I'd seen the film before. The film doesn't necessarily work but their so cool, you can just watch them eating cereal in the morning.
JR: Is it true when working on the movie George Clooney insisted that everyone call him gorgeous George?
MD: Well, he insisted that not only on the movie but since the movie. I still have to refer to him as gorgeous George.
JR: But then that's how we all think of him so..
MD: Well, speak for yourself..
JR: Is it true that you were going to take an advert out in Variety to try to promote Matt Damon's appeal as a heart throb?
GC: They wouldn't let us do it though. Steven and I and Brad had this plan to take an ad out because Brad's been Sexiest Man Alive a couple of times in People, they did it to me once and Matt was just like going..
JR: Hold on, you say 'They did it to me' as if this is a bad thing?
GC: Well, here's the problem, they will introduce you as that for quite some time afterwards..
JR: Yeah, George, trust me, there are worse ways to be introduced
GC: It's a little embarrassing though and Matt's worse nightmare.
MD: the twist was he was going to make it look like I had paid for the ad, that I was campaigning for this prestigious award.
JR: I think you're protesting too much, I think maybe you were trying..
MD: It was, I hired George.. This is actually George .. he was a little bit bitter for not winning this yeah, I told him he's got to work for it if he wants it.
Ocean's Eleven is a supremely polished piece of work, as one's come to expect from Soderbergh - the king of the thinking person's popcorn movie - it delivers as a sleek, entertaining genre piece and has a little more depth. Much of the latter comes from the performances, Clooney along with Cruise is surely one of the best leading men working in Hollywood today. He's got immense charm and is probably the only one who can pull off those dashing male heroes in the Cary Grant mould. Brad Pitt adds another to his long list of likable but quirky outsiders, this time playing the cool card shark who gorges himself on junk food. Andy Garcia does a great job with a slightly underwritten part as out and out baddie Terry Benedict and Elliott Gould is terrific. Really enjoying himself as an overweight, over the hill mobster as only overweight and over the hill leading men can. The only low points are a rather miscast Julia Roberts as the trophy girlfriend. A role she's both too smart and not quite trashly glamorous enough to play and Don Cheadle's hilariously odd performance as a thief who, I think, is supposed to be from London but seems to have come via Melbourne, Australia.
However those minor quibbles aside, it's great. Soderbergh shot it himself and it's beautifully done. The editing as always is exciting, modern and slick without being overly tricksy and the jazzy.. score, courtesy of David Holmes, is a treat. Indeed there are several scenes which remind me rather happily of those pure cinema moments of my youth - the farewell kiss between Clooney and Roberts is one of them and the penultimate shot of the gang united when they look with a blissed out serenity at the scene of their heist, you realise their in it more for the camaraderie, and the challenge, and the thrill than they are for the actual results, is the other. In fact that isn't a bad metaphor for the experience of watching the film. The fun comes more from the journey than the arrival. Seeing such a great cast enjoying themselves so much in a movie rubs off on you, it's hard to resist, as you can find out for your self when it opens on Friday.
Thanks to Libby!


The Cinemarati Award Nominations have been announced and Ocean's Eleven is nominated in the Best Ensemble category. This is the first round of nominations, it's described as being like the NCAA playoff matches. (What's NCAA by the way? Football, baseball or basketball? I know very little about US sport!) So it's:
Best Ensemble
Gosford Park vs. Ocean's Eleven
The Royal Tenenbaums vs Lantana
Lord of the Rings: The Fellowship of the Ring vs. Ghost World
The Man Who Wasn't There vs. Moulin Rouge!
The Phoenix Film Critics nominations have been announced and Ocean's Eleven has been nominated in the Best Acting Ensemble category and Best Use Of Previously Published or Recorded Music category:
Best Acting Ensemble
Black Hawk Down
Gosford Park
Lord of the Rings: The Fellowship of the Ring
Ocean's Eleven
Royal Tenenbaums, The
Best Use Of Previously Published or Recorded Music
Hedwig and The Angry Inch
I Am Sam
Moulin Rouge
Ocean's Eleven
Royal Tenenbaums, The
Thanks to
Libby
for this info


Maybe They Should All Join The Rat Pack
Variety
01/14/02
Major holiday releases with expensive stars like Jim Carrey (The Majestic) and Meg Ryan (Kate & Leopold) bombed, and even Tom Cruise couldn't turn Vanilla Sky into a blockbuster. Meanwhile, star-free projects like Harry Potter and The Lord of the Rings set box-office records. "With many of 2001's big hits, the draw was not a star but a concept," says Paul Dergarabedian, president of the box-office tracking firm Exhibitor Relations. There were exceptions, of course; Ocean's Eleven is on track to earn $ 200 million domestically, thanks largely to neo-Rat Pack stars like George Clooney, Brad Pitt and Julia Roberts. But not one of the year's Top 10 moneymakers featured an A-list star, unless you count Eddie Murphy's voice in the animated Shrek. Are studio execs wising up? "A lot of people in the movie business don't bother to ask, 'Will the audience accept a star in this part?'" notes Stacey Snider, chairman of Universal, who nixed the idea of casting a star like Ryan or Roberts as the female lead in A Beautiful Mind--which is shaping up as a hit nevertheless. Of course, that fellow Russell Crowe might have something to do with it.


Lord of the Rings knocked off!
The Austrailian
01/14/02
THE new George Clooney film Ocean's Eleven overtook the Lord of the Rings as the most popular film at Australian box offices on the weekend. Despite smashing through the $30-million mark in box office takings, the Lord of the Rings: The Fellowship of the Ring lost its top spot on the national weekend box office list. Ocean's Eleven, an action comedy also starring Brad Pitt, Julia Roberts and Matt Damon, pulled in $5.4 million in its opening weekend.


Stephen Mirrione, A.C.E. on Editing 'Ocean's Eleven'
Erin K. Lauten
12/07/01
Fresh out of the slammer, Danny Ocean (George Clooney) is already laying the groundwork for his next gig. As persuasive as he is charming, Danny manages to procure a formidable team of eleven specialists to help him pull off the most intricate casino heist of all time. His crew includes poker virtuoso Rusty Ryan (Brad Pitt), nimble pickpocket Linus Caldwell (Matt Damon), Cockney explosives expert Basher Tarr (Don Cheadle), casino card dealer Frank Catton (Bernie Mac), dethroned Vegas hotel czar Reuben Tishkoff (Elliot Gould), grease man Yen (Shaobo Qin), driving impresarios Turk and Virgil Malloy (Scott Caan and Casey Affleck), retired con man Saul Bloom (Carl Reiner) and surveillance master Livingston Dell (Eddie Jemison)
On the night of the Lennox Lewis-Wladimir Klitschko heavyweight champion boxing match, Ocean's eleven will try to purloin $150 million from three Las Vegas casinos, which happen to be owned by the hard-hearted but devastatingly handsome Terry Benedict (Andy Garcia), who in turn happens to be dating Danny's estranged wife, Tess (Julia Roberts). As Carl Reiner's character puts it, they'll have to get into the cage, through the security doors, down the elevator they can't move, past the guards with the guns, and into the vault they can't open -- without being seen by the cameras.
In attempting to pull off one of the most sophisticated heist movies of all time, director Steven Soderbergh and his team of specialists also had their work cut out for them. While they were still finishing "Traffic," Soderbergh asked his right-hand man Stephen Mirrione, A.C.E. to edit "Ocean's Eleven." Mirrione, who later won the Academy Award for his work on "Traffic," was in. As it turns out, the crew behind "Ocean's Eleven" was as well-oiled a machine as the crew on screen, and though it might not happen in a single night, the film just might make off with $150 million, too.
EditorsNet sat down with Mirrione to talk about his experience on "Ocean's Eleven." He gives us the dish on X-spins, 'Brady Bunch' wipes, jump-cuts, motion effects, flashback pods and toe-tapping music, and why -- with film like "Swingers" and "Go" under his belt -- he seems to have such a corner on films involving Las Vegas.
When did you become involved with "Ocean's Eleven"?
We were still finishing editing on "Traffic" while Steven Soderbergh was casting and getting things ready for "Ocean's Eleven," and he had asked me to do it. I had read the script and it was great. In terms of actual involvement, I didn't start working on it until they started shooting in late January. It went extremely quickly.
How did the editorial process play out?
We didn't really spend a lot of time editing. Steven and I worked a lot during production. We had a really long production schedule, so they weren't shooting tons and tons of material -- or I should say, they weren't printing tons and tons of material every day. So it was pretty low-key in terms of how much footage was coming in, and I was able to keep up. Also, Steven was coming in about once a week so that we could nail stuff and have it finished.
How long after principal photography wrapped did you screen the film for your producers?
We screened it for the producers within a week of being done with shooting. Everybody thought it was great, including us. The sentiment was to just leave it alone and not do a lot of work on it. We did a little tweaking, but nothing major. It wasn't until the first preview screening that we came up with some big, different ideas in terms of things to do to the film. Everything else was pretty solid. We were taking out a scene here, taking out a scene there, trimming some things down, making it move together a little differently. But it pretty much existed the way it did right after the first cut up until the first preview.
What changes did you make after the first preview?
We went back and put in a lot of material that we had taken out. We felt that it rushed a little bit, and anything that we thought might be a potential problem with an audience were not problems. If anything, they wanted more.
Can you give us some examples?
It was mostly transitional material, like moments where you see the characters just looking at each other, or walking. A perfect example is the scene where George Clooney has a conversation with Julia Roberts in the dining room in the Bellagio, and then Andy Garcia comes in and George leaves. Originally, we had taken out the scene where you see that Matt Damon is tailing George. We figured that it was one of those unnecessary moments in a movie where you see somebody watching somebody and following them, and who cares? But when we watched it with the audience, we suddenly realized that those moments would really be appreciated. It's fun to see that Matt is lurking off to the side, listening to their conversation.
When you're first putting a movie together, you get into a mode where you want to be really efficient. You don't want to put the audience through anything that's unnecessary. But with this movie, you just love watching the characters so much. They all have such an incredible charisma that people just eat it up -- they love it. That was our big revelation after the first preview.
How did the second preview screening go?
Frank Urioste, a great editor who works at Warner Bros., came out of the second screening and he was so excited. He said to me, "You guys were hiding those on purpose just to impress us on this second screening!" It was great to see that happen.
What else did you add back?
The scene with the car salesman, where Bernie Mac is getting the deal on the van. We were worried that it needed to be a lot shorter and that it wasn't playing right. We had actually trimmed that scene to the point where it didn't have any impact, and we were really close to taking it out altogether. But as a last-ditch effort, I decided to go into it again from scratch. I put it back to much closer to its original length, and put back in a lot of jokes, and there again, it played completely differently and turned out great.
The movie has a lot of fun effects, like wipes and freeze frames.
We were really free with a lot of the effects in the movie. We wanted to have fun, so we experimented with a lot of things. Some of them stayed in, some of them didn't. At one point, Steven came in and brought up that wipe that they use on 'The Brady Bunch' where it kind of squeezes out, flips around and then comes back out. The wipes, the freeze frames and the X-spins just came out of trying things to see if they're fun, or if they're obtrusive or not.
There's a great scene that comes during the sequence when Danny Ocean (Clooney) is procuring specialists for the heist. When Danny is watching master pick-pocket Linus Caldwell (Damon) in action on the subway, you use an interesting motion effect. Can you describe how you went about that?
That particular scene came out of trying to deal with the moment of Matt picking the guy's pocket. They shot it in normal speed, and it was never quite as perfect watching it in normal speed. We tried a lot of things. We tried some freeze frames. We tried slowing it down. Then I remembered doing a weird effect where you slow footage down, and then you do step-frames. That's what makes it seem a little choppy and bouncy. The idea came out of Steven wanting to put some freeze frames in it. I thought, by seeing it that way, it's like a collection of freeze frames. And with David Holmes' music, it had a really good energy.
It was one of those luck-of-the-draw things that the frame I picked to start the shot where Matt is picking the pocket happened to land on these two perfect frames where he's actually doing the pick-pocketing. Suddenly he looked kind of slick. It was a fun way to show that we're slowing time down a little bit, and we're just going to get glimpses of this moment. It felt right. If you see someone picking a pocket in real time, you may not get all the information you need to get to understand what you're seeing. You want to be able to slow it down, but we wanted to slow it down in a more interesting way.
The way the music complements the visuals, he sort of looks like he's dancing.
Yes, exactly. That's the other thing I loved about it. When we watched it with the music, it had this great energy.
Technically, how did you achieve the effect?
It's just a motion effect where you slow the picture down, and then add in a step-frame. The trick to it is, you cut the picture speed in half, but then you step-frame with three frames or five frames. It makes it seem a little bit more random, and it gives a little more pep to it, because you're cutting one in half with an even number, and then you're step-framing with an odd number. It does something cool to the motion that you don't have if you do it in a straightforward way.
Did you see the 1960 "Ocean's Eleven"?
I watched it a little bit after we finished the first cut.
Did you wait on purpose?
I don't want to go into something with a lot of preconceived notions because I have no idea what they're actually going to give me from the set. No one was approaching this as paying homage to the original film. This is its own movie. So stylistically, I didn't see any advantage. When I'm in there working, I don't want to feel like I'm trying to do something they did, and at the same time, I don't want to not do something that they did simply because I'm worried that it will look too similar. I just want to be inspired from the footage itself. Obviously I was really curious and I wanted to see it, but I decided to wait a few months until I was done.
What did you think when you finally saw it?
I really enjoyed it, and I thought it was cool to see some of the similarities.
How much money were the crooks going for in the original?
I think it was something like a million dollars.
In terms of tone and rhythm, how would you characterize the relationship between the two films?
One thing that struck me was that the first one was photographed really well. The shots were set up in really interesting ways, and it had an interesting rhythm and an interesting pace. I think Steven did some similar things -- a lot of really nice long-shots and a lot of nice wide-shots. But again, I don't think he was trying to make it like that movie.
The other thing I loved was seeing how they captured that moment in Vegas back then, compared to how we're capturing this moment in Vegas now. It's fascinating that Vegas can be such a completely different place, and yet it's the same place.
You seem to have a corner on films that take place in Las Vegas. This is your third.
As a matter of fact, that's true. A lot of people loved "Swingers" and the whole Vegas scene, and it's funny because when I did that movie, I had never been to Vegas. I never actually went to Vegas until after I did "Go." In a way, it's similar to my not wanting to watch the 1960 "Ocean's 11" beforehand. I didn't have to worry about whether or not I knew exactly what Vegas is like. I wanted to make Vegas fun to watch the way that they did it.
When you finally got to Vegas, was it what you expected to be?
Absolutely. It was fun because when I finally went, I was seeing it through the eyes of these two movies I had done. I was actually in Vegas while we were doing "Ocean's 11."
This is your second film with Steven Soderbergh directing. How do you characterize your style of collaboration, and did your style change on this picture?
I don't think that the way that we work together has changed. But a few things changed because of the nature of the movie. The fact that I was able to be on location with him on "Ocean's 11" meant that we were able to work together a lot during production, as well as not getting very much footage in every day -- versus "Traffic," where they were gone on location the whole time and I had no interaction with Steven until we were done shooting, plus I was getting tons of footage every day. So emotionally, they were two very different movies to work on. That, of course, carried through to how we worked through stuff.
How do you work together?
Working with Steven is very low-key. He's very down to earth. We just get in there and do what we need to do and that's it. We don't spend a lot of time theorizing or talking about what we're doing. Either he likes it, or it's not working and we'll fix it. I really can tell, just in watching dailies, how focused he is and what a clear vision he has about what he's doing. He shoots in a smart way, so that we'll have a lot of freedom in the editing room to do whatever we need to do. He doesn't lock himself in, necessarily.
Does he shoot a lot of set-ups?
It really depends on what he needs. On "Traffic," there were lots and lots of set-ups, but that was the kind of movie where you really wanted to feel like you were in the moment, and they were capturing something just because they happened to be there at the right time. So that film lent itself to doing multiple cameras and lots of takes and lots of improvisation. It was a very different style of filmmaking in general.
With "Ocean's 11," Steven had a lot of time to work things out. The other thing about "Ocean's" is that the whole movie is about them being a well-oiled machine. They just glide through and do what they need to do. I think that Steven really captured that in how he shot the film as well. It's beautiful and elegant, but at the same time it's got a lot of raw energy that's just fun. So that's the big difference between the two. And that also carries through to the editing.
Would you say you had a lot of flexibility when you were putting scenes together?
Yes and no. The way Steven shoots, when I see a scene, I just know how to put it together. One scene in particular is the scene when George is laying out the plan for all the guys, and he's got a video screen going in the background. For that scene, Steven covered everything. He told me, "I'm sure this will take you a few days to put together, there's a lot of footage, a lot of coverage." There was a wealth of great material, but when I started going through it, it was just one of those things -- whenever I'm working with him, I know exactly what to do. He came in and watched it and said, "That's exactly how I imagined it would look." We don't have to talk about it. You see how he shoots it. You see what he starts with, what he ends with. And you can understand the logic of what he's doing.
Editorially, did you face any challenges with the actors' performances?
The performances were consistently great. With Steven's dailies, it's rock-solid performances -- they nail it every time. As an editor, that makes it so much easier. You're not looking through a bunch of takes where the actors are trying to figure things out. It gives me freedom so that I'm not spending my time having to hide this or get around that. You ultimately have to do that every now and then. There were times where maybe George's reaction was just a hair too much, or Julia did this instead of that. But those kinds of moments were few and far between. When you're dealing with this cast and this filmmaker, who are at such a level beyond, you can do whatever you want.
What kinds of differences were there between takes?
Usually the difference was more that a rhythm from beginning to end might be different. A lot of times, Steven will only print two takes, just to have the other one as a safety.
How did you approach the relationship between Danny Ocean and Rusty Ryan?
I was looking for cues from them. The first time we watched dailies from the scene in Musso and Frank's, I remember Steven commenting that putting the two of them in a scene is a license to print money -- because you could watch either one of them for hours and never get bored of it. The way that they were reacting to each other in that scene, you really felt that these were lifelong friends. For me, it was like I was sitting in the audience thinking, "I want to see how he's reacting here, or I want to see how he's reacting there." It was extremely intuitive, based on the strength of what they were giving me.
There's also the card game scene, where they're clearly communicating through those looks at each other, beyond what's happening around the table. That's not something that's written into the script. When I was watching dailies, I thought, "Oh, look at the way they're looking at each other." And because I have those looks, I can then mold the whole scene, and shape it, so that that's what the audience is focusing on. You could have played that scene a lot of different ways, but it was because I had that stuff to go to that I was able to flesh some of that out.
Also, the relationships that those actors had were probably very similar to the relationships that their characters in the movie were having. You're constantly able to relate the process of making a movie to the process of organizing the stealing of millions of dollars from a casino in Vegas. You're constantly recognizing the parallels.
When Reuben Tishkoff (Gould) is telling Danny and Rusty the stories of previous attempted heists, there are three flashback sequences. Each of them freezes at the climactic moment, Reuben makes a comment, and then the sequence plays out. How did this idea come about?
The flashbacks, of course, were written into the script, and I know that Steven loves being able to have that moment. It's such a fun thing in a movie -- someone's talking and suddenly you see what they're describing. It was also fun to be able to set those things up and just kind of toss them off. BOOM, we're on a shot of 1960s Vegas with all these extras in amazing costumes. It's an incredible moment, and we throw it out there and toss it off like it was nothing.
How did you come up with the idea for the freeze frames?
The first one of those pods that I got was the one in the 1970s where the guy gets hit and flies up in the air. When I was watching dailies, I saw that moment where the things are all up in the air, and it was the kind of thing that I knew Steven would love. So I tried it. I massaged the dialogue so that the rhythm would work with what was happening with the picture. The other two pods followed, and because I liked that one so much, I thought, "Well, I've got to get a freeze frame for this one and then get a freeze frame for that one." For all I know, that's what Steven was planning all along.
Using "Take My Breath Away" on the last pod was very clever.
Steven and I were talking about putting some source music on those, and "Take My Breath Away" was the one he specifically requested that I try. It was hilarious. That's the great thing about the movie. It's not often that you get an opportunity to be that over-the-top, and to have a character like Elliot Gould telling those stories. You want them to be a little bit more than you'd expect.
The way the film is set up, the audience is more than willing to eat up those moments.
Exactly.
The opening scene, where Dusty Ocean is being interviewed by the parole board, was a oner up until the very last moment, when it cuts to a close-up his face. How did you arrive at that idea?
There was a pretty long development in terms of how we ended up with how it is in the film. Originally, the scene played out longer, to where the interviewer on the parole board asks him the question, "What are you going to do when you get out?" and he says, "How much do you guys make a year?" That is how that scene ended. Steven shot the reverse angle of the parole board, and we tried cutting it that way, but you just didn't care about the parole board, and it felt manipulated. It felt like we were cutting back and forth because we didn't want to sit and look at George Clooney the whole time. But he's the only thing that we care about at that moment, so it really works.
That's also when we find out that he is Ocean.
Exactly. You don't want to cut away from him. So originally, it played all the way through and ended with that joke, and then it went into the moment of him getting out and going all the way to Atlantic City. The music didn't start until we got to Atlantic City. At the first screening, it didn't feel right. I think it gave the movie a sort of serious tone, even though there was that joke at the end. I think it set the audience up in the wrong way, so they weren't ready to just laugh and have fun as much.
One of the first times I put that scene together, in my head I saw her ask "What will you do when released?" and I heard the music go off and I thought, what's he going to do? The movie, that's what he's going to do! After the first screening, I thought back to the moment of feeling that, and I thought I would see what it feels like if he doesn't answer the question -- if we just come into the close-up at the end and put the movie totally in George's head, and we let that launch the movie. I did it, and it felt right. I showed it to Steven and he loved it. It made a big difference to the pace of the beginning of the movie.
I noticed that you didn't use opening credits.
That's just a matter of taste. At some point, Steven was toying with putting some credits at the beginning, but we didn't design a sequence around that and it would have been distracting. You've got these great images, and you don't necessarily want to be descending your eye to a credit -- unless it's something that's designed really specifically. We put them all at the end, and it was just as much fun that way.
How closely did you work with the music team?
I love working with music. I put in a lot of stuff for the preview screenings. It was also great because we had a lot of David Holmes' music that we were using. And David sent over a CD with a bunch of source cues, like the "Blues in the Night" cue, which is used when we're on Carl Reiner. Whenever there was a moment that I felt needed music, I had a pretty good library of stuff to choose from and was able to fill out the temp track really well. When we were all done, David went through and re-did most things and did a perfect job of giving it unity and still keeping the fun of the original music. Steven had these great Combustible Edison tracks that we were using as well, but they were replaced with even better stuff. Whenever we could do something and make it fun, it usually worked. That was definitely the case with music as well.
There's a great scene where Matt Damon is sitting in the back of the van and you use a few jump-cuts. How do you decide when to use a jump-cut?
For me, a jump-cut is a great way to tell the audience that time is progressing. Anytime I make a cut, I try to make sure that there is some new visual information. I don't just cut back and forth because "Okay, it's time to cut. Okay, now it's time to cut again." Every time there's a cut, there is some new little bit that the audience is getting, so you always feel like the movie is taking you more and more into the story and more and more into that world. When you're working on something, it's a matter of being loose and free with how you're presenting the material. I'll try something, and if it works, great. Sometimes it doesn't and I'll find another approach. But with that scene, Steven was probably planning on those jump-cuts. It was fun because we were able to play the conversation that's happening in the front of the van like it's happening in real-time, but show Matt Damon in that moment. It's one of those things. It just works. It communicates it so well that you don't need to feel those constraints and rules about how you're presenting the material.
It sounds like you had a lot of fun making this movie.
It's fun to get in there and do it, and then you step back a little while, and you look at it and you realize, man, this is phenomenal. I'm so proud to have been a part of it. And at the same time, it was not some huge struggle for me personally. Everyone had a great time. But that's what it's like to work with Steven Soderbergh. Period.
Your next film is "Confessions of a Dangerous Mind." When do you start?
I'm starting on that in January. I'm going to Montreal for 10 weeks.
This is George Clooney's directorial debut, so you'll be working with a first-timer.
I have done that a lot, and I really enjoy it. It's great to work with someone like Steven who really is perfect. You just can't say it any other way. But at the same time, we get in there, we work for 15 minutes and it's great. We could still work on it, but it's not going to get any better. So we just look at each other and say, "Okay, I guess that's the end of the day." But I love to edit. I love discovering stuff. George is such a great person. He's really smart and so excited about this. I think it's going to be fun to do some more of that exploring, and watching him see how it all develops is going to be a lot of fun, too.
Did George spend any time in the cutting room on "Ocean's Eleven"?
No, nobody else comes in there while Steven and I are working. But there's not really a need for that. Steven doesn't have to prove himself to anyone, because everybody trusts him. So it's not like George has to come in and make sure it's going well. The actors all came to screenings, so everyone feels really safe. That's important, and I feel the same way, too. I really care that the actors like what I've done. I feel like I'm being given a sacred trust to work with their performances. I always try to be true to what they were doing, and not embarrass them or sell them short.
How do you characterize the process of editing?
Editing is shaping the point of view of the audience. As a writer, you have to deliver emotional impact through words, and then the actors deliver emotional impact through their expressions and by putting their own humanity into what they're doing. I feel that the editor is doing the same thing. It's really important to inject your own humanity into your work. When I watch a scene that I've edited, a lot of times I'll imagine myself dancing on the shoulders of the people in the scene. You're creating a rhythm and you're shaping how the audience feels at any given moment. It's important to not forget that you want people to feel stuff viscerally. Not just understand it, but feel it.


Caps from Japan's Official O11 site!
Click on the image to see a few screen caps, plus the link to the official site!

For Your Consideration
Best Picture
Produced by
Jery Weintraub
Best Supporting Actor
Carl Reiner
Best Director
Steven Soderbergh
Best Screenplay
(based on material previously
produced or published)
Ted Griffin
Best Art Direction
Production Designer
Philip Messina
Set Decorator
Kristen Toscano Messina, S.D.S.A.
Best Costume Design
Jeffrey Kurland
Best Film Editing
Stephen Mirrione, A.C.E.
Best Make-Up
Make-up Department Head
Julie Hewett
Key Make-up Artist
Christien Tinsley
Best Original Dramatic Score
David Holmes
Best Sound
Production Mixer
Peter Ledford, C.A.S.
Re-recording Mixer
Larry Blake
Best Visual Effects
Thomas J. Smith
Michael S. Pryor
Thanks to Soderbergh.net for the link to this information!


Clooney Lacks Movie Star Smell
MRIB/Yahoo
01/03/02
George Clooney has revealed that he doesn't think of himself as a major movie star. The Ocean's 11 lead may have scored huge hits with such films as Out Of Sight and The Perfect Storm but Clooney doesn't put himself in the same class as actors like Mel Gibson. "I can smell movie-star fame, and I haven't got that smell,'' the actor told The Orange County Register, explaining, "I have gotten off a plane with Mel Gibson, and people just stare at him. They speak about him in whispers and keep their distance. I'm standing right next to him and the same people scream out, 'Hey, George.' Then they come over, grab my arm and rub my head." Ocean's 11 opens in the UK on February 15th.

2001 left movie-lovers reasons to be happy
12/29/01
# 8. Ocean's 11 -- You can fake emotion, story or style, but you can't fake cool. And this re-make of the Rat Pack's heist flick oozed cool through every pore. Led by the current Hollywood king of cool George Clooney, this all-star romp had the stars, it had the story, it had the style but it also made anyone watching feel as cool as those on the screen.


Clooney's Class,the best and worst of Las Vegas entertainment in 2001:
LVRJ
Norm
12/31/01

Best celeb:
Hundreds of locals who met him, waited on him or worked with him during the filming of "Ocean's Eleven" can't be wrong. George Clooney is Hollywood's classiest act.
Best quote of the year
"I didn't have time (to break up Roberts and Benjamin Bratt). I was too busy breaking up Tom Cruise and Nicole Kidman's marriage."
-- Clooney.


Best Movies of 2001-The Number 2 Spot
EW
Ocean's 11
It's easy to forget, but some of the most beloved and enduring films to emerge from the Hollywood studio system were playful, breezier-than-air concoctions with nothing on their minds besides giving the audience a delectable good time. Steven Soderbergh's ebullient heist caper has no pretensions, yet it's made with such wizardly ingenuity and joy that it leaves you buzzed with pleasure. Soderbergh stages the movie in the same way that his poker-faced thieves execute the ultimate casino robbery -- with a techno-happy trickery matched only by its sublime nonchalance. In ''Ocean's Eleven,'' crime is attitude, a projection of the wily, deceptive grace of masculine romantic swagger. No one on screen is wilier, or more graceful, than George Clooney, who, with this role, becomes chairman of the board of suave.

2002: The Best-Looking Film
EIW
12/29/01
The Best-Looking movie of 2002 is a foregone conclusion. George Clooney, Brad Pitt, Matt Damon, Andy Garcia and Julia Roberts star in the remake of the Vegas heist movie, Ocean's Eleven, out in February. Will the combined dazzle of the stars be enough to blind audiences to the emptiness at its core? Quite possibly. Steven Soderbergh, coming out of Traffic, seems content to let the plot cruise without changing gears; he knows Ocean's Eleven is really about the spectacle of movie stars doing nothing much, stylishly.

Most Enjoyable!
EIW/Guardian
12/29/01
...And maybe the most enjoyable picture will turn out to be the remake of Ocean's Eleven, with rugged George Clooney. Old-fashioned fun is what it promises - and does that great big 11 on the poster contain a defiant, if subliminal, Freudian celebration of the Twin Towers . . . ?


O11 Box Office
12/27/01
Warner Bros.' "Ocean's Eleven" is showing tremendous staying power as it brought in $21.3 million over the long Christmas weekend. It crossed the $100 million mark in the process, becoming the 34th film in Warner Bros. history to accomplish such a feat. "Ocean's," starring George Clooney, Brad Pitt, Julia Roberts and Matt Damon, remains in second place at the box office despite heavy competition from several newer releases.

Steven Soderbergh
Movieline
Jan 2002 Issue
Outtakes from the interview, "Steven Soderbergh is so Money," by Stephen Rebello in the December/January 2002 issue of Movieline.


Galaxies of Stars Perform for Troops
12/12/01
People Magazine
C. Young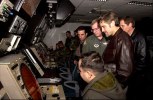 At Incirlik Air Base in Turkey, the male soldiers were agog at the prospect of meeting Julia Roberts.
The female soldiers were agog at the prospect of meeting the rest of the cast of "Ocean's Eleven": George Clooney, Brad Pitt, Matt Damon and Andy Garcia. "Soldiers were crying, their dependents were crying," producer Jerry Weintraub said of the cast's 13-hour visit during which they showed their film, signed autographs and mingled. "The kids were hugging the actors, the actors were hugging the kids. It was very emotional."
Such scenes have been repeated at military bases in the U.S., Europe and the Middle East since Sept. 11, as celebs, patriotically following in the footsteps of Bob Hope, have mobilized to toast the troops.
The United Service Organizations (USO) has sponsored 46 such trips so far, with six more scheduled before the end of the year. Tom Cruise pressed the flesh on a reserve base in Fort Worth; Mariah Carey warbled in Kosovo; Jennifer Lopez, Kid Rock and rapper Ja Rule performed in Germany; Garth Brooks rocked on an aircraft carrier in Norfolk, Va.; and Wayne Newton, Bo Derek, Rob Schneider, Shaggy and Jessica Simpson cut a swath through Italy and Bosnia. Of course they all have movies, CDs and TV shows to promote.
"When the 11th hit, you had the people who wanted to jump on the bandwagon: 'I want to go, I want to go', " said Las Vegas godfather Wayne Newton, who took over from Bob Hope as chair of the USO Celebrity Circle. But who's grousing? "Any time performers are bringing entertainment to our men and women in the armed forces, it's a positive," he said. At Incirlik, Lt. Col. Jim Browne backed him up on that one: "It made us feel like stars too."


Box office numbers for 'Ocean's Eleven' smashing
Norm!
LVRJ
12/10/01
"Ocean's Eleven" is a lights-out success, setting an all-time record for a December opening.
The set-in-Las Vegas remake of the 1960 Rat Pack film took in an estimated $39.3 million over the weekend to dethrone powerhouse "Harry Potter and the Sorcerer's Stone" after three weeks as the No. 1 box office draw.
Industry experts had predicted an opening week in the range of $30 million to $35 million for the much-hyped, star-laden film.
"Ocean's" easily surpassed the previous best December debut, last year's "What Women Want," starring Mel Gibson. It pulled in $33.6 million."Harry Potter" pulled in $14.8 million, boosting its 24-day total to $239.7 million in the United States and Canada.
Overflow for Friday's evening showings at Brenden Theatres (Palms) was so heavy that filmgoers poured back out and waited for the next "Ocean's" show on one of six screens, according to spokesman Joseph Girouard.
More than 700 showed up for the midnight showing at 12:01 a.m. Friday, he said.
*******************
The Punch Line
" `Ocean's Eleven' is brave, courageous, brilliant, audacious -- and preposterous."
-- Rex Reed, film critic, The New York Observer
*********************
The Scene and Heard
R-J reader William Kucharski spotted a gaffe in "Ocean's Eleven." When George Clooney lays out the grand plan to rob the Bellagio, the blueprint on the TV monitor has the MGM Grand located a block north of its actual location. And the Bellagio and New York-New York are shown a block apart, meaning Monte Carlo and Boardwalk Casino don't exist.


Twins hit jackpot with 'Ocean's Eleven' roles
Norm!
LVRJ
12/09/01

Twin brothers Dave and Larry Sontag walked out of an "Ocean's Eleven'' showing and immediately stepped into celebrity status. "We went to see it at the Palms (Brenden Theaters) and people were pointing at us as we walked out," said Dave Sontag.
They stand out in a crowd in more ways than one.
Standing 6-foot-2 and weighing 300 pounds, the Sontags play Goon No. 1 and Goon No. 2, the casino-employed heavies who confront George Clooney's heistmeister character in the film, which opened Friday. The Sontags loved the finished product, especially the ending, which just might extend their cinema careers. "I was talking to one of the writers this week and he said there's a good chance of a sequel. It's all set up," said Dave, whose previous acting claim-to-fame was a fake punch to David Letterman's stomach.
They landed the job after catching director Steven Soderbergh's eye at an audition.
"I guess he liked our look, the gimmick of it," said Dave, a pro wrestler who teams up with his brother as The World Famous Power Twins. "It's the luckiest thing that's happened to us." In the meantime, until their next movie gig arrives, they'll continue making their living as strip joint bouncers.
Jumping into action
Security guards at the Palms' ghostbar went into crisis mode at the sight of a man acting suspiciously on the 45th-story observatory deck.
First, they noticed how he seemed to be casing the open-air deck, looking over the glass panels on a frigid (for Vegas) night. They grew more concerned after spotting a suspicious object on his back, under his coat. Moving quickly, they grabbed their man. It was a base jumper hoping to be the first parachutist to dive off Las Vegas' newest casino.
"We wanted him 'trespassed,' which means if he comes back we have him arrested," said Michael Morton, a co-owner of ghostbar. "We turned him over to security to have him thrown out," said Morton. But there was a hitch: "He was staying at the hotel." Try that in Old Vegas and you'd be heading for a real fall.
****************
The Scene and Heard
OK, so "Ocean's Eleven" won't win any Oscars, but it's going to win a lot of hearts as the coolest Vegas movie ever. And the timing couldn't be better. As it turns out, "Ocean's" just might be the best tourism booster of all.
Question: With the exception of a few scenes, could Julia Roberts appear any less glamorous than she does in "Ocean's"? What were they thinking? ...
On the other hand, you haven't lived until you've seen "Dr." Brad Pitt in that pitiful black wig. ...
****************
The Punch Line
"Originally, there was a line at the end of the movie: 'No casinos were harmed in any way.' " -- Matt Damon, on one of the editing changes in "Ocean's Eleven"


Ocean's 11
39th Wing Public Affairs
By Staff Sgt. Jeremy Tredway

Incirlik Air Base, Turkey (USAFENS) -- The cast of Warner Bros. Pictures latest release, Ocean's 11, came here Dec. 7 to show an excited Incirlik community their appreciation for the military's service to the nation. George Clooney, Julia Roberts, Matt Damon, Andy Garcia, and Brad Pitt, accompanied by producer Jerry Weintraub, and other Warner Bros. representatives, left Los Angeles for Turkey immediately following the U.S. premiere of their new movie.
Considering the aftermath of the Sept. 11 terrorist attacks in New York and at the Pentagon, Weintraub contacted Armed Forces Entertainment and the United Services Organization and expressed his interest in bringing the cast to an overseas military base.
"They wanted to say thanks. They said this (was) a small token to show the troops how appreciative America is for what they're doing," said Johnnie Phillips, the 39th Services Squadron deputy commander here. "I lived in New York for almost 16 years," said Roberts. "So, to see the people who have the commitment, willingness and courage to protect the rest of us while we … live our lives, is just more than any of us could ever ask for."
The cast visited nearly every major work center on the installation, shaking hands, posing for pictures, signing autographs and learning about the Incirlik mission along the way.
They got to see F-15, F-16, EA-6, Jaguar, and AWACS aircraft during their brief stay. Other stops included visits with an explosive ordnance disposal team and an up-close military working dog demonstration.
"This is pretty humbling for all of us. We got here about 2 in the morning, and it's just been fantastic," said Damon, who said he lived here 20 years ago when his father was stationed at Incirlik. "We've gotten to do everything from stepping into fighter jets to getting bit by attack dogs, but talking to people is probably the best part. Just sitting around and talking to some of these folks was probably the highlight for all of us."
The celebrities also came out when the base movie theater featured admission-free showings of their new movie.
"I just want to thank the stars for coming to Incirlik," said Airman 1st Class Laura Harper, a personal reliability program records technician for the 39th Medical Group. "I think everyone's morale has gone up a little bit, because they know what they do is appreciated."
"It was the idea of coming over here to say thank you (for being) away from home and giving up your holidays," said Pitt. "It just means a lot that we can come out and … take the (people's) minds off of things for a couple of hours. That's what it's all about."
"Everyone has been so grateful, and it seems so wonderfully absurd to us," said Roberts, "because it's really our greatest pleasure."


The Horror: Protesting Soderbergh's blasphemy..."Hey, George: Go back to the E.R. before Frank sends you there! Yo, Brad: Dino could spit you out like an olive pit!"
Salon
Chris Colin
12/11/01
Oaklank,Calif. -- At a moment in history of unprecedented encroachments on civil liberties, and in a city plagued by poverty, crime and complaints of police corruption, a handful of citizens took to the streets Friday to vigorously protest the remake of a mediocre old movie.
As protest mastermind Will "the Thrill" Viharo tells it -- yells it -- Steven Soderbergh's "Ocean's Eleven" is the last straw in Hollywood's systematic and shameful plundering of holy cinematic history. Viharo is a movie nut, but more than that, he's a Rat Pack nut, and the 1960 version of "Ocean's 11" is sacred territory.
Beginning at 6 p.m. on Friday, he, his wife, Monica, and a few others positioned themselves in front of Oakland's Jack London Cinemas and began shouting at passing cars. The cars occasionally slowed down and asked why they were being shouted at. They're robbing our past, the protesters explained. These new guys don't know the first thing about "cool," and yet they're trying to remake a movie that's about nothing else.
Putatively Viharo and his acolytes are devotees of cool. "We celebrate the lost art of being cool," he says. As a professional rep theater host at the Parkway theater and full-time lounge lizard, his love for '50s and '60s culture translates into a love for cool. The problem with this conceit is that Viharo himself couldn't be further from cool. He's got the accouterments -- the shoes, the jacket, the vocabulary -- but ultimately he's a film geek in Frank's clothing: Name a B movie and Viharo will tell you who manufactured the monster's fangs. More to the point, anyone so vociferous on the rules of cool, well, that's not cool.
Viharo would probably be happy to admit he doesn't cut the mustard. He may have a slick wardrobe, but his real devotion is to simply being devoted. There are just as many framed black and white headshots in his home as you'd imagine -- Yvonne Craig, Deborah Walley, Stella Stevens. Where there aren't head shots there are movie posters. Somewhere in the middle is an old placard that says, "It's Frank's world -- we just live in it." Two days before the protest, Viharo wears an evening jacket and slicked-back hair. He's bulldog-stubby. For guests, he has a rum and Coke ready to go.
He's also a talker. Within two minutes I know the story of his marriage. Viharo had been hosting a screening of "Jailhouse Rock" when he pulled a pretty brunet up on stage from the audience.
He and his "permanent lovely assistant" were married by a Dean Martin impersonator. The original "Ocean's 11" screened in the background. I've since met the impersonator. He looks just like Dean Martin.
On Viharo's coffee table are poster-board signs cut into the shape of martini glasses for Friday's protest: "Hey George -- go back to the E.R. before Frank sends you there!" And "Yo Brad -- Dino could spit you out like an olive pit!"
"The remake is an insult to their legacy," Viharo says. "The original 'Ocean's' cast were genuinely cool.
They were basically just playing themselves. These [new] people are just acting." Viharo isn't generally bogged down by self-doubt. He prefers talking to listening, and if you propose that, say, George Clooney et al. are "just acting" because, in fact, they're just actors, he puts a hand up and talks louder. He may have the disposition of a man whose culture has been stolen, but it wasn't his until he himself stole it a few years back; Viharo is candid about his self-invention. He's been a lounge lizard all his life -- he was born in 1963 -- but it took a while for him to discover this.
There was a beat period in the '80s, for example (one assumes it was Neal Cassady photos instead of Jayne Mansfield in those days).
The epiphany came at a Rat Pack reunion he attended in 1988. Something clicked, and he began easing himself into a new "personal style." He bought his first sharkskin jacket in the early '90s.
In 1993 he wrote a detective novel, "Love Stories Are Too Violent for Me." Then, in 1997, he was asked to host a midnight movie series at a rep house, and "Will the Thrill" was born. "In my 20s, life was like a tragic poem. Now it's like a comic book," he says. "This is an identity that I created for myself."
Like all good self-made men, Viharo has a blind spot. In a living room punctiliously appointed with Hollywood starlet photos, stacks of old records and other '50s and '60s paraphernalia, he sees no irony in protesting the idea of remaking. Ask him if he himself isn't a remake and the hand comes up again.
"Do you like the Beatles?" he asks, leaning forward.
"Yes."
"Well, how would you like it if they remade 'A Hard Day's Night'?"
This is the closest Viharo comes to explaining the difference between an homage and a shameless plundering of the past. He's too close to the subject to be even-tempered about it. "I take [the remake] personally," he admits, "though I know it's not personal."
People who know Viharo from his work at the Parkway either love him or hate him. It's harder to find the ones who love him. His introductions to films tend to go on and on, and there's rarely a shortage of sermonizing or pretension. He's unapologetic about this. In his Web site he writes:
Honestly, I don't get many complaints at all about my modest stage show or the offbeat film selections -- all booked by me personally -- but if someone out there would rather see the film sans the pre-show: TOUGH! Without me, none of these films would ever play The Parkway and in many cases, wouldn't play anywhere!
There could have been something funny about a tough crew like Frank, Dean, Sammy and the other "Ocean's 11" scrappers needing eight movie geeks to protect them on a Friday night. In fact, the Rat Pack themselves probably would've laughed, if they're anything like their characters in the movie. Fortunately, the guardians of their legacy aren't encumbered by humor. It's serious business in front of the Jack London theater, and the protesters are happy to explain why.
"It's an insult," a bearded man in his 50s says.
He's the oldest -- none of the others looks over 40, and a couple might be college students.
"They're destroying a piece of history," Viharo says, testier than he'd been in his living room. When I ask how, exactly, the new film destroys the old one, he begins to yell.
"How would you like it if they remade 'A Hard Day's Night'?"
A few feet away, a scruffy young kid on a dirt bike is asking Viharo's wife, Monica, what all this is about.
"They're ruining a great old movie," she explains to him with a sigh. He stares up at her. "What's your favorite movie?" she asks him. "'Batman II.'" "Well, how would you feel if someone remade 'Batman II.'" "I don't care," he says.
Later, I talk with an older man named Mark Klein. Klein has just come out of the Soderbergh version.
"Both movies were pretty dumb," he says, remembering the original. He's not impressed with the spectacle in front of him, either. "These young people used to protest war ... I can't believe it's come down to this."
The Dean Martin look-alike, Robert Ensler, is nearby in a tuxedo. He seems to be wearing a lot of makeup, too. He tells me what a disgrace this new movie is, no style. Will he ever watch it? I ask. No way. They all say that: No way.
I press my devil's advocate position:
"Aren't you, too, a kind of remake?"
"I'm a Dean Martin impersonator," he says. He doesn't see what I'm getting at.
"What's the difference between impersonating Dean Martin for a living and remaking 'Ocean's 11'?"
He looks around for help and Viharo comes over. "You're a tribute," Viharo coaches him. "A tribute." "I'm a tribute," he tells me. "An homage," Viharo tells him. "What's an homage?" he asks.
Yes, well, ironically, several people asked if Viharo's stunt in front of the theater was a promotional event for the Soderbergh movie. As for the sympathy for the original film's slighted stars, Angie Dickenson seemed happy enough to do a cameo in the remake. And in a perfect twist worthy of the original "Ocean's 11," the slick new remake is better than the first.
It's snappier and more suspenseful, and that George Clooney could stop a clock. Sure, Las Vegas has changed and fans of the Rat Pack will indeed find that the Rat Pack is not in this movie. But generally it's more fun than yelling at cars, and who knows -- maybe some kid on a dirt bike will eventually grow up to sermonize about the good old days of Brad, George and Julia.
I guess he didn't like the movie or see it for that matter...Itallea


'Ocean's' cast shines o'seas
Army Archerd
12/10/01
It's a GOOD MORNING for us back in L.A. after the whirlwind weekend of Kennedy Center Honors and an equally busy week in Gotham. Today is also a good morning for "Ocean's 12" -- that's right, "12." Jerry Weintraub arrived back in town Monday night after the star-studded cast winged to Turkey to preem the pic for our troops stationed at a giant airbase there.
They followed with a stop in London for press, then on to Rome and N.Y. After that, George Clooney headed to Canada to direct "Confessions of a Dangerous Mind," in which his "Eleven" costar Julia Roberts will cameo. "Ocean's" cast performed magnificently for the troops, Jerry reports.
They arrived at the Incirlik base at 3 ayem and "went to work at 7 -- handshaking, everyone, visiting schools and hospitals on the base. They were incredible. They told the troops, 'Don't thank us; we thank you.' Nobody complained about anything -- they worked in the pouring rain.
At the autograph session, they didn't quit until everyone received one." In London they appeared before a packed press group at the Dorchester, and in Rome ditto at the Grand where Monday morning Jerry received a fax of Monday's Daily Variety front page with the headline "Rat Pack Blackjack," noting the pic's record-breaking three-day opening.
At the stop in N.Y. for refueling and customs, Andy Garcia headed to the Letterman show. Weintraub said, "I'm gong to look back on this as the most worthwhile experience." P.S. he has further plans to promote the pic: On Wednesday, he films a commercial.


Las Vegas' coolest cut-ups
USA TODAY
Kelly Carter
Los Angeles — The Rat Pack oozed cool, but did they ever look this good? It's 8 p.m. on a Saturday when George Clooney, Brad Pitt, Julia Roberts, Matt Damon, Don Cheadle, Andy Garcia and director Steven Soderbergh stroll into a penthouse suite atop the Century Plaza Hotel & Spa. For the past several hours, they've given individual interviews to promote their movie, Ocean's Eleven, a remake of the 1960 Rat Pack film about a Vegas casino heist.
The actors are into the Rat Pack thing, even singing a Frank Sinatra song as they pose for a group photo. "L is for the way you look at me," they wail, impressively on key. "O is for the ..."
Afterward, they file into the living room area for a group chat. Roberts, glam in jeans, enters with her arms draped around Clooney, who inquires about alcohol.
"I apologize ahead of time for what you're about to endure," Roberts says to the reporter interviewing the cast.
The implication is that they're going to have some fun, and lots will be said that won't make a family newspaper. She's right. Pitt and Clooney descend on the Skyy Vodka to make drinks for anyone who wants one.
Q: Steven, I read that you said no one went to their trailers during the filming in Las Vegas, because you guys were having so much fun.
Roberts: They parked them really far away.
Clooney: And we were in the casinos.
Soderbergh: Julia's trailer had barbed wire on it.
Q: Julia, you're the only woman in the film. Did you become one of the guys or use your femininity to your advantage?
Clooney: Oh, yeah (in a sexy voice).
Roberts: I think they would have just laughed me out of Las Vegas if I tried to use my fem-i-nin-i-ty to my advantage. I just kind of went with what was already established.
Q: Which was?
Clooney: Mayhem, madness.
Roberts: The madness of King George.
Q: Did anyone take on the personas of the original Rat Pack off camera? Who became Frank?
Roberts: I became Don Cheadle.
Cheadle: She did. I wanted to become Julia, but the clothes didn't fit.
Roberts to Cheadle: I'm almost better at (being you) than you sometimes.
Cheadle: You do. You pull it off a lot more convincingly.
Clooney: (To Roberts) I'd like to see you and (actress) Bridgid (Coulter, Don's longtime live-in girlfriend and mother of his two children)
(Laughter from all)
Damon: This is a family paper.
Q: Andy...
Damon, interrupting: Please, like he's supposed to bail you out.
Garcia: I'm supposed to bring some modicum of class to the story?
Q: Let's lift it up just a little bit. Andy, you are one of the few to watch the original Ocean's Eleven.
Garcia: We all did.
Roberts: I fell asleep twice during it. Twice it was on television by chance, and both times I fell asleep.
Garcia: How well did I answer my question, by the way?
Q: Not very well. Did you like the first one?
Garcia: I liked the guys in the first one. I don't think the first one was a very strong piece of material that they had to work with. They did the best they could when they showed up.
Pitt: Exactly.
Damon: When they showed up.
Clooney: That's what I love, though.
Garcia: It wasn't that strong a movie in terms of a script. Those guys, you can watch them read the paper. You know, it's the old adage.
Damon: Oh, that old adage.
Garcia: They were the epitome of '60s hip cats; cool and all that ... (To Cheadle, who is taking notes) Can you write that down for me, please?
Pitt: And can I get a copy of that?
Q: Steven, how did you handle this group?
Soderbergh: See what I was dealing with? All day. Every day.
Cheadle: We thought when he said cut, he said cut up.
Soderbergh: The good news was that I was sort of hanging on by my fingernails, and they were being sympathetic toward me. Things were taking a little longer than they normally do on our films, and luckily they were very self-entertaining.
Q: George, you're busy doodling and I hate to interrupt ...
Clooney: No, no it's OK.
Q: Is it true you didn't know Julia before this movie?
Clooney: Not in the biblical sense. (Laughter from all and Clooney the loudest)
Roberts: (slamming her hands down on the table, feigning anger) George! I have to draw the line. You are wounding innocent people.
Clooney: I know.
Roberts (breaking into that megawatt smile): And I am at the top of that list.
Garcia to Roberts: I heard you signed up for more abuse.
Roberts: I have. Can you believe it?
Q: That's right, you two are doing Confessions of a Dangerous Mind. (The movie, produced by Soderbergh and Clooney's production company, stars Clooney and Roberts and marks Clooney's feature directorial debut.) There's such chemistry in Ocean's between you two with your back-and-forth banter. It was like an old movie where you don't need the sex.
Pitt: And George and Julia are good together, too.
Soderbergh: They had a whole sex scene, but it had to be cut out of the film.
Roberts: Sex and violence. All on the floor.
Q: Don, you had your own style thing going on, and Matt, not that you were badly dressed, but Brad, George, Andy, you three were really well dressed.
Pitt: Matt has a joke that he was the last on set so therefore he got what was left.
Q: Did you guys fight over clothes?
Pitt: Yeah, we fought over clothes. (He pretends to get into a catfight with Clooney, who is seated to his right, and one of them screams like a cat.)
Q: Did anyone keep any of their wardrobe?
Garcia: I asked to keep a couple of things, but I was initially refused by Mr. Weintraub. (Jerry Weintraub, the producer, later relented.)
Damon: I got to keep all of my clothes and put them on eBay.
Q: It's customary at the end of production to exchange gifts. Did you do the gift-exchanging thing?
Roberts: I ran like hell.
Damon: George got everybody a bike.
Cheadle: I ride my daughter to school on the handlebars.
Clooney: Do you, really?
Damon: It was a great bike. I actually have mine in my apartment in New York.
Clooney: They're a great thing when you're on location. You just leave the trailer, and it can get you to the set pretty quickly. They're pretty fun. I got a deal on them.
Q: You could still afford them after all your gambling losses?
Clooney: I didn't lose that much money.
Roberts: Of your own money.
Clooney: That's true. Sorry (looking at Damon, whose casino credit he played on).
Damon: It wasn't that much money. (He lost) 25 hands (of blackjack) in a row. I have never seen that. That is not a joke. It was incredible.
Q: George, when Brad was answering a question from Barbara Walters about marriage, you had a faraway look on your face like, "Oh my goodness, I can't wait until that day."
Pitt (jokingly): Yeah, that's George. You pegged him.
Damon: (He was thinking) "Is that stucco
Clooney: I'm sitting there going, "Vodka and cranberry or vodka and ..."
Q: OK, so I misread you, George. Julia, tell me the most shocking thing you found out about one of your castmates during the filming of this movie.
Roberts: I actually signed papers that say I can't answer that question.
Clooney: That's right.
Soderbergh: When you found out that my hair wasn't real you were really (shocked).
Roberts: Everyone expects them to be suave, charming and nice by virtue of watching their movies, but they're just fun, good, down-to-earth men, folks.
Soderbergh: And that's more surprising than George coming out?
Roberts: The fact is that George is a woman, which is why he talks about having sex with me so much.
Clooney: Because I'm not just a woman. I'm a lesbian.
Roberts stands to leave, because she has a previous engagement. "I feel so terrible because I have to leave you alone with these ...," she says to the reporter. She goes around the table to kiss everyone goodbye. Pitt rises. The two stand off to the side in a slow dance pose and whisper things to one another before America's Sweetheart takes off.
Cheadle sees this as a way out and says he, too, has to leave.
Cheadle: I have to kiss my kids goodnight. Are you going to deprive me of that?
Q: You can wake them up when you get home.
Q: When are you guys going to work together again?
They all chime in: Never.
Pitt: There's nobody here that I want to work with.
Soderbergh: Brad is doing a day on Full Frontal (a movie Soderbergh is directing).
Pitt: Not a day. It's an eighth of a page.
Soderbergh: It is less than a day. It's a very low-budget, low-impact film that will be in theaters March 8, 2002.
Pitt: I will be full-frontal nude.
Q: Who was the practical joker?
Clooney: No one.
(Pitt motions that Clooney was.)
Q: George, I think you were.
Clooney: No, I didn't do anything.
Pitt: I sold you out.
Q: Las Vegas is really hurting economically after Sept. 11. Can this movie revive the economy there?
Soderbergh: That would be nice. It's a two-hour commercial for Vegas. I'm this way: People are going to come to Vegas. They're going to want to see the Bellagio and say that's where Julia came down the steps. That's where Brad showed up late. (Laughter) No, Brad was never late.
Q: Brad, do you have a problem being on time?
Clooney to Pitt: Wait, wait, wait. Now answer after 40 minutes.
Q: What are you guys going to do now?
Clooney: Maybe we'll start drinking. What do you say, boys?
Damon: We may sit here for a second amongst ourselves.
Clooney, Pitt and Damon do just that. Cheadle, Soderbergh and Garcia call it a day.

Stars visit troops in Turkey !
12/10/01
Hollywood stars George Clooney, Julia Roberts, Brad Pitt, Matt Damon and Andy Garcia have visited US service men and women at a base in Turkey which is the transport hub for raids on Afghanistan.
Their mission was not only to boost morale, but also to plug their latest film - Ocean's 11, which is a remake of the Rat Pack classic.
They signed autographs, chatted and posed with American troops at the high security Incirlik air base in southern Turkey.
Some of the 5,000 service personnel stationed there were more than happy to show the stars around and Brad Pitt caused a near-stampede amongst the battle hardened female soldiers who wanted to have their picture taken with him.
Sitting in the cockpit of a fighter plane actor Matt Damon said: "You know, there's obviously overwhelming support for these people back home and everyone here, regardless of where they stand politically, just wants everyone to be safe and come home safe."
The five stars flew in aboard a private jet and enjoyed a bacon-and-eggs breakfast with American and Turkish commanders at the base.
They also talked with Turkish soldiers and visited an American high school at the facility. In return, soldiers at the base presented the actors with authentic flight jackets personalised with their names.


'Ocean's Eleven' Stars Visit Troops
12/07/01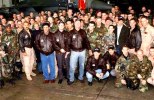 Ankara, Turkey (AP) -- George Clooney, Brad Pitt and Matt Damon, stars of the new film ``Ocean's Eleven,'' signed autographs, chatted and posed with American troops at a top security military base on Friday,December 7th.
Julia Roberts and Andy Garcia, who also star in the film, also made the trip to the Incirlik air base in southern Turkey. Staff Sgt. Steven Coppock of Roy, Utah, said he helped instruct Roberts as she drove a giant remote-controlled tractor, which is used to defuse bombs, around a parking lot.
``She was concerned she might hit somebody's vehicle,'' Coppock said.
There was no media access to the base, which serves as the launching point for patrol missions over northern Iraq and is a transport hub for the war in Afghanistan.
``The troops are so happy, but the superstars say that they're so happy as well,'' Mehmet Birbiri, community relations adviser at the base, said by telephone.
The five Hollywood stars arrived early Friday morning aboard a private jet. They had a bacon-and-eggs breakfast with American and Turkish commanders at the base, officials said. They also talked with Turkish soldiers and visited an American high school at the base.
From his home in Malibu, Calif., on Tuesday, producer Jerry Weintraub explained, ``We want to bring them (the soldiers) a little bit of home for Christmas. We really wanted to do something for these kids.''
In return, soldiers at the base presented the ``Ocean's Eleven'' stars with authentic flight jackets personalized with their names.
Staff Sgt. Robert Whitehurst, of Daytona Beach, Fla., said Clooney was constantly cracking jokes.
``Where are you heading? Why don't you head by Burger King and get us something to eat,'' Whitehurst quoted Clooney as saying as Roberts operated the tractor. ``You could tell they were glad to be there,'' Whitehurst said.


'Ocean's' glitzy spray...Clooney and Pitt and Roberts … oh my!
Bill Higgins
12/06/01
If the Christmas movie season needed an explosive kickoff, it got one with Wednesday's "Ocean's Eleven" preem at the Village and Bruin theaters.
Crowding nearby streets, enthusiastic (some might say "Day of the Locust"-like) fans went wild as stars George Clooney, Brad Pitt and Julia Roberts trod the red carpet past 60 television crews. AOL Time Warner's Steve Case said the scene reminded him "of a Hollywood-of-the-golden-era premiere."
The preem also boasted the largest gathering of industry heavy-hitters in recent memory. Seat fillers included Harvey Weinstein, Kirk Kerkorian, Joe Roth, Terry Semel, Rob Friedman, Jeff Berg and Jeffrey Katzenberg, who said attendance at "Ocean's" meant "being at the coolest place in town." Bryan Lourd said, "It's like the prom -- you have to have a date."
Ticket demand was so high that producer Jerry Weintraub said he'd gotten 150 calls on Wednesday alone asking for tix. "I hid all day," he said. Post-screening, Weinstein praised the Vegas heist pic as "the best movie I've seen so far this year. It looks easy to make a film like that, but it ain't. Brilliant."
Roth said, "This guy (director Steven Soderbergh) has great style. A lesser director would have tried to explain everything, but he breezes right through it."
At 10:45 p.m., Weintraub and most of his cast headed for LAX, where they flew to an unidentified U.S. military base in Turkey to screen the pic for troops. Thus the night had the kind of ending weary publicists dream of: You take all the talent, put them on a plane and send them to Turkey.
Among those at the Jeffrey Best-designed tented after-party were Warner's Alan Horn, Barry Meyer, Lorenzo di Bonaventura and Dawn Taubin; Village Roadshow's Bruce Berman; stars Matt Damon, Andy Garcia, Casey Affleck, Scott Caan, Don Cheadle, Elliott Gould, Carl Reiner and Bernie Mac; plus guests Armyan Bernstein, Mark Canton, Lawrence Bender, Joel Silver, Leonard Goldberg, Marvin and Barbara Davis, Ted Field, Lennox Lewis, Steve Wynn, Ethan Hawke, Cindy Crawford, Lucy Liu, Frank Mancuso, Michael Milken, the Rock, John Burnham, Kevin Misher and Bruce Cohen.