Daily Dose of George Clooney!

Ocean's 11 News Pt. 3

Release dates for Ocean's Eleven (2001)

USA 7 December 2001
Germany 10 January 2002
Australia January 10.
France Feb. 6,2002
Netherlands 17 January 2002
UK 18 January 2002
Argentina 7 February 2002


George and Brad: The New Rat Pack!
ET Online
11/08/01
December's much-anticipated remake of the 1960 Rat Pack classic 'Ocean's Eleven' may have a modernized plot and feel all its own. But that doesn't mean the cast and crew weren't determined to pay homage to the FRANK SINATRA/DEAN MARTIN original.In fact, with the help of the movie's director, STEVEN SODERBERGH, the stars of the Sin City-set action caper recently recreated the exact cast shot from the first 'Ocean's Eleven,' even using the same photographer who posed Sinatra and company decades ago for the original! 'Ocean's' 2001 stars -- including GEORGE CLOONEY, JULIA ROBERTS and BRAD PITT -- loved following in the footsteps of the first film's legendary celebs by getting snapped by veteran Hollywood photographer SID AVERY. In the new version, Clooney does the honors in the Sinatra role, playing title character Danny Ocean. A New Jersey ex-con fresh out of the slammer, Ocean wastes no time in planning the biggest casino heist ever attempted - a job that will only be possible with help from 11 crime specialists (as played by such A-listers as Pitt, MATT DAMON and DON CHEADLE. As the female lead, Roberts fills the shoes of ANGIE DICKINSON,whoplayed Sinatra's wife. In this version, Roberts is Clooney's ex, Tess Ocean. Only now she's involved with ruthless rich boy Terry Benedict (ANDY GARCIA), owner of the very casinos Danny is trying to knock off. Intrigued?


O11 Review...Some spoilers!
Coming Attractions
11/06/01
November 6, 2001... To say our next scooper loved Ocean's 11 is probably an understatement. They really, really loved it.
"Greetings. I caught a screening of Ocean's Eleven and I wanted to pass on the word that this is a hell of a fun movie. I have read in previous screenings that people thought this movie was too slow or boring. Not so! If you are expecting Snatch, go watch the DVD. If you want a mature, well-acted, intelligent film that uses a dynamite cast to its potential, definitely give Ocean's Eleven a try.
"The plot: Danny Ocean is fresh out of a years-long stint in a New Jersey clink for robbery. His first move after getting released? Call together a band of idiosyncatic thieves to help him pull off the mother of all Las Vegas heists: three casinos (owned by one man) in one fell swoop. The story is great, and all of the characters are given the chance to develop. See, that's the key to this movie. Development! Sure, it doesn't have rocket-fast editing or big explosions. What it DOES have are a dozen or so great actors who make their characters unique. Examples? Brad Pitt as Rusty. He spends nearly EVERY scene he's in eating something. I know it's nothing, but it gives his character something special. And Don Cheadle? He sports an almost-passable Cockney accent. All the characters in the movie are great, and the way they interact is wonderful. I remember watching The Score with DeNiro and Norton and hoping it would be like this movie. Twists and turns, possible betrayals, never knowing what is in store or who to trust... The difference is that The Score, as one of my friends put it, was 'one long pre-ejaculate.' This movie, on the other hand, has the long, fun development and THEN sticks around to give you a satisfying heist sequence. THe brilliant plot sets up a reason why EACH AND EVERY character may accidentally jeopardize the heist (such as the little acrobatic Chinese guy breaking his hand). The suspense is delicious! I sat there with a smile on my face waiting to see how the plan would unfurl. Clooney, Damon, Pitt, Garcia, Roberts, Reiner, Cheadle... everyone turns in a great performance. Mind you, some of them aren't long performances, but they are great. Do A-list stars have to be on camera all the time? This film proves not. As long as they play together well. There are some great cameos as well, as in an early scene where Pitt's Rusty is teaching rookie Hollywood actors (such as Joshua Jackson and that kid from That 70's Show) how to play poker - one of them thinks he's won because he's got 'all Reds!'
"Is this film for everyone? I'd say yeah, sure. Unless you want an instant gratification, big SFX, overblown popcorn movie. This is not such a movie. It is smartly paced, allowed to breathe. It is a mature heist film in the old grand style. If you get into the characters and pacing - and it is very easy to - you will be in for a treat. I wouldn't say I was so blown away that this film should immediately be a shoo-in for Oscars, but I will say it is one of my favorite movies of the year. Top notch performances, a great script, and a satisfying moviegoing experience. What more could one ask?"

Elvis in "Ocean's"
LVRJ
11/04/01
Sinatra, Sammy and Dino aren't mentioned in the remake of "Ocean's Eleven," but Elvis Presley makes an appearance, musically speaking. Elvis' non-hit, "A Little Less Conversation," from his 1968 film "Live a Little, Love a Little," is included in its entirety on the "Ocean's Eleven" soundtrack CD. Perry Como's 1954 hit, "Papa Loves Mambo," is heard in full as well. The longest song is Claude Debussy's "Claire de Lune," which runs five minutes. Composer David Holmes, whose last soundtrack was for "Out of Sight," which starred George Clooney and Jennifer Lopez, has 12 original songs on the CD. In the original, most of which was shot on location in Las Vegas in 1960, Sammy Davis Jr. did a song-and-dance routine and Dean Martin sang "Ain't That a Kick in the Head."

A subdued ShowEast...Attendance, exhib declines mark confab
Variety
Carl Diorio
11/04/01
Orlando -- ShowEast 2001 was marked by attendance and exhibit declines, but the somber showgoers who did attend were bucked up by surprise appearances by A-list thesps George Clooney and Matt Damon.
The well-received celeb visits highlighted a Warner Bros. dinner staged prior to distrib's screening of ensemble laffer "Ocean's Eleven" Friday. They followed another pep rally of sorts earlier in the week by Hollywood cheerleader Jack Valenti. But a prevailing sense of sadness over the nation's current preoccupation with war and terrorism seemed to cling to ShowEast proceedings this year. "It's been a little subdued," New Line's distribution topper David Tuckerman observed. "But this holiday period really does look terrific. So, it's a sadness mixed with optimism." New Line screened Christmas release "I Am Sam" and threw a medieval-themed buffet dinner to hype upcoming tentpole pic "The Lord of the Rings: The Fellowship of the Ring." Distrib unspooled a 26-minute "Rings" clip reel as well.
Digital draws
In all, nine films were screened in their entirety at ShowEast, and three -- including "Ocean's Eleven" -- were presented digitally. The digital screenings were meant to hype various new technology systems, but the sneaks of holiday pics are an established tradition of the trade show. Distribs say the practice helps shore up screens for fourth-quarter releases and spread the word about first-quarter titles. Falling squarely in that latter category was Disney's "The Count of Monte Cristo," which bows in February. The current somber mood of exhibs and the nation notwithstanding, the screening and other Disney activities here reflected a resolve to maintain a sense of normalcy, distrib boss Chuck Viane said. "I think it's been business as usual at ShowEast, and they have a lot of terrific movies here," Viane said. Indeed, Valenti predicted a strong holiday season and record box office year, while ACNielsen EDI execs noted a recent survey found only 10% of the moviegoing public has decreased visits to movie theaters since the Sept. 11 terrorist attacks.
Recession resistant
National Assn. of Theater Owners prexy John Fithian noted exhibition is historically resistant to the effects of recession. And he said the 28% increase in movie ticket prices over the past 10 years compares well with other forms of entertainment.
"That's why people turn out in good times and bad," Fithian said. "People still go to the movie theater because it is an affordable, good time."
The NATO topper acknowledged recent measures to strengthen security at some circuits. "America's exhibition industry -- like all businesses these days -- should have a heightened sense of awareness," Fithian said. "But we should not overreact."
Clooney and Damon joined "Ocean's Eleven" producer Jerry Weintraub onstage during the Warners dinner to help celebrate the presentation to the showbiz vet of the ShowEast 2001 Kodak Award for career achievement.
"What can you say about Jerry Weintraub that hasn't already been said in a court of law?" Clooney deadpanned.
Damon played more to the marketing task at hand and told the exhibs of "Ocean's Eleven," "It's gonna make you guys a ton of money." Just over 1,000 people attended ShowEast this year, as travel scares combined with recent industry consolidation to undermine support in the trade show's second edition here after years in Atlantic City. But Mitch Neuhauser of trade show organizer Sunshine Group Worldwide said the roughly 12% falloff in registrations -- and 20% drop in actual attendance -- could have been worse, all things considered.
"There are major distributors who did not really want to be here because of the travel and such," Neuhauser said. "But they are here because they feel they really have to help support the industry in this way." Organizers said a government warning on Oct. 29 of a possible additional terrorist attack turned a few dozen registrants into no-shows. International attendance has climbed since ShowEast moved to Florida, with Latin America a key focus of its global exhibition sessions. Digital cinema presentations were also prominent among offerings, with most of the sessions either hardware pitches or engineering discussions. Little news or debate emerged about overarching questions of funding the digital rollout. The show floor offered the usual carnival-like atmosphere featuring theater-food displays, popcorn- and hotdog-making equipment and sundry other products aimed at outfitting movie theaters and concession areas. But the 29,000 square feet of such exhibs repped a roughly 8% falloff from last year.
Challenging times
The current battle to maintain the loyalties of moviegoers despite the onset of more serious times comes on the heels of other sorts of challenges for exhibs. A megaplex-building binge of a few years back led to high debt and crushing competish that's forced a dozen big circuits into bankruptcy reorganization. So though the recent evidence seems to indicate America is still interested in going to the movies, exhibs remain anxious. Macy Cohen, whose family has operated the Transit Drive-In in Amherst, N.Y., for generations, neatly summed up the current state of affairs. "People have a choice -- they can watch CNN or they can go to the movies," Cohen said. At ShowEast, exhibs seemed to sense that their best hope may be that the two activities are not mutually exclusive.


Barbara Walters....Nov. 16th...10PM...ABC TV
11/03/01

A chat with the cast of the 2001 film "Ocean's Eleven," including George Clooney, Brad Pitt, Matt Damon, Andy Garcia, Don Cheadle and Julia Roberts. The actors discuss their careers and personal lives, and comment on the Sept. 11 terrorist attacks.
The film, a remake of a 1960 Rat Pack crime comedy, is directed by Steven Soderbergh. Hosted by Barbara Walters. The show will be broadcast on Friday, Nov.16,2001 10:00 PM 7 WABC
Get those VCR'S ready!

Brad Pitt stopped work on Ocean's 11 for Friends
Ananova
11/03/01
Brad Pitt wouldn't shoot any scenes for Ocean's 11 on Thursday nights because he wanted to watch Friends.
The film's producer Jerry Weintraub says Pitt wouldn't work on a Thursday evening because he wanted to watch his wife Jennifer Aniston. Weintraub also revealed Pitt was the butt of several practical jokes played on the cast by George Clooney. Clooney apparently likes to booby trap doors with buckets of water. Pitt said that it took him two hours every day to undo the traps in his hotel room that had been left for him by Clooney and Matt Damon. But the cast did manage to get their own back on Clooney, they covered his toilet seat with cling film.


Chance to Work on 'Ocean's 11'...Had Actors Cutting Their Fees
Tom King
WSJ
11/02/01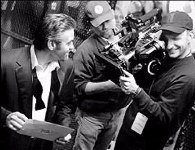 George Clooney and Steven Soderbergh at work on the set of 'Ocean's 11.'

What do you get when you combine Julia, George, Matt, Andy and Brad with Hollywood's hottest director?
A logistical nightmare, a toilet seat covered in Saran Wrap, and a remake of an old film that wasn't very good the first time around. While everybody else is focusing on Warner Bros.' coming "Harry Potter" movie, Hollywood's most closely watched experiment may be the studio's other big picture, "Ocean's 11." With moviemaking costs at record levels, and niche films misfiring, the studio has put together what may be the most star-studded cast since "The Towering Inferno." The secret: In an extraordinary feat, they got five of the industry's top stars to appear for a total of less than $30 million -- a real bargain by Hollywood standards, considering that some of the actors get half that much or more each for a movie. They also tried a clever, but unproven strategy aimed at attracting a diverse audience. The cast boasts four leading men -- George Clooney, Matt Damon, Andy Garcia and Brad Pitt -- plus Julia Roberts, the biggest female star in the world. In addition, Warner is hoping to lure African-Americans with Don Cheadle and Bernie Mac. Scott Caan (James's son) and Casey Affleck (Ben's younger brother) may draw teenagers, while Elliot Gould, 63, and Carl Reiner, 79, could reel in folks old enough to remember the original movie. The cast "reaches an audience from 18 to 80," says Lorenzo di Bonaventura, Warner's president of production.
Caste System
But the risk is that in trying to appeal to everyone, the moviemakers may please no one. Not to mention that even Jerry Weintraub, the movie's producer, concedes the original, an action-comedy starring the Rat Pack, wasn't great. Plus, there were the hassles of juggling all the stars' schedules. Mr. Pitt, for example, refused to shoot on Thursdays at 8 p.m., so he could watch his wife, Jennifer Aniston, on "Friends," according to the producer. Others had to commute to Los Angeles to shoot TV pilots, and Ms. Roberts, busy on another film, missed the first few weeks of shooting. Further complicating the mix was an unusual caste system that divided the actors into three separate categories. While the idea had the benefit of making sure all the "A" players got the same pay scale, it also labeled other actors as "B" and "C" players. (Mr. Weintraub won't say which actors were in which of those categories.) How they pulled all of this off is a story of what can be accomplished when the stars -- not the studio -- find a project they really want to make and a director they really want to work with. It began when Warner sent the script to Mr. Clooney, hoping he would play Danny Ocean, a likable felon who recruits 10 other crooks to help him rob three Vegas casinos on New Year's Eve. The shocker came when Steven Soderbergh, a director known for dramas such as "Erin Brockovich" and "Traffic," raised his hand to direct.
In the single most instrumental move in the process, Mr. Clooney said he would cut his fee -- and court other stars to do the same. He and Mr. Soderbergh, who had become tight with Ms. Roberts during the filming of "Erin Brockovich," sent the actress a copy of the script, along with a $20 bill and a note that read: "We hear you now make twenty a film now." Ms. Roberts, whose per-picture price tag is $20 million, agreed to sign up, at a much lower rate.
Perks and Pranks
Once she was in, the buzz heated up, and others agreed to cut fees, too. Casting was finalized just as "Traffic" opened late last year, and every actor and his mother wanted to work with Mr. Soderbergh. (He received two Oscar nominations for best director in the same year; he won for "Traffic.") Because of the stars' concessions, "Ocean's 11," which opens Dec. 7, ended up costing just under $90 million -- less than the $125 million "Harry Potter," which has no marquee names in it. Why would top actors agree to work for less? In addition to the chance to work with Mr. Soderbergh, the idea of an ensemble cast was appealing, some people close to the movie say. No actors felt pressure to "carry" the picture or would have the finger pointed at them if it didn't fly. Of course, top players still got plenty of perks. Each actor in the "A" group stayed in a three-bedroom villa, with its own private pool, at the Bellagio Hotel. "It was more expensive than housing should have been," Mr. Weintraub says. But he says the villas created a "dormitory-like atmosphere," resulting in camaraderie he claims shows up on screen. So what kind of mature bonding went on? Mr. Clooney played such pranks as having a pail of water dropped over a target's head a door was opened. Other stars retaliated by putting Saran Wrap over his toilet seat. Mr. Pitt joked that it took him two hours every day when he returned to his villa to get through all the booby traps Messrs. Clooney and Damon had set for him. Mr. Weintraub, who produced '70s hits such as "Oh, God!" and "Nashville," also served as the company baby sitter, a necessity with such a big roster of stars and their accompanying egos. "I'd get them from their trailers and hand them over to Steven," he recalls fondly. "He'd shoot them and then I'd take them back."
Thanks to Katie for this story

How George Took a Backseat in Vegas
People News
Stephen M. Silverman
11/02/01
The collective salary for the all-star "Oceans 11," starring and directed by George Clooney, is impressive: $30 million. Bear in mind, notes the Wall Street Journal, which looks into the making of the movie remake of the '60s Frank Sinatra "Rat Pack" favorite, that most members of this new "11" earn nearly as much as that all by themselves: Clooney, Matt Damon, Andy Garcia, Brad Pitt and Julia Roberts. But they all took cuts to be part of this party, thanks to Clooney's wooing . . . and producer Jerry Weintraub's bowing to some of the demands that the actors made. For instance, Roberts missed the first few weeks of filming, because she was working on another movie. And Pitt would not shoot any scenes on Thursday nights, so he could watch his wife, Jennifer Aniston, on "Friends." But no one could stop the pranks on the Las Vegas set, said the producer. Clooney loved to boobytrap doors with pails of water. Pitt said that it took him two hours every day to undo the set-ups in his hotel room that had been left for him by Clooney and Damon. But the guys got back at Clooney. They wrapped his toilet seat with Saran Wrap. "Ocean's 11" opens Dec 7th
Thanks to Judy for this story

'Ocean's Eleven' Features Classic Elvis, Quincy Jones, Perry Como.
10/31/01
Highlighting evocative tracks from such swinging icons of the era as Elvis Presley, Quincy Jones, Perry Como and others, Music from Ocean's Eleven, set for release December 4th, on Warner Bros. Records captures the ineffable aura of early '60s cool personified in this all-star new version of the classic caper film. The soundtrack, produced by David Holmes, who also composed the "Ocean's Eleven" score, spotlights such defining hits of the time as "Theme For Young Lovers" and "Dream Dream Dream" from Percy Faith and His Orchestra; the Perry Como smash "Papa Loves Mambo"; "Caravan" by the Arthur Lyman Group; "Blues In the Night" from Quincy Jones and Elvis Presley's "A Little Less Conversation," originally heard in his film Live A Little, Love A Little.
Music from Ocean's Eleven additionally contains selections from the film's score, recorded in Los Angeles by a small combo that includes guitarist Chris Dawkins, percussionists Zack Danziger and Hugo Nicholson and bassist Bob Hurst. Also featured: previously recorded performances by David Holmes of his original compositions "Gritty Shaker" and "69 Police." Other tracks include "Clare de Lune" as performed by the Philadelphia Orchestra and "The Projects" by Handsome Boy Modeling School, a 1999 hip-hop collaboration between De la Soul's Trujoy and Del of Del Tha Funky Homosapien. Serving as introductions to various tracks are dialogue segments from the film. Directed by Academy Award-winner Stephen Soderbergh, "Ocean's Eleven" stars George Clooney, Brad Pitt, Julia Roberts, Matt Damon and Don Cheadle in roles originally made famous in the 1960 film featuring Rat Pack luminaries Frank Sinatra, Dean Martin, Sammy Davis Jr., Peter Lawford and Angie Dickinson. A landmark in the caper genre, Ocean's Eleven is the savvy, sharply ironic tale of master criminal Danny Ocean (George Clooney), who, with ten handpicked associates, stages heists at three Las Vegas casino's during a high profile boxing event.Music from Ocean's Eleven is produced by David Holmes. The Executive Producer is Danny Bramson. Soundtrack Coordinator is Jason Cienkus. Executives in Charge of Music for Warner Bros. Pictures are Gary LeMel and Doug Frank.

Original Rat Packer Blasts New Clooney Film!
IMDB
10/30/01
George Clooney is under fire from original Rat Pack member Joey Bishop for re-making Ocean's Eleven. Clooney and his film partner Steven Soderbergh are releasing the movie in December starring Matt Damon, Brat Pitt and Clooney himself. But Bishop says the new film doesn't come close to the 1960s classic starring Frank Sinatra, Dean Martin and Sammy Davis Jr.. He explains, "Give me a break. There will only ever be one Rat Pack. It's a joke. All they are doing in the remake is a cheap impersonation of the original Rat Pack. People knew about Frank and his broads and Dean and his drinking. They knew that we partied together. With the new version, you've got five or six people who never had any association with each other off screen."

Don't tame the Rat Pack!
10/28/01
They were called the Rat Pack for a very good reason - they spent a lifetime gambling, womanising and drinking a lot of whisky. They also drove fast cars, wore sharp clothes and hung around in bars. And in their day they were every woman's fancy and every man's hero. Frank Sinatra, Dean Martin, Sammy Davis Jnr, Peter Lawford and Joey Bishop were christened the Rat Pack during the making of Ocean's 11, a 1960 movie about a multi-million dollar heist in Las Vegas. After the day's filming, this motley crew of entertainers would go to Caesar's Palace on the main strip and give impromptu concerts, wisecrack and drink and gamble the night away. It quickly established their reputation as handsome roues who revelled in a bad-boy reputation.
The new line-up features George Clooney and Brad Pitt (Matt Damon, Elliot Gould and Don Cheadle will also star). The film-makers are hoping to "recapture the spirit of the Rat Pack" with these clean-living actors. But unlike the original movie, where the actors effectively played themselves, the new rat pack will be celluloid heroes at best.
The new Ocean 11 characters are different to the last lot, says the remake's director, Steven Soderbergh, whose credits include Traffic and Erin Brockovich. They are going to be shady characters rather than roues. And the story line is going to be "hipper". In other words, the new heroine, Julia Roberts, will not be referred to as "a broad" who is only tolerated as long as she is sexually interesting. And nor will she be told, as Dean Martin told the original film's female star, Angie Dickinson, that we should "take the vote away from women - make slaves of 'em". Wild living is out of fashion in London and Hollywood. The 21st century has turned the bad boys and girls into the good. Vegas is no longer a den of iniquity - it is a ward of Disneyland, and the harddrinking, hard-living celebrity rake has been pronounced dead. He has been eclipsed by a wholesome, personally trained, non-smoking, bottled water goody-two-shoes. The bodies of our heroes and heroines are now bronzed temples with empty minds. The Rat Packs have been replaced by vacuous packs. Once, for example, there was Oasis, one of a score of home-grown rat packs, still debauching a decade after they were formed. Their licentious behaviour outraged the Establishment and their songs were of sex, drugs and rock 'n' roll.
Yet earlier this month, Liam Gallagher was prowling the stage of the Shepherds Bush Empire clutching a bottle of mineral water, while his brother Noel has announced that he has given up drugs and said the wild days of Oasis are over. Meanwhile, the chattering-class idol Jarvis Cocker, lead singer of Pulp who in the Nineties mooned at Michael Jackson, has just released his new album, We Love Life. He told the Independent: "I think you are better off working to earn your happiness rather than taking stimulants." The songs on the album are about the bravery of asylum seekers and the exploitation of the underclass. Even singer Robbie Williams has cleaned up and now says: "I don't want a reputation as a tart." Our number-one pop star, Kylie Minogue, who once had a reputation for rocking and rolling, says she likes to go home early for a cup of hot chocolate. Madonna has taken up country sports and family living. Last week, racing driver Michael Schumacher complained about Boris Becker's "playboy ways" and added: "Whoever plays around has to bear the consequences." Even our Prime Minister's teenage son now wants to join the Army, and the Nineties It girl, Tara Palmer-Tomkinson, is an internet agony aunt. Rat Packs, rakes and dangerous broads are politically incorrect in the current climate. The best we have managed in recent years is Chris Evans drinking in Soho with Danny Baker and footballer Paul Gascoigne. And that is less a rat pack than a fat pack. To compare them to the Mafia-backed Sinatra or the hard-drinking Dean Martin is like comparing Kurt Cobain to Cliff Richard.
Even the new stars of Ocean's 11 are now wholesome fellows. The womanising George Clooney says he wants to settle down with Renee Zellweger, the Bridget Jones' Diary star. "He's had it with the party scene. He loves Renee and she loves him. With her he can do things he once enjoyed with his pals, like watching Monday night football and playing darts," said Clooney's close friend, Tommy Hinkley. And co-star Brad Pitt is now happily married to Jennifer Aniston and planning a house full of kids. It was Dean Martin who, when asked for his cure for a hangover, replied: "I take the juice of two bottles of whisky." It is hard to imagine Brad Pitt making the same reply. The producers may want to capture the willing Rat Pack spirit of the past century, but the trouble is that the well-toned 21st century flesh is teetotal.

RING-A-DING
Anyone expecting the remake of 1960 heist caper "Ocean's Eleven" to be a big Rat Pack festival may be disappointed. Director Steven Soderbergh wanted to distance the new version, with George Clooney, Brad Pitt, Matt Damon, Julia Roberts and Andy Garcia, from the original vehicle for Frank Sinatra and cronies Dean Martin, Sammy Davis Jr., Peter Lawford, Angie Dickinson and Joey Bishop.
The soundtrack and accompanying album will center on a contemporary score by Irish DJ and electronica artist David Holmes, who also did the enticing music for Soderbergh's 1998 "Out of Sight." Holmes' score will be supplemented with an assortment of selections evoking the Las Vegas aesthetic, including Elvis Presley's late-'60s obscurity "A Little Less Conversation," and old tracks by Perry Como, the Arthur Lyman Combo and Quincy Jones. The album is due Dec. 4, with the movie opening Dec. 7.
But Capitol Records, the Rat Pack's original musical nest, is happy to fill any new demand and is opening the vaults for "The Rat Pack Live at the Sands," recorded in 1963 when the well-lubricated pals took over the Copa Room stage. The set, much of which has never been officially released (although it has been bootlegged) featured Sinatra, Martin and Davis in solo and combination numbers, interspersed with banter, jokes and impressions. Capitol will simultaneously release "Eee-O Eleven: The Best of the Rat Pack," compiling 18 of the three singers' hits from the "Ocean's Eleven" era, including the title song, which was performed by Davis in the movie. "There's a continuing interest in that era and the music of that era, whether it be from the counterculture side or from what we could call cocktail culture," Capitol President Andy Slater says. "You've heard it in recent years in the 'Swingers' soundtrack, and we had the idea while looking for ways to create art out of this rich catalog."

Eleven' stays in L.A.
LVRJ
Norm
10/23/01
The planned world premiere of "Ocean's Eleven" in Las Vegas has been deep-sixed. The gala event is staying in Los Angeles, MGM Mirage spokesman Alan Feldman confirmed Monday. "We're obviously disappointed, but very excited about the movie. We've seen the trailer. It's a very exciting film that is going to going to capture the energy and excitement of Las Vegas for a whole new audience," he said. Feldman said he could not comment on the reasons given for the decision. Considering 1,200 of the 1,600 invitees -- including the entire cast -- would have been traveling here, cost and security concerns are the most likely culprits. The film, a remake of the 1960 classic starring Frank Sinatra and other "Rat Pack" pals Dean Martin, Sammy Davis Jr., Joey Bishop and Peter Lawford, features a star-studded cast that includes George Clooney, Julia Roberts, Matt Damon, Brad Pitt, and Andy Garcia.

Ocean's 11 trailer

Click
here
for the trailer.

Download them both right here,you'll need Winzip.

The New Rat Pack-Cool and the gang or how Clooney and co. will recreate Hollywood legends
Nadia Cohen
10/19/01
Handsome, high-living and hard-drinking, they were the ultimate in showbiz cool.Led by Frank Sinatra, the legendary Rat Pack were adored by women, envied by men and in control of just about everything in early 1960s Hollywood. Now, 40 years after they starred in Ocean's Eleven - the comedy-drama movie that defined them as a glamorous group of buddies - their roles are to be reprised in a remake by a line-up of some of today's bestlooking screen stars.George Clooney takes the part originally played by Sinatra. With his matinee idol looks, the ER heartthrob is perfect casting as Danny Ocean, the loveable rogue who rounds up a bunch of old pals for a daring multimillion-dollar heist against the Las Vegas casinos. Others in the new Rat Pack include Brad Pitt, Matt Damon, Elliot Gould and Don Cheadle. Julia Roberts is the love interest, and - unusually for a Hollywood film - the Oscar-winning actress is reportedly being paid almost twice as much as the leading men. he is said to be earning Pounds 17million for her role as Ocean's wife, originally played by Angie Dickinson. In the 1960 film, the Rat Pack - Sinatra, Dean Martin, Sammy Davis Jr, Peter Lawford and Joey Bishop - played ex-wartime paratroopers planning to rob three casinos simultaneously while Las Vegas is transfixed by a major boxing match. In the new version, the 11-strong gang are simply various shady characters looking for the thrills of one big heist. Many of the leading actors took hefty pay cuts for the chance to appear in the movie. Pitt can usually demand up to Pounds 18million, but is thought to have settled for around Pounds 10million. He plays Dusty Ryan, based on the character originally portrayed by Martin - 'A rich boy who's always up for a high-risk of game chance. He's the sort of guy who wears five-hundred-dollar shoes and has effortless cool hair. He's just plain cool.' Clooney, who commands Pounds 15million a movie, also took less - but claimed the lead role for himself because the remake was his idea, and he helped produce it. He was responsible for rounding up the A-list cast.But fans of the original may not recognise many of the characters - with the exception of Danny Ocean, all the names have been changed, and are only loosely based on their inspirations. In the 1960 film, Ocean's wife was called Beatrice, but Miss Roberts' character is to be named Tess. In one memorable line, the longsuffering Beatrice told her errant, adventure- seeking gambler husand: 'I want a life that doesn't depend on the colour of a card or the length of a horse's nose.' The other original aspect overlooked in the remake is the sexist attitudes of the wisecracking thieves - to Sinatra's gang, women were 'Broads' who lounged around decoratively until ordered out so the men could discuss business. Sinatra played a misogynist who reminded one woman that she would be tolerated only as long as she remained sexually interesting. And Martin had the line: 'Take the vote away from women - make slaves of 'Em.' The remake's director, Steven Soderbergh - Oscar-nominated for Erin Brokovich and Traffic - explained how his interpretation differs. 'It has the sensibility of the original, but the story is hipper, sharper and funkier,' he said. The boxing match, which serves as a backdrop to the main robbery plot, is staged by real-life rival eavyweight champions Lennox Lewis and Vladimir Klitschko, who make their Hollywood debuts in the fight scenes. Britain's Lewis is said to be keen to break into movies and was paid next to nothing for the role. Other members of the gang are played by Andy Garcia, Ben Affleck's brother Casey and James Caan's son Scott. Ocean's Eleven is due for release at Christmas.

Soderbergh confirms scene won't make it into 'Ocean's Eleven'
LVRJ-Norm
9/28/01
An 11th-hour re-editing for "Ocean's Eleven" won't scuttle the film's world premiere here on Dec. 7. A Warner Bros. spokesman, speaking for director Steven Soderbergh, confirmed the New York-New York implosion scene is being removed. "Due to the recent terrorist attacks in New York City and out of respect for any uneasiness this scene may cause, Steven Soderbergh decided to reshoot that scene to replace New York-New York with a fictional casino," the spokesman said. The computer-generated implosion was part of a demolition, not a bombing, he noted. The premiere will be at the "O" Theatre at the Bellagio, where much of the film was shot. The world premiere of the original "Ocean's Eleven," featuring Rat Packers Frank Sinatra, Dean Martin, Sammy Davis Jr., Joey Bishop and Peter Lawford, was Aug. 3, 1960, at the Fremont Theater at midnight. From there the party moved to the Sands for the Rat Pack dinner show.
Thanks to Felicity for this story

'Ocean's Eleven' removing New York-New York implosion!
LVRJ
9/24/01
"Ocean's Eleven" producers are removing a special-effects implosion scene that shows the New York-New York hotel-casino being destroyed.According to World Entertainment News Network, co-producer George Clooney hopes to have the edited version of the 1960s remake ready for the Dec. 7 premiere at Bellagio's "O" Theatre. "After the terrorist attacks in New York, they are having to cut the whole scene out of the movie," WENN reported, quoting a source on the set. "The film is due out in December, but I'm not sure if they are going to have to delay its release." Clooney co-stars with Julia Roberts, Brad Pitt, Matt Damon, Andy Garcia and Don Cheadle. Most of the Steven Soderbergh-directed film was shot in Las Vegas in March and April. Screenings of the completed version had occurred before the terrorist attack forced Clooney and co-producer Jerry Weintraub to redo the early scene. MGM Mirage directed queries to Warner Bros., which did not return calls.


Thievery thrives with steady run of Hollywood heist movies!
09/22/01
Toronto (AP) - The venerable heist flick, whose roots stretch back to the earliest days of film, is having a banner year. Everyone from cheerleaders to Elvis impersonators to hypnotized insurance-agency workers is having a go at robbing from the rich to give to themselves.
What's the fascination with watching characters break the law? "Pauline Kael, rest in peace, said it: 'Kiss kiss, bang bang.' We sit in the dark with our friends to have our forbidden pleasures," said David Mamet, who premiered his caper Heist at last week's Toronto International Film Festival. Gene Hackman stars as leader of a team that pulls off a bold runway robbery of a plane's gold cargo."Every society's got to have a safety valve," Mamet said. "Instead of getting drunk and gnashing our flesh and feeding our children to the sun god, we go to the movies to obtain some release, whether that's in laughter or sexual prurience or crime."One of the earliest narrative films was a heist flick, the silent short The Great Train Robbery, made by Edwin S. Porter in 1903. Hollywood has followed with an endless line of heist films, from White Heat to Dog Day Afternoon to Reservoir Dogs."I know that from Public Enemy No. 1 to Bonnie and Clyde, there's always been this fascination with the criminal mind," said John Travolta, who starred as a mastermind stealing billions from a government fund in this summer's Swordfish. "Either you understand it and identify with it or you don't understand and don't identify with it; but somehow, either way it's fascinating."So far this year, Kevin Costner and Kurt Russell led a band of Elvis-clad thieves that pulls a casino robbery in 3,000 Miles to Graceland; the Jesse James gang rode again in American Outlaws; and Robert De Niro, Marlon Brando and Edward Norton lifted a priceless sceptre in The Score.Also, thieves did daring robberies in the British heist films Snatch and Sexy Beast; a squad of cheerleaders hit a bank in Sugar & Spice; Martin Lawrence was a plucky house burglar in What's the Worst That Could Happen?; and Woody Allen and Helen Hunt received post-hypnotic suggestions to steal jewels in The Curse of the Jade Scorpion.
Still to come is Steven Soderbergh's remake of the casino-robbery caper Ocean's Eleven; High Heels and Low Lives, a comedy about bored housewives trying to extort loot from bank robbers; and Bandits, another comedy with Bruce Willis and Billy Bob Thornton as escaped cons on a robbery spree."I think in terms of criminals or people who steal, there are bad people who aren't out to hurt anybody," Thornton said. "Everybody identifies with that because everybody wants to get away with something that makes their life easier. When you see people in movies who do it and get away with it and haven't hurt anybody, that seems OK." It also depends on whose loot is being stolen. Audiences will be more sympathetic to a thief going after a wealthy victim. "In many instances, a script can make the person human because of the people he's stealing from," Hackman said. "He's not stealing from the poor. He's stealing from the rich. There's a lot of larceny in everyone, and you can get on the character's side if you do it in those terms." Americans have a long history of idolizing bad guys, from western outlaws to Prohibition gangsters to modern mobsters."There's a rebel in all of us and a fascination with people who, let's face it, break the rules," said Piers Handling, Toronto festival director. "It's like rock stars. It's always great to see people who can live outside the rules."Brothers Albert and Allen Hughes, who directed the heist flick Dead Presidents, said heroes in movies often can be upstaged by villains."In the end, a lot of people don't want to admit it, but the bad guy's a more interesting role," Albert Hughes said."On top of that, it's the thought of jewels and money, and if you could pull it off, what you could do with it," Allen Hughes said. "Kind of like the Lotto."


George Clooney Makes Serious Adjustments To Movie
9/22/01
IMDB
George Clooney is desperately having to make adjustments to one of Hollywood's most anticipated movies, Ocean's Eleven - after a bomb scene was deemed inappropriate. The film, which stars Brad Pitt, Julia Roberts and Matt Damon, is being produced by Clooney and directed by Steven Soderbergh. In the film, about a group of professional thieves, the Las Vegas casino New York, New York is blown up. A source on the set says, "After the terrorist attacks in New York, they are having to cut the whole scene out of the movie. The film is due out in December but I'm not sure if they are going to have to delay it's release."


Inside Move: Sony, WB in the ring again...Duo to send heavyweights out in December!
Variety
Dade Hayes
Hollywood -- Warner Bros. and Sony are headed for a December encore of their head-to-head faceoff over the July Fourth holiday in 2000.Based on early tracking, a vast majority of distrib execs believe the matchup of Warners' "Ocean's Eleven" and "Ali" (a co-venture with Initial Entertainment Group distribbed domestically by Sony) could go to Warners, just as the last one did.In 2000, "The Perfect Storm" stomped "The Patriot" in a memorable summer showdown between mega-budget event pics. Emboldened by stellar tracking, Sony held firm to its date and later got flack for its stubborn stance.There is plenty of second-guessing now about the "Godzilla"-like plan for "Ali." Many distribs and B.O. observers wonder whether the issue-oriented, Michael Mann-directed biopic could fare better with a slower rollout.Mann's previous pic, "The Insider," brought similar heat on Disney in 1999. It went wide after just one week in limited release, grossing a mere $29 million in the U.S. despite seven Oscar noms, including one for best picture. Unlike "Ocean's" helmer Steven Soderbergh, the town's hottest director with two $100 million hits in 2000, Mann's commercial high came in 1992 with a $75.5 million take for "The Last of the Mohicans." Soderbergh also will be packing a serious star wallop, with George Clooney, Brad Pitt, Julia Roberts and Matt Damon among those remaking the Rat Pack pic.The dilemma for Sony is twofold. First, the studio is trying to balance the TLC a $106 million, Mann-directed film needs with the opening-weekend splash befitting a $20 million star such as Will Smith. Unless they're in a supporting role (e.g. Tom Cruise in "Magnolia"), A-listers are accustomed to opening wide.Second, a slower platform strategy is a risk around the holidays, especially with prestige pics "A Beautiful Mind," "Gangs of New York" and "Road to Perdition" ticketed for this year's ultra-packed late December. Sony got a taste of the late-year logjam last year with "Finding Forrester." The drama performed admirably, winding up with $51 million, but got overshadowed by more spectacular rollouts such as "Chocolat" and "Crouching Tiger, Hidden Dragon."


Security issues might affect 'Ocean's Eleven' premiere in LV
LVRJ
Sept. 14,2001
One of the largest Hollywood-style events in Las Vegas history -- the Dec. 7 world premiere of "Ocean's Eleven" -- may be in jeopardy. Concern over more terrorist acts could impact the event, which was to be at the Bellagio's "O" theater with possible appearances by such high-profile cast members as George Clooney, Julia Roberts, Matt Damon, Don Cheadle and Andy Garcia. "We'll have to wait and see," said Alan Feldman, spokesman for MGM Mirage. "They (Warner Bros.) will do what they think is proper." Hollywood has been scrambling this week to remove programming and delay film releases out of respect to victims and survivors of Tuesday's terrorism. Among them: "Collateral Damage" by Warner Bros. and starring Arnold Schwarzenegger as a firefighter whose wife and child are killed when terrorists blow up a Los Angeles skyscraper. "Ocean's Eleven" includes a scene in which the New York-New York hotel and casino is imploded through special effects. "I don't think that will be an issue," Feldman said.


A project of the first water !
Film Writer
Steven Soderbergh lived a charmed life in 2000, turning a popular actress into an Oscar winner, making a dark movie about drug trafficking into a box-office force and managing to snag not one, but two, Oscar nominations for himself in the process. So after conquering all those challenges, you'd think a simple heist movie like "Ocean's Eleven" would be fun, kind of like a walk in the park after a year spent running triathlons."You'd think that, wouldn't you?" Soderbergh says. "What I didn't realize is how hard it is to make something that's just supposed to be fun. I mean, for a movie that has no social value whatsoever, we worked some pretty long hours trying to make it one of those glittering pieces of entertainment that used to be a given with Hollywood movies.""Ocean's Eleven" has the same relationship to its predecessor as the recent "Planet of the Apes" movie did to its namesake. It's not a remake. Repeat: It's not a remake. It's an update or a reimagining or whatever you want to call it. (We're just hoping that, unlike Tim Burton's "Apes," we end up calling this one fun.) Screenwriter Ted Griffin has taken the original kernel of an idea from the 1960 Rat Pack classic -- a group of guys try to knock off several Las Vegas casinos -- and stripped away the musical interludes, the drawn-out scenes, the vanity dialogue and all the other chaff. The result: A slick piece of enjoyable entertainment that, with Soderbergh on board to direct, attracted, at one time or another, every A-list actor in Hollywood.Says Julia Roberts, who won an Oscar with Soderbergh for "Erin Brockovich": "The script is so smart and gripping. When I first read it, it was the old actor's joke that when you read a script it's bull----, bull----, my line; bull----, bull----, my line, etc. But in 'Ocean's Eleven,' I probably only have 37 lines in the whole script, and I still kept reading. It's that good."
Roberts' verdict seems unanimous. The final cast includes George Clooney, Brad Pitt, Matt Damon, Andy Garcia,
Soderbergh veteran Don Cheadle and a host of other wonderful character actors, including Carl Reiner in a supporting turn that's already generating buzz. Clooney plays Danny Ocean, the Frank Sinatra role in the original and the mastermind behind a plan to rob three Vegas casinos -- the Bellagio, the Mirage and the MGM Grand. His motivation: The casinos' owner (Garcia) is making a move on Ocean's ex-wife (Roberts).
Save for a couple of possible cameos from Angie Dickenson and Henry Silva (Soderbergh hasn't determined whether they'll make the movie's final version), the film has no references to the original "Ocean's." Sinatra, Dean Martin and Sammy Davis Jr. don't turn up in any musical cues (Liberace does, though) and there aren't any sly references to the Rat Pack.

"I always maintain that the original movie is remembered fondly by all who haven't seen it," Soderbergh says. "It had that coolness about it because of the notoriety of that group. You can't recapture that. But you can make a better movie."
Adds Matt Damon, who plays an expert pickpocket: "I don't think most people know the original or, if they do, they imagine it's better than it was. We just wanted to have a lark. Everybody cut their salaries. You do it for fun and for a chance to work with Steven Soderbergh."That's the party line. Roberts repeatedly gushed over Soderbergh throughout the awards season as the two went from gala to gala, collecting enough trophies to require a mantle annex.
"He is a bona fide genius, certainly," Roberts says. "He has a respect and love for movies that is paramount to being a really good director. All of his movies are very different because he doesn't just 'Soderbergh' every movie. He really takes care of the stories that he tells. And he's also nice to be around; he's just a nice, smart guy, and to serve him is to feel as though you're serving a higher purpose."
Soderbergh knows he's on a roll and he plans on trying to extend it for as long as he can. His next movie, "How to
Survive a Hotel Room Fire," is a low-budget follow-up to his first film, "sex, lies and videotape." Catherine Keener has signed to star, and rumor has it that Roberts will be joining the cast soon, too. After that, Soderbergh plans on making a psychological science-fiction tale called "Solaris."
"Don't expect any hardware," Soderbergh says, quickly squelching any thoughts of him going the way of Lucas and Spielberg. And after that? Well, Soderbergh is a workaholic. He doesn't go to nightclubs, doesn't attend premieres and seems to have only one vice -- moviemaking. While filming "Ocean's" in Vegas, he didn't drop so much as a nickel in the casinos, preferring to edit the film as he went along. Cast members like Pitt, on the other hand, were intent on supplementing their paltry paychecks at the blackjack tables.

"A couple of guys took that old Rat Pack vibe to heart," Soderbergh says, referring to the Rat Pack's regimen of filming during the day and hitting the Strip at night.Soderbergh was happy simply working all the time. He says the critics' prizes, the Oscar for directing "Traffic" and all the attention and buzz haven't changed his life in the least."I still don't understand what happened," Soderbergh says, his voice full of genuine wonder. "I don't know if I'll ever be able to describe it. Winning the Oscar was just a surreal ending to a surreal year. If you said to me today, 'Oh, you know what? That actually didn't happen,' I would go, 'Oh, OK.' It's just -- um -- what are the odds?"
A special thanks to Felicity for sending in this article!

FALL PREVIEW: MOVIES
But seriously folks ...Summer's gone, and the time is right for more ambitious films
if Hollywood can just get the enchantment machinery going again!
9/09/01
''OCEAN'S 11'' - Well, one of these Hollywood behemoths has to be kicky, mindless fun, and it just might be this one. Steven Soderbergh has remade the 1960 Rat Pack casino-heist caper movie with George Clooney, Brad Pitt, Matt Damon, Julia Roberts, and Casey Affleck sitting in for Frank Sinatra, Dean Martin, Sammy Davis Jr., et al. This could be exactly the kind of material to bring out Clooney's loosey-goosey side, and wouldn't it be nice to escape the holiday-movie onslaught and come fly with him? (Dec. 7)


Never a Hangover for the Rat Pack, Just the Fizz
SEP 09, 2001
Remember the Rat Pack? When I was an almost-adolescent and my favorite reading materials were Photoplay and Modern Screen magazines, I would see the group's pictures in the gossip columns. They were always at parties, drinks in hand; they were always together; they were always wearing big, broad, devilish smiles. Actually, a lot of the time, they were cracking up. Apparently it was so much fun being them — Frank Sinatra, Dean Martin, Sammy Davis Jr., Peter Lawford and Joey Bishop — that they couldn't contain their glee. This was a new concept in my world: grown-ups who had a good time.But I had never seen "Ocean's 11," the film they made in Las Vegas in 1960 pretty much as a lark, during their off-hours while appearing at the Sands Hotel. (These guys were so laid-back that at one point the sign at the entrance of the Sands read "Jack Entratter Presents Dean Martin" and in smaller letters, "Maybe Frank — Maybe Sammy." One or the other might show up on any given night, if he felt like it.)Come to think of it, I know very few people who ever saw "Ocean's 11." But now, with a new all-star version of the film scheduled to open on Dec. 7, I was curious. It's generally considered a bad movie whose only appeal is the spectacle of those five men acting together, playing old Army buddies who pull off a clever Las Vegas heist. George Clooney and Brad Pitt may have had dinner together, but I don't think they're nearly as close as the Rat Pack guys were.It's not impossible to think of Mr. Clooney, who stars in Steven Soderbergh's not-exactly-a-remake, in the Frank Sinatra role as Danny Ocean. He's handsome, irreverent, funny and very popular with women but seems to be that rarity today — a heterosexual bachelor who loves spending time with the boys. And he's probably tired of being compared to Clark Gable. The other characters have been changed, so Mr. Pitt, Matt Damon and Don Cheadle aren't actually playing the Martin, Lawford and Davis roles. Julia Roberts is, however, playing Mr. Clooney's character's ex-wife or estranged wife (whether they're actually divorced is "a key plot point," says Warner Brothers' publicity department), and it's a tiny part. Angie Dickinson, who played Sinatra's wife in 1960, had only two scenes. When I rented the original film, directed by Lewis Milestone, the tape started with some material to remind viewers of what the non-Rat Pack world looked like 40 years ago. There were newsreel features about Eisenhower's South American tour; Don Drysdale at spring training; Elvis Presley coming home after his military service (a reporter asks, "Has three years of sobering Army life changed your mind about rock 'n' roll?"); and a glowing young Princess Margaret going to the opera with her new fiancé, Anthony Armstrong- Jones. The Bugs Bunny cartoon was a parody of Edward R. Murrow's "Person to Person" television interview show. Daffy keeps trying to get on camera.Then the movie's opening credits roll and we're in swinging, sunny Beverly Hills. Sam Harmon (Dean Martin) is having a massage, administered by a young, slim, blond woman, when Ocean (Frank Sinatra) walks in. After he enjoys a brief neck rub from an equally attractive masseuse, he dismisses both women and gets down to business. Ocean's plan is to assemble an 11-man team, his paratrooper war buddies from the 82nd Airborne, and "liberate millions of dollars" in a huge New Year's Eve casino heist. They'll arrange to have the lights go out all over Las Vegas in a way that will also open the safe doors at five casinos: the Sands, Sahara, Riviera, Flamingo and Desert Inn. When the lights come back on, the money will be gone and Sinatra and his men will be on their way to the lives of ease they're sure they deserve. If it's so easy, asks Lawford's character, why hasn't somebody done it before? Sinatra shrugs. "Same reason nobody's gone to the moon yet," he says. "No equipment." Something has to go wrong, of course. In this case, it's the death of one of the men, Anthony Bergdorf, played by Richard Conte. Just as the heist is completed, he falls dead of a heart attack outside one of the casinos. When his body is identified and his background recorded, Duke Santos (Cesar Romero), who's engaged to Peter Lawford's character's wealthy mother, notices the 82nd Airborne connection and figures out who was responsible for the multiple theft. The movie is all about Sinatra. His character is always in charge. His ex-wife still longs for him, and when she criticizes him, she just builds up his ego more. "There's only one thing you love, Danny; that's danger, cliffhanging," Ms. Dickinson, pretty as a picture in a French twist, says to the man she still loves. "You could never love a woman like you love danger." When Bergdorf dies, the others seem more concerned about Ocean's reaction than about the dead man himself. "He's taking it hard," Peter Lawford's character says sympathetically. Dean Martin's character agrees. "Long time since he lost a man in combat," he replies in reverent tones. (None of the major Rat Pack members actually saw combat during World War II. Sinatra, Martin and Lawford escaped the draft for various reasons. Davis and Bishop both served in the Army but neither went overseas.) The "Ocean's 11" script flattered Sinatra in terms of his age, too. At one point, Romero's character — who has already signaled his admiration of the heist team by telling his wife, "That's right, honey, they hijacked the town" — says to Sinatra's and Martin's, "How I envy you your youth!" Romero was 53 at the time. Sinatra was 45. Martin was 43. And despite appearances, these were not a group of carefree bachelors. The twice-divorced Sinatra fell in love with, became engaged to and then broke off with the South African actress and dancer Juliet Prowse about this time. Martin was still married to his second wife, Jeannie Bieggers, although the marriage was known to have been in trouble for some time. Lawford's marriage to Patricia Kennedy was equally strained. (They divorced in 1965.) Davis was madly in love with the Swedish actress May Britt. (They married in November 1960.) Bishop, now 83 and the group's only surviving member, has been married to his wife, Sylvia, since 1941.These relationships did not stop at least some of the men from seeing other women — lots of women, by most reports. One of Sinatra's girlfriends at the time was a divorced woman in her 20's, Judith Campbell. When Lawford's brother-in-law John F. Kennedy, then just a promising Democratic presidential candidate, visited the Rat Pack in Las Vegas during filming, Sinatra introduced the two. That turned into a scandal many years later when it was reported that Campbell, who became Judith Campbell Exner, was having affairs with the mob leader Sam Giancana and President Kennedy at the same time.The original Rat Pack hadn't been such a sexist, all-male institution. (And Sinatra's Rat Pack was, even if Shirley MacLaine was considered an auxiliary member. She has a cameo in "Ocean's 11," playing a drunk who encounters and kisses Martin.) Humphrey Bogart was the acknowledged leader of the original group, the Holmby Hills Rat Pack, named for the neighborhood in which Bogart lived with his wife, Lauren Bacall, and their children. As Shawn Levy tells the story in his group biography "Rat Pack Confidential: Frank, Dean, Sammy, Peter, Joey and the Last Great Showbiz Party," the group got its name when Ms. Bacall got a good look at several members (including Judy Garland, David Niven and the agent Swifty Lazar) appearing particularly debauched at a table at the Desert Inn and announced, "You look like a rat pack." Adjectival expletive deleted.When Bogart died of throat cancer in 1957, Sinatra took over and put his own stamp on the evolving group. He almost took over in another way, by marrying Ms. Bacall. His abrupt, ungentlemanly breaking off of their engagement was a small scandal in itself.Mr. Levy's theory of the Rat Pack's appeal is that it made a god (Sinatra) both accessible and likable. Jove isn't quite as fear-inspiring when seen at play with his friends. That seems irrelevant to the 2001 "Ocean's 11" cast. Mr. Clooney is likable all by himself. Mr. Pitt, after a decade of sex-symbol godliness, seems far more accessible since his marriage — and what looks, in photographs at least, like total devotion — to Jennifer Aniston. Mr. Cheadle, who played Sammy Davis Jr. in HBO's 1998 film "The Rat Pack," has a higher profile for his considerable acting talent than for his persona. Mr. Damon may have some old-fashioned Rat Pack potential, but for his sake, let's hope he grows out of it.
Really, it's Mr. Soderbergh — the award-winning director of "Sex, Lies and Videotape" and "Traffic" — that I'm worried about. Mr. Milestone had directed highly acclaimed films, too, from "All Quiet on the Western Front," "The Front Page" and "Of Mice and Men" in the 1930's to "Pork Chop Hill" in 1959. Then Sinatra asked him to direct "Ocean's 11." After that he made only one more film: a misguided remake of "Mutiny on the Bounty" with Marlon Brando. But I'm going to look on the bright side. Mr. Soderbergh didn't have a gang of 40-something adolescent boys to contend with, and at 38 he's a lot younger than Milestone was at the time.

People' Releases Best, Worst Dressed 2001 Issue

9/06/01
Best dressed males included George Clooney, Brad Pitt, and Princes Harry and William. The former, who turns 17 this month, was cited for ``taking the edge off a serious suit with a playful pinstripe lavender shirt'' and his older brother Wills, 19, was praised for his ``cool, casual and collected'' jeans and sweater look.


The films they're directing
Aug 26,2001
Asia Intelligence Wire
Steven Soderbergh, currently Hollywood's hottest director thanks to his twin triumphs (Traffic and Erin Brockovich) last year, comes on strong again with Ocean's Eleven, his remake of and update on the all-star comedy-actioner filmed in 1960 by Lewis Milestone.
The original film starred Frank Sinatra, Dean Martin, Sammy Davis Jr., Peter Lawford, Angie Dickinson, Richard Conte, Cesar Romero, Patrice Wymore, Joey Bishop, Akim Tamiroff, Henry Silva, Ilka Chase and Norman Fell.
It was a fanciful crime comedy about an 11-man team headed by Danny Ocean (Sinatra) attempting to rob five Las Vegas casinos simultaneously. Aside from the hi-jinks of the actors in the cast who belonged to Sinatra's Rat Pack, the movie was enlivened by the clever twist in its ending. Soderbergh's version is set in the present day and also has an all-star cast led by George Clooney, Brad Pitt, Matt Damon, Don Cheadle, Andy Garcia, Carl Reiner, and Julia Roberts. The director wants to make it clear, however, that his actors aren't aping the characterizations of the members of the original movie's cast, and that Clooney has no intention of doing Sinatra. But the new movie's plot is still about a group led by Danny Ocean (Clooney) that has been formed to rob a Las Vegas casino tycoon (Garcia) who is dating Ocean's ex-wife (Roberts). The film's tone is decidedly light, in keeping with the mood set by the 1960 production. But Soderbergh promises a grittier look at the underworld scene in Las Vegas.